Hello France
Was wondering how others get their dogs over on the ferry ? Any info would behelpful
We used to use Dieppe to Newhaven, only 4 hours and the dog was fine in the car.
Did you give them anything to relax them ?
Only a couple of doggy travel /sea sickness tablets from the vet if we knew it was going to be a bit choppy. Funnily enough, OH can get quite bad travel and sea sickness (its happened on Brighton pier) and she mistakenly took the dogs tablets once - she slept the whole way home, (apart from the odd moment when she tried to sniff her own arse


)
Hi Karen
In the good old days when we could go to the UK, we used the overnight ferry from Caen to Portsmouth. Worked well as the dogs, two labs, slept in the boot. They were up and ready for breakfast in Morrison's car park when we disembarked.
Worked really well, did not need sedatives or anything like that, but they are two very laid back dogs.
Andy
HI and thanks guys were hopingto go New haven to Dieppe I guess if she has lots of exercise before going/toilet she'll be ok till landing
Until the end of 2019 I was a regular on Dieppe Newhaven delivering dogs and cats, occasionally, to England. Never gave any of them anything other than water and none of them had any complaints.
Hi Karen
We have taken our dog several times on Dieppe/Newhaven route. She's a good traveller but heavy coated so I wouldn't take her if it was super hot. It does get really quite warm on the car deck.
She is collie sized and we give her half a sturgeron tablet and 2 ginger nuts half an hour before and make sure we turn of the car alarm. We do not feed her anything during the day (except for those ginger nuts). The one time we did, it was a bit rough and the inevitable happened.
Other than above, she seems fine, though pleased to see us when we return. You are allowed to request to go and see them halfway through but tbh we thought that would be worse for her.
We were lucky in that we did a short Isle of Wight crossing a few months before and even though she was allowed to come up with us, we used it as a trial run and left her in the car together used to the noises and sensations.
It was a bit nerve wracking the first time but I'd say we are all used to it now and she is ok. Good luck.
Are they suitable for dogs? Have you asked a vet?
Our cocker made the 20ish hour Rosslare to Cherbourg crossing in the onboard kennels probably twenty times without a bother. A brisk walk (and pee) on deck before bed and she slept all night. Though I think she preferred the Chunnel and a drive across the UK with the roof down and her ears flapping in the slipstream. My daughter drew me a picture once to celebrate such a trip…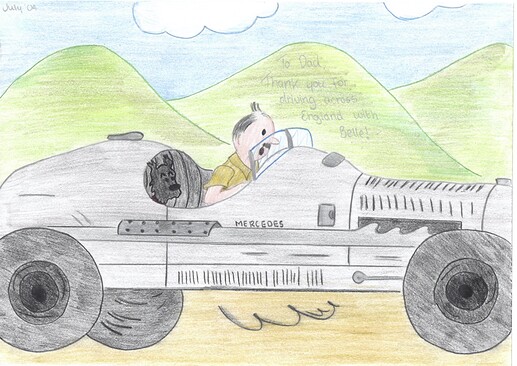 Hi
Yes of course we checked with our vet.
Our friends come over frequently using the tunnel, no bother with the dogs because they are in the car with them, and it is only 30 minutes!!
That's what we did when we moved here. Even better, we were at the end of the carriage and we were able to open the tailgate and let them out and sit with us in the space at the back of the carriage.