Vote for your favourite tree in France…2022.
Ignore precious post, just worked out how to vote!
But doesn't seem anyway to nominate a tree?
I'm a bit confused as well. I'm not on my computer at the moment. Will look into how this website works tomorrow.
I'm on my mini iPad at the moment and managed to vote for a particular tree, but I don't know how I achieved it, but when I get back to my computer I hope to find out!
What happened was that on all the photos of the trees a little box appeared with vote numbers showing. You tap a tree and the number increases by 1, and you have voted.
Don't get it, the tree in general or those particular trees??
It seems that you pick one of those particular trees.
Oh OK! Love that there was an Aussie Morten Bay fig in there! Will have a look tomorrow and choose!
This tree-voting website thing is a bit boring, isn't it? Tree enthusiasts, philodendrons, might like it, but once you've voted, that's it! Isn't it? Not very exciting!
And the website is a bit confusing – and some of those trees appear to have won or were nominated years ago. And it's not clear how to vote!
Maybe a prize for guessing which tree wins might liven it up a bit.
A fail!
Had a quick look but haven't the patience. My favourite is my 30 foot tall Eucalyptus. It was chopped down by mistake by a hedge trimmer once but soon shot up again. 4 slender trunks with beautiful leaves waving gracefully in the wind. At the moment it is casting its bark, much to the pleasure of Jules the Beauceron who carries pieces of it around in his mouth. Christine, the Aide, says 'at least he might avoid winter coughs as a result'.

Only things missing are the Koala Bears.

Pity about the Koala Bears…
I've got three silver birch trees which I planted myself when they were small enough to squeeze into the back of my car, and which are now mature fully grown trees. I assume they are mature. I don't know how high the tallest has grown to, so what's the best way of measuring the height of a tall tree, anyone?
I see my silver birch trees in a different light now I've found this website & video – I have three symbols of purity in my garden! Didn't know that. Would they be symbols of purity in France I wonder?
Silver Birch (Betula pendula) - British Trees - Woodland Trust.
We have a 100 year old cedar tree in our garden.
Do you talk to your tree?
Some can live to be a thousand years old apparently.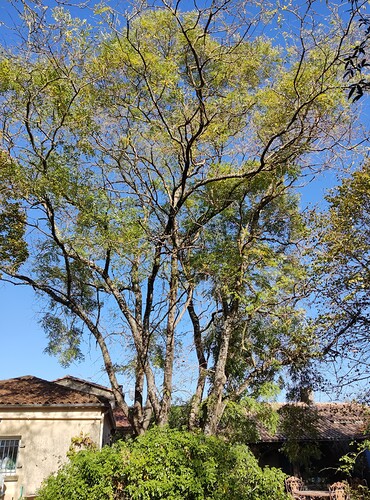 These are my two favourites in my garden. One is a sophora which produced side-shoots (what you see is this regrowth) after being chopped down in the 1940s and the other is a lime.
If you click on the black box top centre of the 1st web page that opens up, you will see this, as in the first photo, click on Je Vote, and then you'll see the 2nd web page, as in second photo, where you scroll down to find your favourite tree and then click on it to vote.
https://www.arbredelannee.com/arbres#b_start=0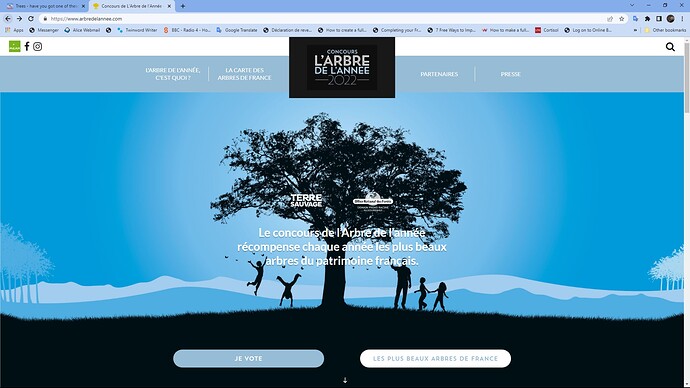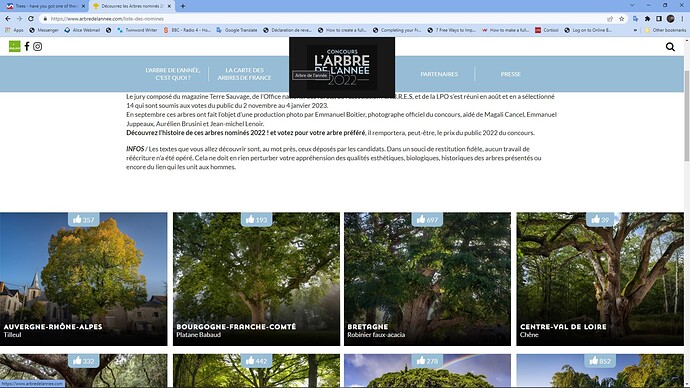 A tree called a Hêtre Pleureur (Weeping Beech) in Hauts-de-France is well in the lead at the moment, with 866 votes!
I shan't be doing a running commentary.
Try this website which offers four different methods.