As she launches her comeback it's timely to remind ourselves of just what damage she did.
And she's complaining about the left wing of the party sabotaging her plans.
What a nerve when you look at the damage the ERG Group have done to our country and people.
A leader is someone who owns it. Takes responsibility. The buck stops here.
Liz Truss was not a leader.
What I don't understand is why is she doing it?
No way is she ever going to become PM again, if she wanted to make excuses about the markets' negative response to her policies, this should have been done long ago when the sunject was current. The woman seems deluded, out of touch wigh reality, as even if by some freak conjunction she became Tory leader(?) again she'd either be on the losing side of an election or having to face at least several years in Opposition .
She's only 47 so way too young to retire, maybe she thinks she still has a career in politics. Her constituency in Norfolk is one of the safest for the Tories so bizarrely she might keep hold of it when the rest of the party is annihilated next year due in part to her f*** ups.
Not in a sane world at any rate.
In this world, expect a fight between Truss, Johnson and Sunak for control of the party in the run up to the election.
And "the dog ate her homework"
Given that numerous civil servants were booted out when they challenged these clowns, it should come as no surprise to her if they didn't speak up on this occasion. How many perm secs was it they got rid of, again…
I agree, plus Johnson purging all the decent Tories, like Dominic Grieve (in the interests of transparency I have to admit I got a photo with him in 2018) who might have given some check and balance.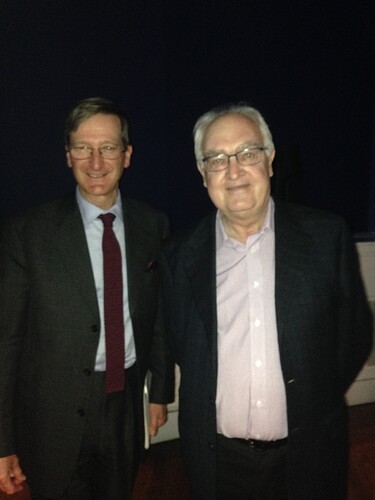 Let's not forget. The woman has a degree in economics from Oxford. She should have had some sort of inkling that making a gigantic giveaway without explaining how it would be funded, that it basically was not funded in any sense, would destabilise the system.
Wailing that nobody pointed it out to her just reminds us that she is thick as shit.
John Crace would agree with you.
Being a politician requires no qualifications of course. I'd take Lord Buckethead/Count Binface over this any day.
"There are a bunch of civil servants going to bed not knowing which department they're going to be working for in the morning," one source said
Why would anyone trust or support this shower of charlatans.
"Liz Truss is now eluded by two major types of growth: economic and personal."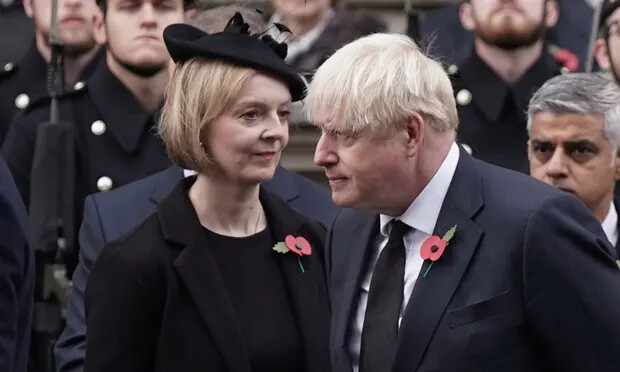 So, is it 'a blonde thing'?
Whether it is or not, this is fun too:-
Existentialist Blonde Jokes | The New Yorker
And why is Truss staring into Johnson's ear? Looking for light at the other end of that tunnel?
The 'Great British' public needs to know (not!)
She is wondering why she can see daylight
She may have seen daylight, but I can't imagine LT 'wondering' about anything.