In the UK rates are steadily increasing
Worldometer graph: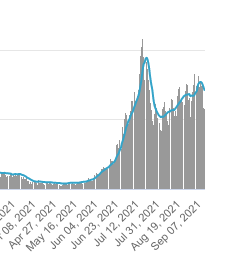 UK Gov graph: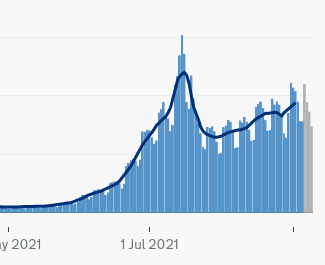 Don't be fooled by the end of the Worldometer graph - Monday & Tuesday usually have the lowest reported new cases as the data is delayed by the weekend.
Deaths are also steadily rising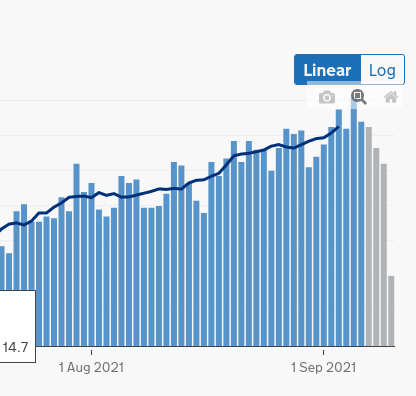 Ignore the end of the graph (grey portion) - there is a delay before deaths filter through to the figures.
And hospital admissions are rising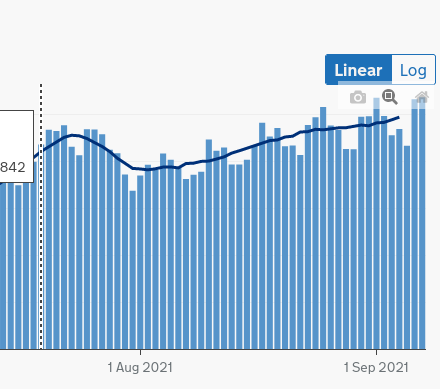 I'm not sure Covid is falling in the UK by any measure.
France, however is a different story, rates have been falling since mid August.
Yep - by every measure I can think of - case rate, death rate, % of population vaccinated, etc - the UK has now fallen behind France - and most of its other neighbouring countries.
Yes agreed the UK is falling behind especially Spain but also France. Sadly the UK figures include Scotland where the rates are rising quite quickly but in England they are pretty flat which is not surprising considering the lack of masks and the social gaterings.
Scotland by statistics should be on the red list wheareas Spain and France should be on the green.
My niece was telling me on the weekend that she had to go to AandE with her cousin last week and she said hardly anyone was masked - in A&E ffs



I'm in the UK at the moment. In the shops and supermarkets, I would say about 1 in 10 are wearing a mask. Went to an Indian restaurant on Sunday (yay, curry at last) and there was a sign on the door saying masks were obligatory when entering. Apart from my party, not a single person entered wearing a mask. That included several people coming in, ordering takeaways and waiting up to 20 minutes in the restaurant, without a mask. I despair, as does most of my family.
Interesting 'Guardian Live' discussion on UK decision to vaccinate 12-15-year-olds…
Tory MPs urge PM to rethink 'deeply troubling' plan to vaccinate 12 to 15-year-olds
In the Commons last night Nadhim Zahawi, the vaccine deployment minister, made a statement to MPs confirming that the government would go ahead with vaccinating 12 to 15-year-olds. Prof Chris Whitty, the government's chief medical adviser, held a press conference earlier to say that the chief medical officers were recommending this, and so Zahawi's announcement did not come as a surprise.
But the response from Conservative MPs was striking because many of them made it clear that they were deeply unhappy with the proposal. The exchanges only started after 9pm, and so they have had much less coverage in today's papers than they would have done if that had taken place earlier, but here are some of the highlights.
Sir Iain Duncan Smith, the former Tory leader, said he was worried about teenagers being pressurised into getting vaccinated. He said:
The pressure will grow on the child. There is no way of legislating for this greater good concept that says, "The school may be in trouble, and your class may be in deep difficulty, if you do not take the vaccine." I simply say … this is a real problem for us. It will lead to disputes in families and real problems about children's mental health in the opposite direction, as they are put under pressure. I wonder whether [Zahawi] and the government will think again about this.
Sir Graham Brady , chair of the backbench Conservative 1922 Committee said that only 10 days earlier the Joint Committee on Vaccination and Immunisation had warned of "substantial uncertainty" concerning the health risks, and he asked what had changed.
Steve Brine , a former health minister, said:
I am deeply uncomfortable with this decision. I think that when the JCVI made a decision on the application of the vaccine on clinical grounds it was in the right place.
Sir Geoffrey Clifton-Brown said:
I find what [Zahawi] has announced this evening deeply troubling. I think it will pit parents against parents and parents against teachers, with a poor child stuck in the middle wondering what to do. There will be very little benefit to the child, and there is a lack of long-term data on the potential harm. However, what concerns me above all is that the Gillick doctrine of treating children without parental consent will become the norm for a range of medical procedures.
Marcus Fysh said:
There is a great danger in politics that we sometimes make decisions while looking in the rear-view mirror rather than at what is truly the current picture. I have grave concerns about this policy and the fact that the chief medical officers have made their decision on the basis of the educational impact rather than the health of the children at clinical level. I disapprove of this decision incredibly strongly, and I wonder what we can we do to ensure that this kind of thing does not happen again, because I firmly believe that this is a very dark day for our country. Is it going to end with vaccinating five-year-olds when there is no clinical need? This is not about teachers or education. The virus is endemic now; there is not a pandemic any more. We have to get real, and I hope that the government will reconsider.
And Dr Caroline Johnson , a paediatrician, said
I have given many vaccines in my time, including hundreds of covid vaccines more recently, but I am not comfortable with vaccinating teenagers to prevent educational disruption. Under the current rules, no child needs to isolate if they are a contact. They do so only if they are a positive case and, for them, the maximum is eight days of schooling—and that is only if they catch coronavirus during term time. Half of children have already had it and are very unlikely to get it again.
Hi Hairbear,
Also in the UK at the moment and could not agree more.
Went to the local Tescos, 10% of customers wearing mask, and only 50% of staff.
Asking for next lockdown ???
Andy
As before apart from Scotland the numbers are not increasing which was not expected to be case
Not absolutely sure that's true - the per nation data suggests a slow rise in England also, at least up to the beginning of Sept (after that the data gets increasingly less reliable due to reporting delay).