Harry Shindler, war hero writes to Daily Mail
Harry Shindler aged 92 and a veteran of the 1944 Anzio beach-head invasion in Italy by allied troops against Nazi German occupation. Italy had surrendered in September 1943. The insulting attitude of the Daily Mail towards pensioners residing in continental Europe was the spur for Harry to write this letter: -
To: Editor, Daily Mail. 20th November 2013
"Dear Sir, I have seen the cartoon by "Mac" in your issue of 5th November. It is of course offensive to all those British Citizens who live normal, decent lives in the Country to which they have chosen to live – encouraged to freely move in the new united Europe.
You should – British fair play – inform your readers of the facts. The majority, who live within Europe, but outside the UK. do so because of their employment. They are employed as teachers, interpreters, hotel staff, bar workers, officials in companies based in Europe or International bodies based in Europe.
A percentage are pensioners who after a lifetime of work, for various personal reasons have decided to live abroad. They helped to keep Britain a leading nation in the world. Your cartoonist "MAC" insults them all. These British citizens are the Country's Ambassadors and daily protect the image of their Mother Country.
Many of them are Ex-Service-men as is the undersigned, who fought a War for Liberty and Freedom. We won that war, so now "MAC" has the freedom to insult more than one million British citizens who reside in Europe, but not in the UK.
In March, 1946 it was said… "…do not suppose that half a century from now, you will not see seventy or eighty millions of Britons spread about the world and united in defence of our traditions, our way of life and of the world causes which you and I espouse" Nothing about lying in the sun! The above was said by one - W.S. Churchill.
Mr Editor, I think an apology is due to all British citizens living in the UK, and in fairness this letter should be published. Harry Shindler Representative in Italy of the Italy Star Association"
Harry Shindler aged 92 and still fighting for justice & freedom.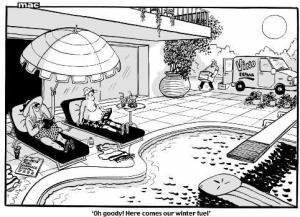 Comment by Clive Walley: - "This is the deplorable, tasteless and deeply offensive cartoon by MAC published in a land where political correctness over-rules common sense. Of course these rules don't apply when it comes to pensioners living outside the UK.
The cartoon portrays all expats as fat, lazy alcoholics living in a land with sun 24/7/365 spending their Winter Fuel Allowance on wine. For the average pensioner living here it is a million miles from the truth and more akin to the life style of MAC himself".
Harry Shindler sends his greetings for Christmas and the hope of sucess in our campaign in 2014.
Harry is not the type to sit back and let everyone else do the fighting. He is regularly in touch with major campaigners across Europe and beyond and his fighting spirit is an inspiration to all of us who seek justice and freedom from the British Government like: -
freedom to live wherever we chose and not be attacked for it by lap dog members of the press, ignorant policians and ministers for doing what we were told we could do if we signed up to the Common Market in the beginning.
Justice in not being disenfranchised from voting after 15 years outside our Motherland.
Justice in our pensions not being frozen because we dare to live even 20 miles off the coast of England as is now being threatened and already exists in some parts.
Justice in reciprocal health care between the UK and other European states. And...freedom from the continual and premeditated abuse by the British Government and its lap dog press.
Clive Walley
Writing from a freezing cold Spain with internal temperatures below 3 degrees. 28.11.13