https://www.ouest-france.fr/meteo/secheresse/carte-face-a-la-secheresse-quelles-restrictions-d-eau-dans-votre-departement-e6dd324a-ec93-11ec-9b9f-57df627a087b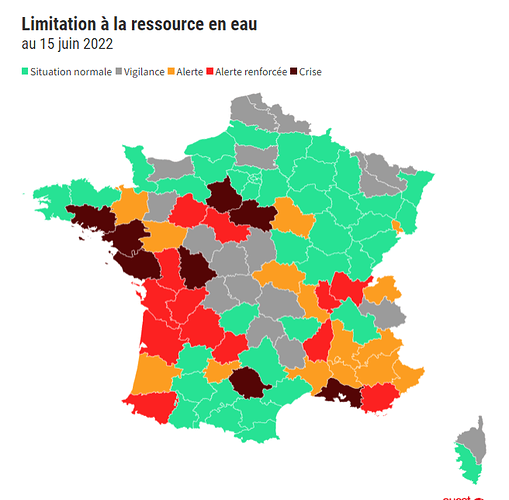 I'm grateful to 'be' in 71. Feel sorry for those who suffer hardship from this.
Lot et Garrone normal. Thats good!
As we have a well for our entire water supply, would it affect us if restrictions were imposed?
Not having had much rain for what feels like ages, I'm amazed 34 is green, but nevertheless very pleased, as I also have a wel!
We have wells in our commune and from I've gleaned over the years:
Water for drinking and hygiene etc is not restricted (same as with Mains Water)
but drawing water for non-essential purposes can be restricted (washing the car, pools, gardening)
and the farmers can be similarly covered by restrictions when using water sources "in the wild".
After overcoming my 'fear' of running out of coins using the local power wash (not the automatic, it rips off the towing cover and all the grease

) I washed both cars in it recently. Much better then washing at home anyway. Just as well as Dordogne is in the red zone.
Stella,
I would consider gardening for vegetables and fruits as a necessary activity in order to support a healthy nutrition, because the prices in the stores are outrageous.
Personally, I think there's nothing better than produce fresh from the garden.
A good system for storing rainwater, for use during dry spells, should help keep things on an even keel.
What would be handy is putting in the department numbers on the artwork, if you are going to produce something make it worthwhile.
Pfff, everyone knows their département and those round them, should know most of France too, isn't that part of common knowledge?!

81 : sec de chez sec !

All the information is within the link I originally provided… and you simply click onto whatever interests you further… for example… if you click onto propluvia… voilà
http://propluvia.developpement-durable.gouv.fr/propluvia/faces/index.jsp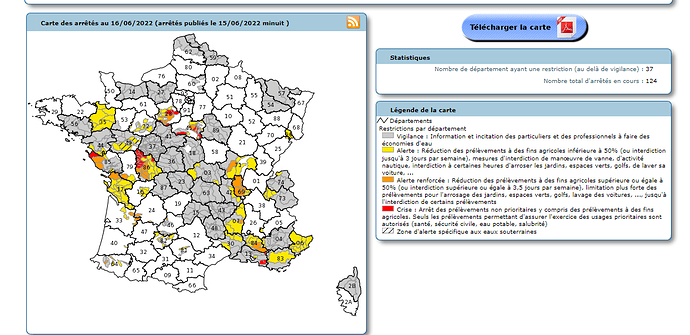 No not from coloured map could be one of 3 departments.
For folk who live in an area currently under Restrictions…
I'm putting up a clear explanation for us all… and the link is
Anyone who is still unsure if what they are doing/want to do is OK… check with the Mairie. They will have the finely-tuned details.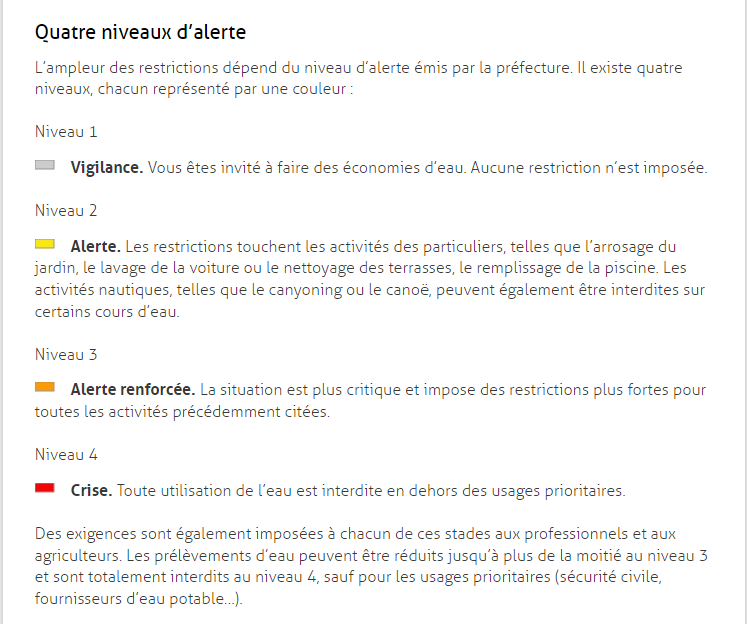 This dates from 2020 but gives some clear and useful answers (still valid) to current questions…
I reckon water shortages are going to become our way of life… so seriously thinking what I can to to ease my own (minor) situation… Storing rainwater is certainly top of my list… and I'm thanking heaven I don't have a pool… that would take an enormous storage facility