I don't know Le Plume…so will definitely add that to my list!
I know Gardenista is invitation only, and call me a cynic but I do wonder whether money changed hands to have some of those on the list…? Or rather that money didn't change hands which is why the list feels a bit random. Things I might have expected to feature in France like Bois des Moutiers aren't there…
I agree that the list felt a bit random.
I was surprised that neither the Eden project nor the French and Italian gardens featured on Monty Don's series were included.
Link to Monty in France here >> https://youtu.be/qDgQrnUlxlc
Hmmm yes, not sure about the Aussie choice either!
What's funny and odd is that when you click on the link given to complement this list of the "Top 25 gardens to visit before you die", this one ("Read about 75 more gardens to see before you die in our Garden Travel Guides", which also includes garden-related, botany stuff and shops), the Australia selection includes… a UK garden! (A Gothic Garden Visit, Courtesy of the Mitfords. Oh well, the mother of the fascinating Mitford family was called Sydney so the writers might have thought that it warranted an inclusion in the Aussie section!
Lovely to see the High Line in New York in the list, #23 (created in the late 2000s) which I saw in 2014, it's a great urban elevated park walkway built on a freight railway line in West Manhattan, which also kind of doubles as an outdoors exhibition space for contemporary art, especially fancy installations.
That said, a mention of the Promenade Plantée in Paris (the 2 pics below) wouldn't have gone amiss as the New York modelled itself precisely on the seminal three-mile long Promenade Plantée (also called "La Coulée Verte" and created in 1993, goes from Bastille to Bois de Vincennes), which was the blueprint for the genre. There are also arty areas on the Promenade Plantée and a dgreat edicated section called Le Viaduc des Arts).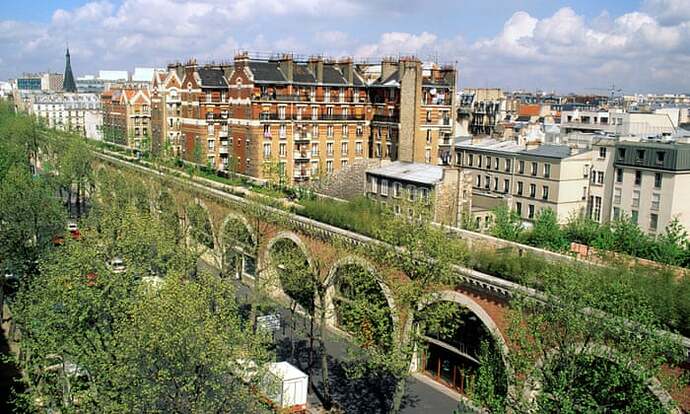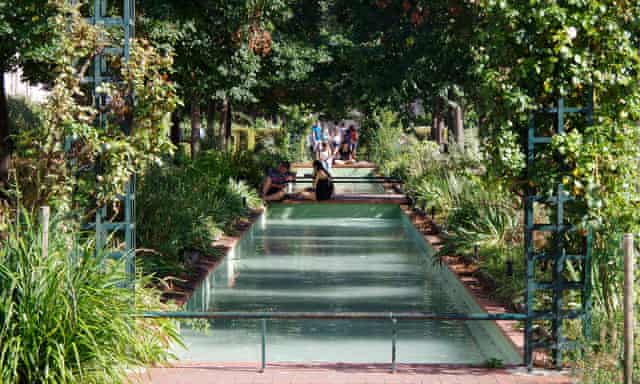 Guardian, 2017:
A magical, green walk along Paris's Promenade Plantée
At times 10 metres above street level, this free, scenic three-mile stroll from the Bastille to the Bois de Vincennes was the world's first elevated park walkway – and has become a cherished part of the city
Actually what is much better all round is an old fashioned book…on old fashioned paper that you can rustle. Called La Musee des Jardins which has 500 gardens around the world (including the promenade plantée in Paris). 10 years old now, but it takes time for a garden to mature so anything in last 10 years probably not ripe yet.
Just a bit…
Lovely gardens but that list is very US-centric, with a good British dose thrown in for good measure. Mind, it comes with a heads-up: "Our list of the top 100 gardens to visit worldwide is very personal; many of these destinations are favorites our editors and contributors discovered in their travels. Others —from Athens to Australia— are new to us and we are determined to see them this year or next."
Granted, "Top" lists and listicles aren't easy to concoct, they often end up being either patchy or lop-sided, they can feel too "centric" (Anglo-centric, Franco-centric etc.), and glaring omissions are inevitable, but in terms of US-UK centricism this one really takes the biscuit: out of 100 "gardens to visit before you die" across the planet, 10 of them in the main flagship Top 25 presentation are located in the US (6) or UK (4) and when you click on the link below the Top 25 to discover the other "75 gardens to see before you die […] around the world", approx. 60% are either in the US or UK.
In passing, a lot of the gardens in their UK selection are the south… Zero garden included between Cambridge and Scotland! (in the secondary 26-100 listing, on the UK map I mean). Call me a parochial nativist but at least either the fabulous Wallington Hall gardens or the Cragside estate gardens in Northumberland should be included in that large UK contingent as they are both exceptional (and the Alnwick Gardens aren't too shabby either!). Off the top of my head I can think of a few in the Lakes and Yorkshire & Peak District too between Cambridge and Scotland that deserve an inclusion, such as the Levens Hall gardens in the Lakes (a superb 17th century topiary garden), Studley Park & Water Gardens near Ripon, Chatsworth House Gardens in the Peak District…
You naturally expect an American website to target a US and English-speaking audience, therefore to lean towards the US-UK in any international selection they choose to make, but 60% in this case sounds a bit OTT. The rest of the world gets the crumbs. Just 4 gardens selected are in France, 2 in Spain, 2 in Ireland, 2 in South Africa, 1 in Germany, 1 in Japan, 1 in Canada, 1 in Italy, in Australia, 1 in Morocco, only 2 for the whole of South & Central America etc.
Its' still a lovely list though.
About the #10 in the list, the legendary Majorelle Garden in Marrakesh, which I've visited, it is to be noted that Jacques Majorelle, the French artist-landscapist who created this stunning botanical garden in the 1920s (particularly loved by Winston Churchill) has given that name to a colour, the cobalt blue "bleu Majorelle", with is a trademark type of intense blue, similar to the "Bleu Yves Klein". The labour-intensive garden unfortunately fell into neglect after Majorelle's death in the early 1960s, and very nearly disappeared until it was saved from property developers in the 1980s by Yves Saint-Laurent and his lifelong partner Pierre Bergé, who had been Marrakesh lovers since the mid-1960s (Saint-Laurent's ashes were scattered by his friends in his house's garden there in Marrakesh).
I got bored with looking at it as wasn't' really telling me anything new. Will stick to paper and professional sources for planning my visits…when we can finally go anywhere!
Having often visited Lambley in central Victoria, (as well as quite a few other gardens on this list) I would agree that it is an incredible garden. The range and abundance of plants in the arid and stony ground is astonishing. Maybe one has to be there to fully appreciate it.
Having unfortunately never been to Australia, and even less to Lambley I wouldn't know. My post wasn't about Lambley at all (that was Tory's), my post merely highlighted the discrepancies in that Top 100 list, not least (as I wrote in my first para) the fact that the only supposedly Australian garden listed under the Aussie section in the secondary list ("Read about 75 more gardens to see before you die in our Garden Travel Guides") is Batsford and located… in England! (as I wrote).
Had anyone found a list of 100 gardens to visit after you die?
This just reminded my that in just a few weeks is:
Brian, I am very fond of Chédigny, the only village in France designated a Jardin Rémarquable. I think that when good gardeners in France die, that's where they go. I hope my green thumb gets me in and that my mediocre French doesn't keep me out. Who knows, in the afterlife maybe I'll be fluent in French.
A thousand apologies, it seems I'm still getting used to how to properly comment on a comment, I meant to reply to Tory. Didn't mean to ruffle your feathers!
Not to worry, I often do the same!