Ask any parent what they find most stressful about family life and you are pretty much guaranteed to get a reply that includes the words noise, arguments and mess! Whilst children will always be noisy, argumentative and messy, a cleverly designed home can help enormously. Whether constructing a new property or renovating an old building, with a bit of careful planning any home can be made more family friendly.
The last few years have seen increasing numbers of families moving to France. Some of these will have young children, others will have older teenagers, some may have children that remain in the UK and visit in the holidays and there are also the families who move several generations across the Channel. All of these families will have different needs and requirements but one basic rule stands – a family friendly home should address the needs of each family member.
So, how do we create a family focused home? If the property is to be built from scratch, it is easy to organise the space to work best for any one family. However, it is sensible to think about how other families might want to live too. For instance, placing a bedroom directly off a kitchen might seem like a good solution for one household but this is not what the vast majority of buyers would like and so will affect the resale value. Given that many properties in France are spacious, it is also fairly simple to incorporate family style features in a renovation project.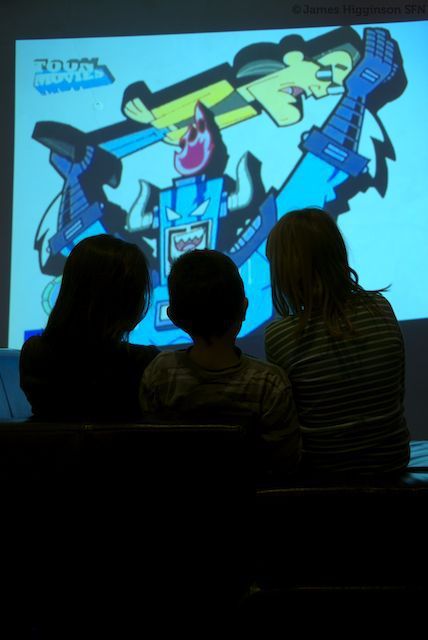 The kitchen is said to be the heart of the home and a large French farmhouse style kitchen can be a wonderful place. It can also be a battleground! Imagine the scene - you come home ready to start preparing supper, only to find that homework all over the table, the worktops are covered with the remnants of a teenage pizza eating session, there is a stack of ironing piled on a corner table, toys underfoot and what seems to be part of a car engine in another corner. What can be done? Simple, think about every member of the household, their requirements and then address them!
For school age children in France, homework is a big part of their lives. From when children are aged about six and start cours primaire (known as CP), onwards, most children will have some homework every night. Obviously small children will need to do their homework with adult supervision but it is quite easy to designate a corner of the kitchen or family room as a 'homework zone'. This way, they can be supervised without being in the way of food preparation. Antique French school desks are still easy to find in depot-ventes, look nice and seem very popular with small children. The children can also keep a stash of 'spare' pens, paper, glue and so forth inside them too. Keeping all these bits and bobs in one place cuts down on clutter and makes doing the homework easier too. Older children should be given a proper work area, perhaps in their bedroom or another quiet area of the house where they can work undisturbed without having to clear away books and papers from the dining table. School and sports bags also take up a fair amount of room and it is a good idea to factor in storage space for these in the hallway or somewhere similar.
Teenage children also tend to use the kitchen independently more often. They also seem to need to eat all the time. If constant traffic is a problem in a family kitchen, fit out a spare corner, either in the kitchen or elsewhere, with the necessary equipment for making light meals and snacks. A microwave, kettle and toaster are ideal. If space and budget allows, adding a small fridge and sink will help keep the ravening teenage hordes out of the kitchen – at least some of the time!
Providing kids with enough of their own space is key to creating a family friendly home. A playroom is a fantastic addition for younger family members. It also keeps parents happy too as they no longer have to crunch their way over the sitting room floor, scattering toys in their wake. Some colourful and fun storage containers will encourage kids to keep things tidy and allowing them to help choose the décor will ensure that it is a place that they want to spend time in. Painting a large section of wall with blackboard paint so that the children have an oversized chalkboard is a cheap and fun idea. The same can be done with magnetic paint so that kids can display their artwork, photos and the like. Both of these are great ideas for kitchens too where a wooden frame can be added to make the overall effect a little smarter. Another fun and cheap decoration solution for the playroom walls is to sketch out a giant mural and let the kids 'help' to paint it.
The décor is bound to change as the children get older and the room becomes more of a den. Acquiring extra seating is a good idea as they are bound to have lots of friends who want to 'hang out'. Beanbags are a great solution as they do not take up too much space, can be moved around and some of the bigger ones can even be slept on; very handy for those endless adolescent sleepovers. Putting an extra TV set into the den is a good idea as it can help prevent squabbling. In fact placing TV's, gaming consoles and DVD players in different locations around the home is often a good solution for larger families. A projector is a fantastic way to provide a home cinema type experience and will keep all ages enthralled.
Talking of all ages, it is important to consider the 'grown ups' too. Many people moving to France work from home in some capacity and may well require a designated workspace. The property may be large enough to provide a separate room, which is ideal. Outbuildings can also be converted or in a newly built property, planning a mezzanine floor can be an option. This can often work especially well for people with smaller children as the adult can be in earshot of the children without worrying unduly. It also means that expensive items such as computers and printers can be put safely out of the reach of sticky fingers.
Creating a designated laundry zone is another good addition for the family home. Many older properties will have space for a laundry room, often referred to as a cellier or buanderie, and it is easy to factor one into a new build. As well as housing the washing machine and dryer, the utility room can be used for storing sports equipment and outdoor gear. It is a good idea to provide separate laundry hampers for dark and light coloured washing and even a space to store each family members clean laundry. That way even quite small children can be encouraged to deposit their dirty clothes and the older family members can collect their own clean laundry. If space allows, installing a sink for washing oversized or very dirty items, is a very good idea and will help to keep the kitchen clearer. Providing lots of shelving, containers and other storage solutions will help to keep the area clean and tidy.
Adequate storage is probably one of the most important elements in a family home. It is important to work out how the property will be used and then provide storage to suit. In many French homes the front door is rarely used and family, friends and neighbours enter via the 'back door', which may mean through the kitchen, utility room or garage. In any case, depending on how the property is accessed, it is important to provide for all the hats, scarves, gloves, shoes and so on that are a feature of family life. Hanging space for coats, bags, etc is also vital. There are numerous shops which have excellent product ranges and depot-ventes and vide greniers often through up interesting old shelves, hooks and other artefacts which can be easily adapted. Old French furniture can also be mixed and matched to give a really stylish look whilst providing great storage. Vintage sideboards or buffets can be used in family sitting rooms to store toys, games, magazines and so forth as well as tableware.
Perhaps one of the nicest elements that can be added to a family home is a pool. Obviously it is vitally important to ensure that the pool conforms to any safety norms in terms of fencing, alarms or a cover and equally vital to ensure that children are never left unattended in the vicinity of a pool. A pool will provide hours of fun for all ages and is a great health benefit to young and old alike. Besides, once you have 'family proofed' the home, you will deserve to sit by the side of the pool and relax with a glass of something nice and cold!
Top Tips:
Make sure you install plenty of power sockets, this makes it easy to relocate appliances without worrying about dangerous trailing cords and flexes.
Socket covers, or cache-prise are a great idea for households with small children.
Squeezing in an extra lavatory /shower room will help the morning queue for the bathroom.
Great storage solutions can be found at:
Look in the yellow pages under brocante and depot-vente for local second hand stores.
© Catharine Higginson