If you have a friend who has a Linux/Unix server in the UK, and he is happy for you to have an account on the server, then here is a completely free way to get access to the full BBC content. This assumes , you are using Linux or OSX as your client in France. It is possible to do the same with Windows , if you use putty, and there will be a link later for that.



Basically we are going to set up a SOCKS5 proxy using ssh - if you don't know what these are , it doesn't really matter, as you don't need to understand them to get this to work.



Step 1. Login in to the remote servers like this.



ssh -D 9003 yourname@friends.server.com



Once you have logged into the remote server, we need to set-up firefox to connect on the TCP port 9003

Leave this window open, as it is the link that our Internet traffic is going to travel along when we connect to a website using Firefox.



Step 2 Open up the firefox preferences, go to Advanced and then networking and select manual proxy settings. Configure like this.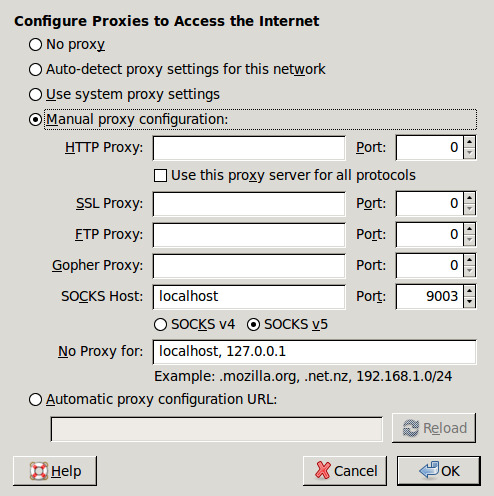 Once this is done, go to the BBC website , and you will immediately notice you have the UK version and not the international version, and all the video links will now be offered for you to view.
Click on iPlayer and fill your boots ;-)
If you don't have friend with a server in the UK, then you can get many deals offering virtual servers in the UK from around 4.99 a month. If a few people get together, this is not going to break the bank. The performance is fine with a virtual server, as I have been using one for years to do just this.
If you have Windows, the process is a little more complicated - first download and install a little program called putty - it's free.
Once you have that installed, follow the instructions below to get it working for you.
Windows ssh tunnel with Putty
Give it a go, and let me know how you get on. Happy surfing ;-)
Regards
Nick