You are sensitive from your electricity bill, your water bill, making a diagnosis about your consumption?
Aren't we all? That was one reason why I was happy to accept my friend Jill's invitation to appear as some kind of 'special guest star' at the environment show that her students put on at the Brive Chamber of Commerce. I just had to reassure myself that Alf's young friend, Holly, would be all right in the back of the Berlingo if I left the dogs alone for an hour or so while I did my business. Nick told me that she'd be fine, even though Sophie revealed on Thursday evening, when she came to pick up their frisky dog, that they had no concrete evidence to support such a theory.
The show was the highlight of the week gone by. I don't think I've ever been billed as a 'special guest star' before. It carries certain responsibilities. What do special guest stars wear, for instance, to address a group of 'young people'? I plumped for a pair of my nephew's hand-me-down designer jeans and a jumper from the Devred sale. That way, I might just disguise the fact that I was almost three times the age of most of the would-be entrepreneurs. As a special guest star, I reasoned, you need to exude gravitas without necessarily stepping over a fuddy-duddy borderline.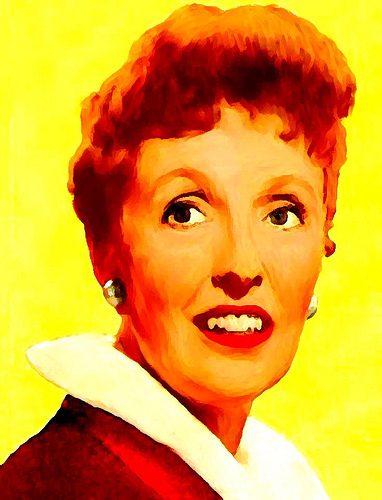 In preparing my bullet points for a five-minute speech (in English, please) I figured that my only claim to fame was that I lived in a straw bale house. So I gave them a potted history of our French experience and the reasons for choosing to build in straw. Despite my efforts to enunciate my words as clearly as Joyce Grenfell might have done, the young faces looked blank. I think you'll have to translate 'straw bales', Jill whispered urgently. After that, it went swimmingly.
The second phase of my guest stardom was more onerous. It was to wander around the two classrooms in which the groups of young business people exhibited their wares and services and chat to them – in English – about their USPs. Hello there. Tell me about your unique selling point… I eschewed the hands-behind-back stance, customarily adopted by the Dukee Enbrough or his son, the Prince of Wales, in favour of the ingenuous Englishman abroad approach. I rubbed organic cream onto the back of my hand, sipped organic orange juice, nibbled organic chocolate, discussed the efficiency of solar panels, debated the efficacy of wind energy, empathised about the Amazon and took the brochures on offer for future reference.
From repeated viewings of Marlon Brando, Rod Steiger and Lee J. Cobb in On The Waterfront, I've picked up some rudimentary method-acting techniques. They served me well in my walkabout. One group, 'trading' under the name of Green Pool (A bathing in open air), were so convinced by my suspension of disbelief, that they felt it necessary to point out that it was all fiction rather than fact.
During my inquisition, I was struck by the number of businesses with London addresses, even in one case 'The French District': testimony to the difficulty of setting up a going concern in their native land and to a remarkably mature commercial pragmatism. Gaïa & Co. even had an address in Kensington High Street, from which they intended to sell organic food, wickedly good. In their store, apparently, you can buy vegetable seeds and plant your own crops. Their delightful spokeswoman outlined a concept of a palatial backroom fitted out with sofas, on which the clientele could sample their wares. I didn't wish to temper their enthusiasm by quizzing them about central London rents.
I was also struck by just how charming and personable were the majority of these 'young adults'. Not at all your disaffected yoof, I guess they were a year or two older than my own daughter and I would have been happy enough to have fathered even the boys.
It's beholden, I think, on all special guest stars to share eye contact evenly between the more and the less confident. Generally, I scored well enough on this point, but almost lost it at the stand where three girls were offering environmental diagnoses. So transfixed was I by the radiance of one diagnostician in particular that my gaze wouldn't waver. She reminded me of a fresh-faced Kate Moss type. Had I been 30 years younger and not quite so happily married, I might have come over all unnecessary. However… I slipped away without disgracing myself and found the dogs content in the car.
Spring sprung briefly on Friday, and Jill took our friend Dan and me to lunch in Brive to thank us for our benevolent support. Two trips to the big town in one week! What a whirl, what a whirl! Dan had given a talk on graphic design, so I showed him the brochures I had collected, as we sat outside in the mild sunshine waiting for our three-coursed tout compris.
Jill revealed that they weren't generally an easy bunch to enthuse. However, they had really knuckled down to the topic of the environment. It was enough to give you hope for the future and one has to wish that there will be some environment left once they come of economic age. We discussed their aptitude for English, which was after all the object of the whole exercise. At this point, I read out a few of the most endearing howlers from their brochures. We laughed, but also agreed how difficult it is to write in a foreign language. How much laughter our own efforts must have afforded throughout the years.![](upload://xj8tOmwAtfcqRA6N4OHUzaneM5d.jpg)
The group pushing domestic wind turbines provided my favourite stanzas. Clearly they had taken something rather technical from the internet and attempted a literal translation. And mast without shrouds, the Skystream also fits discreetly than a lamppost. And as she works with little rev/min, the Skystream is hardly louder than a whisper in the wind tree.
Enough already, I am seduced. Debs and I will start saving for a Skystream. If the mayor of the commune gives us his blessing, visitors to the house might one day look upon our turbine and marvel at its fine blades to the characteristic shape and elegant form. My, I hope they'll say, it's hardly louder than a whisper in the wind tree.