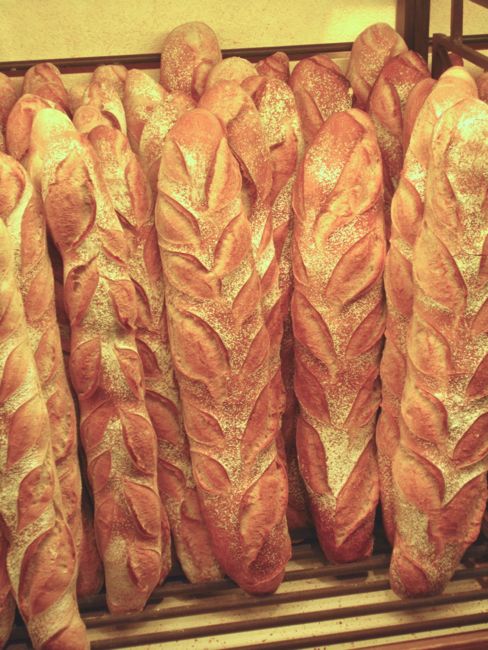 Photo: French bread is gorgeous. But where's the cornbread?
When we first moved to France, we noticed the French didn't eat, or sell, fresh corn. When we asked why, we always got the same response: "Corn is for cows!"
Which immediately explained the salad I had ordered once in a Paris bistro. It was billed as an "American Salad". Curious, I ordered it. It was a normal mixed green salad–--topped with canned corn.
But there is corn for cows (or in a can), and then there is real corn. In Charleston corn is king, or rather queen. The tender, sweet Silver Queen that arrives in the summer markets is a treat like no other.
Then there's the problem of making cornbread here. Over the years I have eventually been able to find most any product in France that I can get in the states except for two: cornmeal and grits. Both, of course, involving ground corn.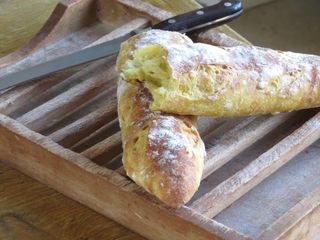 So I was excited then, when I first glimpsed the sign in the boulangerie for Pain de Maïs (corn bread). But no. Pain de Maïs is a sort of baguette with corn kernals stirred into the batter. Delicious, but cornbread it is not. PHOTO, right: Pain de Maïs is made partly with finely ground corn flour (not corn meal) and has corn mixed in.
It's hard to complain when there are so many other lovely vegetables and breads, but still, it's a taste of home. Fortunately I can now buy fresh corn in my local supermarket. I'm not sure if that's because the French are coming around, or because I hounded the manager of the store until he finally decided to carry it.
When friends visit from the states, they sometimes ask before the trip, "I want to bring you a gift, is there something you'd like from the states?" I quickly answer: "Yes please--cornmeal!"
So today I will share with you my very favorite cornbread recipe. Another day, when I'm feeling brave, I'll tackle that lovely Pain de Maïs.