Owning a French property is wonderfully fulfilling but writing endless cheques for bills is much less so. There will always be unavoidable costs involved in property ownership and many of these such as local taxes, are fixed amounts. However, there are many things that property owners can do to make savings and minimise their running costs. Almost every area of household expenditure can be looked at and you may be surprised just how many savings can be made.
Heating fuel is a major expense in most households and this is especially true for those with an oil fired boiler. If you have an oil based system there are still things you can do to reduce the running costs. Simply turning the thermostat down slightly, reducing hot water temperature and wearing an extra layer, will make a difference. This is equally true of all heating systems. If you are on a low income and have a fuel based heating system, you may qualify for the winter fuel payment known as l'aide a la cuve. You will need your income tax notification from the previous year - l'avis d'impot - plus a heating oil bill or a rent receipt stating the heating method. Ask at your Mairie for details. Some communes have also organised communal deliveries for heating fuel with the savings in the form of lower delivery charges being passed on to the consumer. Ask at the Mairie for details and if they don't have such a scheme, why not suggest one?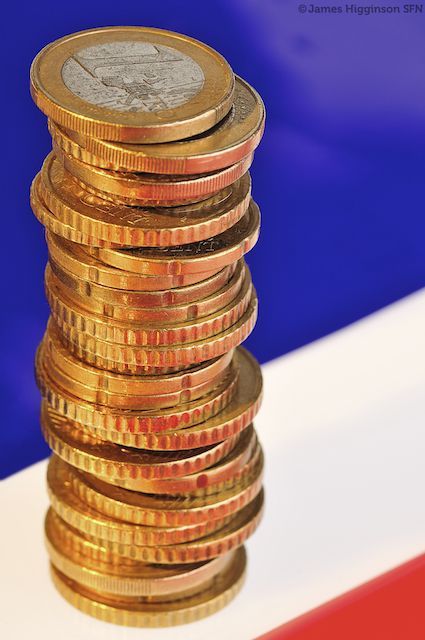 If you have an oil or gas fired system and are planning to remain in the property for the foreseeable future, it may be sensible to think about replacing the boiler. You could consider a geothermal system or installing a wood pellet boiler. Both of these will have lower running costs and attract tax rebates as they are environmentally friendly sources of heating. If changing the system is not practical, reduce consumption by ensuring the property is well insulated and that you have dealt with all draughts. Draught excluders attached to doors will help in older properties and expanding foam filler can be used liberally to seal gaps and holes.
Ensuring the property is well insulated is key to reducing heating costs. Anything other than a very recently built home, is likely to need extra insulation to bring it up to current standards. Insulating under eaves and in loft areas will reap dividends. If renovating, ensure that floors are properly insulated and if possible, also insulate exterior walls. Changing single glazed window units for double or triple glazed models will also dramatically reduce heating costs. If this cannot be done immediately, installing secondary glazing during the coldest months or even hanging heavy draught excluding curtains, will help as a short term measure. Opening shutters during the day to benefit from solar gain and closing them at night will also help to keep the property warmer.
If you have an open fireplace, consider installing a wood burner. Stoves also attract a tax rebate (le credit d'impot) and even a small stove will greatly reduce your dependance on central heating system. Wood is currently the cheapest form of heating fuel and lighting the stove on chilly autumnal evenings rather than firing up the central heating boiler, will make a big difference to annual fuel consumption. If you have woodland and the time and space to chop and store your own wood, it is a virtually 'free' form of heat. Even if you don't have the time or inclination to 'faire le bois', you may be able to find someone to do it for you in return for a share of the logs. Some communes run a scheme where the occupants are allowed to cut wood, from communal woodland, for their personal use. Such timber is usually either free or available at a nominal charge.
Researching tariffs for electricity charges is sensible for all households. Many will be able to make savings by switching suppliers and those with an electric or gas heating system should be able to make considerable savings by shopping around. The end of the EDF/ GDF monopoly has given consumers more options, details of specific energy suppliers can be found at www.energie-info.fr
Even with a better tariff, it is still important to use electricity wisely and to reduce consumption wherever possible. Simple lifestyle changes can have a big impact; get into the habit of always turning off lights when leaving a room and use energy saving light bulbs wherever possible . Always turn appliances such as the TV, computer and stereo off at the wall, leaving things on standby means they are still consuming electricity. When buying items such as lamps, check that they can be turned off whilst being left plugged in. It is a real pain if you have to unplug an item every time you want to turn it off properly! You could also install programmable timers which will switch appliances off at a given time. This can be very useful in areas of the home such as a home office or sitting room, where multiple items are in use. Use items that consume large amounts of electricity, such as tumble dryers, sparingly. Hang washing out to dry whenever possible and out up a line in an attic or outbuilding for rainy days. Upgrading older appliances to new energy efficient models is another way to reduce consumption. Look at the energy ratings when buying and always go for the most energy efficient model. Replacing a standard sized washing machine with a model with increased drum capacity can lead to considerable savings for larger households and families with small children. If your quilts are washable, opt for a model that is capable of taking duvets as this will save on dry cleaning costs too. Owners of gites and chambre d'hotes may find that using a local laundry service will work out cheaper than running a large machine on a frequent basis.
Reducing water consumption is another area where householders can lower their outgoings. Deal with any leaky or dripping taps immediately and when installing or upgrading items such as shower heads, toilets and taps, choose models that feature low water consumption. Metered water bills can come as a bit of a shock and most people will be surprised by their consumption. If the water bill seems high, establish if there is a leak in the system by turning everything off and observing the meter. If it continues to move, there is a leak in the system. Simple measures such as turning taps off when brushing teeth, turning showers off when shampooing hair and washing up in a bowl will all help. However, the greatest savings to be made are by installing a rainwater harvesting system. This can range from a simple rain butt to collect water for plants to an underground tank system which can then be used for things from flushing toilets to washing cars. If you are lucky enough to have a well on the property, you may be able to get the water assessed as being eau potable (drinking water standard) and in any case, you can use this water for all the households 'grey' water needs as well as for the garden.
Outgoings such as insurance premiums for buildings and contents cover can also be reduced by shopping around. In some cases, the savings can be quite significant. There are numerous price comparison sites which allow you to compare cover levels and policy prices. If you prefer the personal service that comes with a local insurance agent, it is still a good idea to use online comparison sites to check that you are getting the maximum cover for your money. Having an idea of the price options that are available, will enable you to negotiate a discount when renewing household insurance policies. You should never assume renewal quotes will be competitive, so always ask for a discount when renewing and make it obvious that you will take your custom elsewhere if one is not forthcoming. Most local agents have a fair degree of leeway in their pricing and will be keen to keep your custom.
Changing your telecommunications provider from France Telecom to another such as Neuf, Orange, Alice or Bouygues will inevitably result in savings. The site www.dslvalley.com allows you to quickly and simply check availability in your area and provides current information on all the tariffs and offers. www.phonexpat.com and www.uktelecom.uk.net are a good choice for users who require an English speaking team in case of any problems.
So with a little thought, a few changes and some shopping around, you can keep property running costs from spiraling out of control and even reduce them further. And that means more spare cash to be spent on 'nice' things like delicious local produce, plants for the garden and the odd glass of something sparkling!
Make sure you shop around for the best possible deal.
Turn lights off when not needed.
Don't leave electrical items on standby.
Use water sparingly and install some form of rainwater harvesting system.
The TV licence - la redevance audiovisuelle - is added automatically to the taxe d'habitation every year. If you do not own a TV set, you are not obliged to pay this but if you have a TV set, (even if you don't have an ariel or dish and only use it to watch DVD's / video's ) you are still obliged to pay.
www.rockwool.fr has information on current insulation standards and requirements plus lots of useful information and tips on using insulation.
Copyright - Catharine Higginson