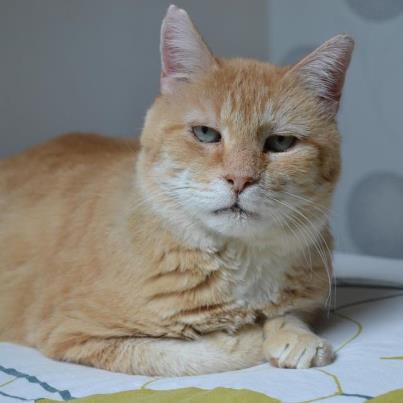 Le beau Wilson recherche une famille.
Association Les Chats-Urges dans le 62
06 84 11 49 94
Yes, good luck to Wilson I just love his face... A real Bagpuss !
Super thank you Lisa and very best of luck to Wilson. Not sure where I was looking but I couldn't find him!
He does look like a cat that needs a big hug and very often.
Best wishes
He is still on the page (twice in fact) and having spoken to the lady in charge she said they tend not
to publish details of indentifacation on their FB page, and of course they're all identified I didn't
realise it was such a problem i only wanted him to have the biggest audience possible :(
Thanks Lisa,
perhaps you could contact them just to be sure? It is worth it for his sake to know.
I've just had a quick look on this facebook page and I can't see him either, maybe he is adopted already?
I'm sorry Lynne but I've no idea what his identification number is I posted this from facebook hoping to reach a wider audience but given the fact that the phone number is an 'asso' i'm sure they have the necessary details.
He is a handsome chap Lisa, and looks like a real cuddly boy! Best wishes with finding him a good home.
To comply with french law, can you just let us have his identification number please, as it is illeagal to rehome him without this.