One of the worst things about being land-locked, unsurprisingly I suppose, is the lack of sea. My wife feels its absence more keenly than I do, because she loves to swim. So every now and then she needs to take off to fill her lungs with ozone at the seaside. Poor soul, she works so hard, so who am I to deny her the pleasure – even though I know exactly what 'taking off' entails?
In our case, because we don't have an apartment by the sea and because we can't really afford the luxury of a hotel, it involves camping. Some people in life are serious campers, to whom all the bother comes quite easily. We are amateurs, which means that you have to brainstorm and then transcribe copious lists of all the paraphernalia that goes with a tent. Every sleeping bag demands a foam mat; every gas stove involves a bottle; every gas bottle necessitates sufficient propane to set alight and a tube that hasn't perished from excessive storage; meals cooked on the stove involve a clever little crockery set from Decathlon, a decanted bottle of sunflower oil, a teeny jar of salt, a clutch of onions, a block of Feta cheese and so on and so forth. On top of it all, we always think how nice it would be to take the dog with us, because he, too, surely gets as excited by the mere sight of the sea as our daughter must (and we adults still do). So that little lunacy involves a whole sub-list that includes lead and towel and health passport to prove that Alf is not rabid.
And so we took off as early on Wednesday morning as we could manage. My job was to bark out regular time checks to motivate the girls and to pack the boot of the Berlingo. Being the man of the household, it is my self-appointed role in life to pack a car boot with the kind of precision and economy that I bring to the task of filling the dishwasher. My wife and daughter neither understand the compulsion nor appreciate the self-satisfaction I derive from meeting a challenge. Without actually demanding summersaults on the driveway, I insist that they admire the result. They humour me.
We chose our destination with care. A dab hand with the internet, Debs identified a campsite on the Vendée coast that sounded fantastic. The nearest thing, apparently, to camping on the beach itself. But it's a long, long drive to the Vendée and, even though the weather forecasts keep contradicting themselves in the attempt to second-guess this volatile summer, the predicted temperatures were a tad marginal. She found another site on the Atlantic coast not far from Bordeaux that looked nice. It was an area called the Grand Crohot and, looking at it on the map, you could imagine that the little yellow road led to a place among the pine forests that has been barely explored by campers and bathers alike. It would be a little warmer, too.
We got there in roughly four hours. Thus far, so good. However… while no one was willing to admit it at this stage, it was soon clear that the website with its eccentric English translation had lied to us. It was, as the French succinctly put it, moche: right next to what amounted to a main road leading to a car park that accommodated 1500 cars and surrounded by a fetching wire fence that spelled 'compound' rather than 'welcoming family-style campsite'. Nevertheless, we were all tired and the temperature was rising alarmingly. With heavy hearts we pitched our miraculous modern tent. Kazam! Three seconds and it's up. (Um, er… Three hours and we're still trying to figure out how to pack it up again. But we would worry about that when the time came.)
Moreover, we discovered – once my wondrous boot had been emptied of its clobber – that thumping franco-rap was emanating from the overspill camp site on the other side of the busy road and that something, high up in the spindly swaying pines that periodically dropped king-size cones like aerial bombs, was producing an appalling screeching sound. Since the screech appeared to be regular and probably mechanical, I surmised that it was some kind of bird-scaring device. Birds like humans presumably find it hard to tolerate the amplified sound, approximately, of fingernails on a blackboard.
After a troubled siesta, we felt that we could no longer resist the call of the crashing waves. Too soon, too soon! I heard the helmsman cry. At four in the afternoon, there are still 1500 cars in the car park. There are still multitudes on the beach. The sun is still high in the sky, heating up the sand and beating down on exposed flesh. I watched my dog and daughter both jump about like cats on a hot tin roof during a trek to the blissful water's edge that seemed as interminable as that epic scene of the sheik on camel-back in Lawrence of Arabia, slowly, slowly materialising from the shimmering horizon.
Later that evening, when the temperature dropped from 38 degrees Celsius to a more reasonable 32 or so, the wife and I rustled up a pasta dinner on the wallpapering table I had cleverly thought to bring in order to create a kitchenette. Still panting pitifully, Alf sheltered on the leeward side of the car, while The Daughter read her book in the tent. By now, we were too hot to be civil. 'Disaster' hung above plot number 78 like an unutterable idea. We had nowhere to plug in our portable fridge and five euros' worth of best Parmesan from Lidl was threatening to turn liquid unless we ate it all at once. The meal was surprisingly good.
Later still that evening, we drove to a nearby town, so the girls could walk the dog while I watched a bit of football in a bar with a Pelforth blonde. With Spain and Portugal locked in a stalemate and me wondering whether I should or could drink another beer, my daughter came to find me. She whispered urgently that Alfie had fallen into something noxious. Apparently, he had plunged into black bog by the water's edge that looked like it might have been tar. It wasn't. But the pair of them had to pull him out and then try to wash all the stinking black liquid off him. Later we learned that it could have been a bog full of rotting algae, which is not uncommon around the Cap Ferret peninsular.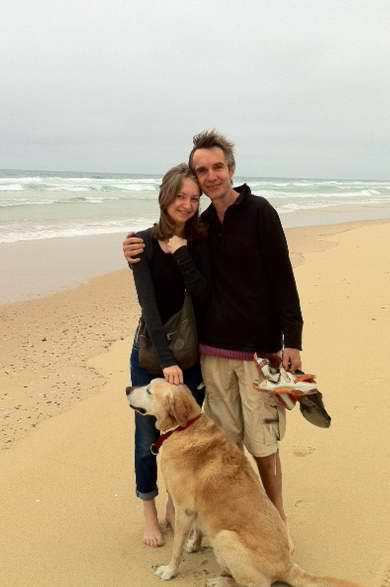 That night, we tied him with a rope to the car's bumper while the three of us bedded down like sardines inside the sweltering tent. Tilley woke me up in the middle of the night to announce that it was now raining, so Alf would have to join us. The temperature had dropped at last. But with a great lump of canine flesh at my feet, I had to contort myself into all kinds of twisted misshapes in order to wriggle half-into my sleeping bag. It was only when he decided to lie down in the hint of space between my daughter's sleeping bag and my own, that I was able to fully extend my legs and get some unbroken sleep.
The next morning, the sky was overcast and there was sufficient chill to warrant a fleece. We walked to the beach where a huge tractor was tilling the sand in readiness for the forthcoming human multitude. Apart from the odd litter-picker, there were only three of us and a cavorting Labrador-able on that great expanse of sand, along with a man and his scatty Pomeranian that ran about infectiously like an ethnic handbag on legs. It made us think that perhaps the sea is something you appreciate most out of season.
After breakfast, we voiced the unmentionable. Would it be terribly wrong of us to pack up and drive back to the comfort of our own home? No it would not, we decided unanimously. As boot monitor, I would get the opportunity to rise to my next great challenge two days ahead of schedule. Buoyed by the prospect of going home, we were packed up and ready to go in a trice. Just a matter of packing up the tent. We tried to decipher the diagram on the inside of the cover, and we scratched our heads, and we tried several permutations, but could we make that final figure-of-eight twist that threatened to snap the whole contraption? Could we heck as like. As per, I was reduced to asking for help. A nice young man was camping with his wife or girlfriend next to us n what looked like a smaller version of our tent. He took over with reassuring confidence – but then he too started scratching his head. Finally, together, we came up with something resembling the requisite fold, enabling us to stuff the thing into its cover. I laid it ceremoniously on top of my egregiously packed boot. We could go home! Let's take 'em to Missouri, Matt. Yeeee-haaaaa!
Homeward bound, with our daughter professing encouragingly that, despite everything, she'd really, honestly had an enjoyable time, my dear sea-starved wife announced that she was through with camping. She'd got the maritime urge quite out of her system. I nodded sagely and supportively, but just happened to mention that the campsite on the Vendée coast did look rather tempting. The nearest thing, apparently, to camping on the beach itself. A website doesn't lie, does it?