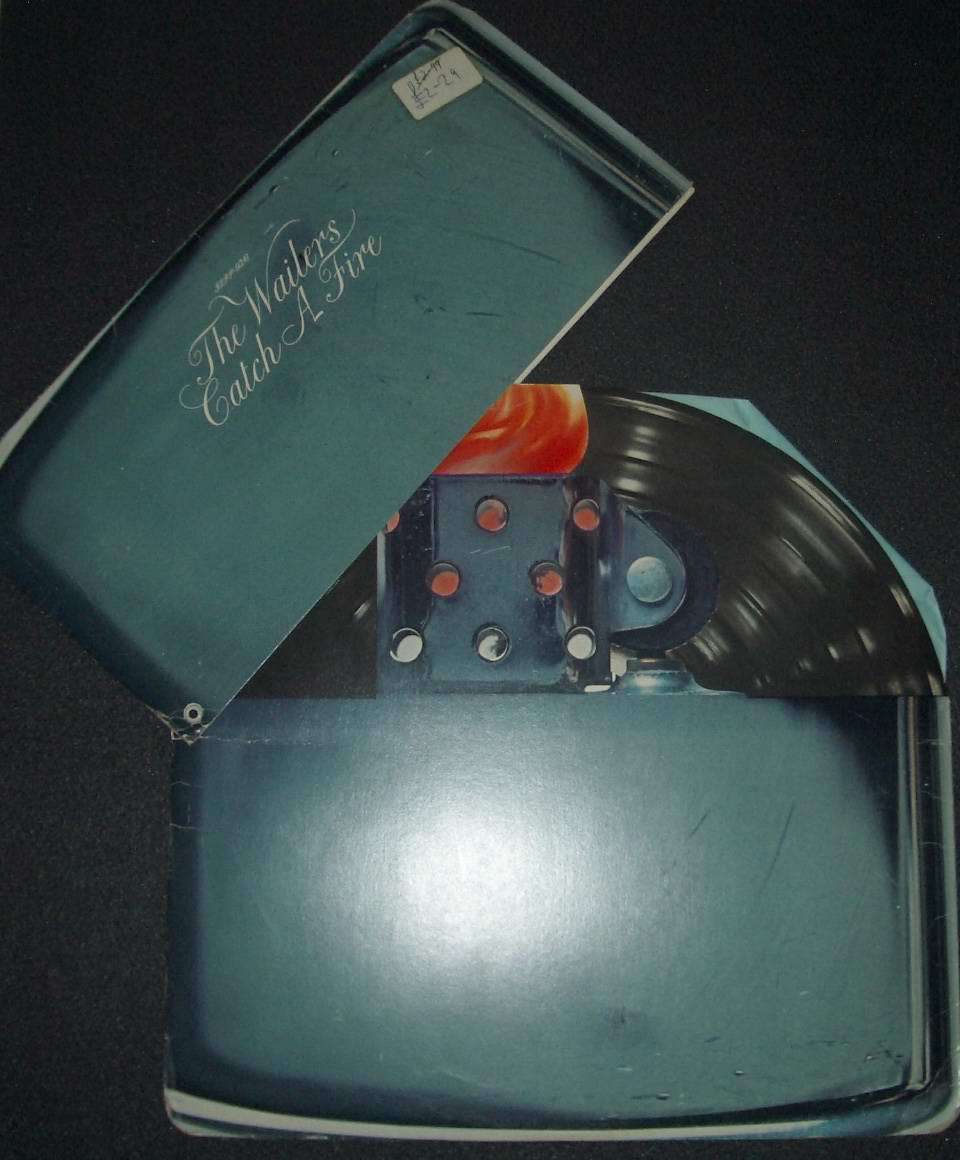 Probably the best album cover in the world…
Well, it's a very pleasing affair, certainly. Pull back the top half to reveal the workings of a Zippo lighter. Such a simple, but such a clever concept. It certainly set the album apart.
£2.29 reduced from £2.99. I probably bought it quite soon after its release in 1973. Certainly not long after seeing The Wailers perform 'Concrete Jungle', the stark and slightly mysterious opening track, on The Old Grey Whistle Test.
Up until that moment, I had associated reggae with artists like Desmond Dekker and Ken Boothe. It seemed slightly sappy and not something that a serious teenager would take seriously. But this seemed... serious, and different. A front line of Bunny Wailer, the gaunt Bob Marley and the tall, lean, dangerous-looking Peter Tosh, driven by the bass lines of 'Family Man' Barrett and his brother Carlton on drums, singing about modern urban themes rather than love songs or impenetrable parables about Israelites. It was a heady and exciting mixture.
'Concrete Jungle' was in fact a re-working of an earlier song and I later learnt that many of the classic numbers from the early days of modernised Wailers – 'Slave Driver', 'Lively Up Yourself', 'Trench Town Rock' and many more – were reinterpretations of songs from an era when the group was ploughing its furrow, unknown outside their homeland of Jamaica. I dismissed them when these earlier versions were re-issued on snide compilations to cash in on Marley fever, but have subsequently gone back to discover their charm. Less polish perhaps, but more raw soul.
This was Chris Blackwell's masterful entrepreneurial idea when he discovered them and signed them to his Island label. Resurrect the golden oldies and embellish them with modern production techniques. It sure worked a treat.
'Concrete Jungle' is followed by the lazy 'Slave Driver', with its expert hand-claps and cheap organ sound, before the two Peter Tosh originals: '400 Years' and the marvellous 'Stop That Train', so redolent of the early days when the Wailers were a vocal harmony group in the vein of Curtis Mayfield & The Impressions.
If Tosh's voice is not quite that of the dangerous 'stepping razor' he would subsequently sing about, it's harsher and grittier than Marley's sweeter tones that lead on the other numbers. I would subsequently buy Tosh's solo album, Legalise It, as a 'weedy' student, primarily I think because it was the hip thing to do and I believed then, as I do now, that it should indeed be legalised.
'Meet you at your house at a quarter to hate,' Marley sings on 'Baby We've Got a Date (Rock it Baby)', which ends the first side on a lovely old-fashioned note, with the curious addition of what sounds like a pedal-steel guitar.![](upload://fA2CInocuWKDdJDRexgX93iHyb9.jpg)
Then Side 2 fires up with my two favourite tracks on the album: 'Stir It Up' (or 'Steer It Up' as Marley sings it) with its marvellous 'Family Man' bass line, its wah-wah guitars and woo-woo backing vocals; and the glorious 'Kinky Reggae'. 'I went down town to see Miss Brown/She had brown sugar all over her booga-wooga...' I've never been quite sure what that's all about, but it sounds illicit and it doesn't altogether surprise me that Marley 'just can't settle down in a kinky part of town'.
The album ends with two more Marley songs: 'No More Trouble' and 'Midnight Ravers', whose slightly haunting organ sound echoes 'Concrete Jungle' and brings things elegantly full circle. The CD reissue has two bonus tracks. 'High Tide or Low Tide' is fairly innocuous stuff, but 'All Day All Night' sits very nicely thank you in the 'Stir It Up' and 'Kinky Reggae' genre, without quite capturing those heights.
As good as it is, the album has a special place in my heart more because it led me to explore and love the rhythmic and melodic genre that would spread from a small island in the Caribbean to the UK, France, West Africa and all over the world. It took me first to toasters like the 'brothers' Roy, U- and I-; then to the deep spiritual reggae of Winston Rodney, aka Burning Spear; to the disco-infused reggae of Third World and The Royal Rasses; to the 'Cool Ruler', Gregory Isaacs; to the spacey dub sounds of King Tubby and Augustus Pablo; and above all to delicious vocal harmony groups such as The Mighty Diamonds, Culture, The Wailing Souls and The Gladiators.
It was the first and, like girlfriends, it is indelible in that respect. In truth, there are probably better Wailers/Marley albums out there. Burnin', for example, has a lot of proponents. And I really love the excitement captured on Live! (at the Lyceum, London) as a reminder of the unforgettable evening when I saw the band live in the big hall at Exeter University.
Our resident social secretary was a bit of a megalomaniacal self-publicist, but he lured the likes of Chick Corea, Hatfield & the North, Geno Washington and the Ram Jam Band and John Cale to an outpost of academe in the west of England. Somehow, he persuaded Mr. Marley and crew to come down for a second concert during a flying return visit to the capital. God knows how. We didn't ask too many questions, but gave him our undying gratitude. Strangely and perhaps sadly, our benefactor didn't end up as a concert promoter.
By then, Tosh and Bunny Livingstone/Wailer had left to forge solo careers, so we had to be satisfied with the I Threes – Judy, Rita and Marcia. Not too shabby, really. I was part of a seething mass of humanity easy-skanking along to all the by-now familiar numbers on a hot summer's evening. I remember turning at one point to smile at a respectable former student who had settled in the area to found a (probably short-lived) local paper. He was dancing bare-chested with his shirt tied around his waist and a perma-smile spread across his face. We knew that we were witnessing something very special.
Having missed both The Beatles and The Rolling Stones in beleaguered Belfast, it seemed the next best thing. It certainly garnered a few Brownie points, which I have been able to spend at dinner parties in the decades that followed. A distant memory now, but the vinyl microgrooves still testify to the truth. The Wailers were damn fine in their prime.