Reluctantly and with considerable embarrassment, I confess unto thee (a-hem) that we employ (cough, cough)… a femme de ménage. For those of you watching in black and white, I'm talking about a cleaning lady. Or, in these more enlightened times, a cleaning woman.![](upload://15zZFhEHyHJMYA2rej1Ky6spy90.jpg)
Now I wouldn't want you to get the idea that I'm some rich, indolent bar steward who simply hires a skivvy to do his dirty work without ever sullying his own hands. I'll have you know that I cleaned a holiday home for three seasons, so I know only too well what a thankless and tiring job it is.
I blame the wife. I told her that I'd be happy to do the cleaning myself, but she pointed out – tactfully, to be fair, and without hurting my feelings – that men don't quite have the same feeleeng (as the French might say) for household dirt. That is, they create a lot of it without ever quite being able to remedy it. And so I conceded to my wife's wish. After all, she works unnaturally hard to earn our crust and she likes her home to be rendered spick and span at least one day a week. It's not much to ask.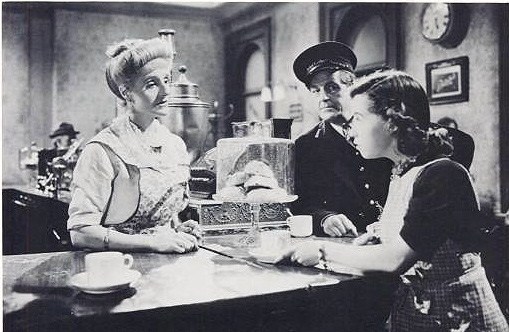 When I close my eyes and try very hard, I can just about remember back to my earliest days in a nice middle-class north London suburb. My young parents aspired to be as nice and middle class as my father's parents, who used to employ a woman called Topsy to do for them. And so they in turn employed a woman called Mrs. Burnham to do for them. All I can remember about her was her voice. She spoke rather like the woman played by Joyce Carey, who operated the station tearoom in David Lean's Brief Encounter. You know, all hemphasised haitches and other misguided hairs and graces: So I said to him, I said, if you think that I'm just some kind of hun-paid servant, Sunny Jim, you've got quite hanother thing coming to you…
One of the last things I aspired to be was a nice middle-class suburbanite, which was one of the reasons, I suppose, why we moved off radar to the rural heart of France. Nevertheless, CC – as I shall call her, even though the likelihood of her reading this is about as slim as the leaders of Europe resolving the economic crisis at one of their summits – came to us not long after we occupied this house. She came strongly recommended by friends who rented their house during the summer months to UK holidaymakers and who therefore needed someone reliable. She's been with us ever since. It's quite possible that we couldn't live without her now.
Needless to say, we completely cocked up the chèque de service business. Not realising that the administrators add onto the amount that you pay your employee the charges that are supposed to cover holidays and sickness, we – or should I say 'I'? – wrote out the cheque for the basic rate plus charges. Which is why we had to cut her hours from three to two per week in order to claw back our munificence. CC's been back on three hours for quite some time, which suits everyone concerned. She turns up promptly every Friday morning and blitzes the house like the proverbial White Tornado. The one drawback is that it's extremely difficult to get any work done. She can talk for France and, like tornadoes the world over, she generates a lot of noise.
The reason I mention all this is that yesterday she got married. It's a heart-warming romantic tale of late-flowering love and happiness. When she first started doing for us, CC was a single mother. She had a lovely young daughter, who survived a serious illness, and little else besides. Her life was difficult. Her first marriage ended in tears, as they tend to do when you choose to marry a selfish git. Fortunately, she's so good at her job that the bouche à l'oreille worked in her favour and it wasn't long before she was able to turn down work and even to choose her patrons. Nevertheless, she's a worry-wart who wears her heart on her sleeve, and it didn't take a shrink to figure out that she wasn't as happy as she deserved to be.
Then one evening, she met a man at a dinner party. His initials are C.C., too, so I shall refer to him as CC2. A roly-poly man with florid cheeks from working out of doors at a garden centre, CC2 was also a refugee from a toxic relationship. Soon CC started turning up on Friday mornings with a spring in her (rather heavy) step and a sparkle in her eye. Over coffee one morning, she confessed that l-o-v-e love was in the air. It wasn't long before CC2 moved in with our indispensable femme de ménage and proved himself a far better father to the little girl than the real-life version. Everything, as they say, was hunky-dory – or nearly.
The one fly in the ointment was CC2's work, which was wearing him down and further undermining his already fragile self-confidence. Over coffee on Fridays, CC would agonise about his prospects. Rather than continue to suffer the indignities that his twisted boss seemed to delight in heaping upon him, shouldn't he leave and set up on his own? But then again, leaving secure employment in the current economic climate…
She agonised to such a degree that she kept herself awake at night and made herself ill. Trying to carry on cleaning to keep all her clients satisfied while in an advanced state of stress, she did her back in and physically ground to a halt. The Good Wife of These Parts packed a massage couch into the back of her diminutive car and stopped off a couple of evenings on the way back from work. She helped her see the light at the end of the tunnel and got CC back on her feet again. Ever since, I've had the impression that she would turn summersaults through a bramble patch for us. When I got into trouble with a bewildering document that I shouldn't have signed, CC took control and made some calls and sorted it all out for us.
Meanwhile, CC2 made the great leap into the unknown and pretty soon the grapevine worked equally well for him, too. Now he has almost too many clients to cope with and they have no more financial worries. The daughter loves him and her school reports make her mother proud. A year or so ago, they found a very handsome stone house with a big walled garden to rent at a reasonable price – with the prospect, one day, of being able to buy it from the mairie. They have a cat and an abundant kitchen garden and a flock of prolific chickens that live in a coop built by CC2 now that he has rediscovered his self-belief and developed do-it-yourself skills.
So love conquered all and now they are officially married. My friend Dan took the photographs. CC fell for his very English charm when he joined us on a couple of occasions for coffee. We've all been invited to the party later today and even though I'll probably feel a little awkward as part of a small but conspicuous group of anglais, I'm proud to be invited and proud to be considered as a friend. It certainly helps to blur that awkward line between employer and employee, patron and femme de ménage.