Dunno. Some kind of bio organic stuff. I'm someone that reads labels and I was quite happy with it (I don't buy much and our property has been "natural" since at least 1981 (unsure about the farm across the road though). It appeared to do nothing for a while but then another round of hot weather then wet and there was clear progress as compared to previous rounds.
Perhaps it was dried urine pellets? I think I'd have noticed on the ingredients list

.
I treat these things like a lot of swimming pool aditives, in those cases the labels are only telling a half truth at best and its mostly stuff you dont need. Once the bacteria and fungai get going they just need heat and water, plenty to feed from.
I remember a housing estate in London I worked on, they paid me to remove 3 skip loads of beautifully rotten down grass and leaves. I tried to explain to the Directors it was gardeners black gold, nice finely grained stuff. They told me to get rid of it and in the space it left bought 5m3 of new fertiliser? Ah well I got paid and did a few gardeners I knew a favour.
I've been composting (not me personally, obviously. I might smell a bit but that's for other reasons. I digress) for years. It's actually one of the things that I do genuinely enjoy. That said, I have no magic formulas, no words of wisdom. I make it up as I go along.
I collect leaves in the autumn/winter. They get kept in 2 huge dumpy bag things I have. I have 3 self built pot block bins (sometimes card board lined if I have enough) on the go at at any point in time (garden waste, household I do separately and I'll mention later) I can assemble/disassemble/reconfigure those bins. Into those bins, over spring/summer, go grass clippings, twigs, prunings, then a layer of leaves from the aforementioned dumpy bags. And repeat. I'll fill one bin (maybe 3 sq m) cover it with a corrugated iron sheet than start on the next bin. Periodically, I'll turn and combine bins as the levels compress/rot/dry down. It's an ongoing process that takes maybe 18 months to produce pukka looking, well rotted black compost. Off and on, I've been told by folk that I shouldn't use either leaves and/or grass in compost. I've ignored the well intended advice.
Household waste is different. I have 2 water butts, one inside the other. The inside one is drilled at the bottom, for drainage. The outer bin has a tap. I get compost juice from it. We fill the inner bin with all green waste from the kitchen (we're not meat eaters)… and coffee grinds, lots of them! Annually, I turn it all out, taking and bagging the ready compost and putting anything uncomposted stuff back - especially the worms, lots of them too.
Sorry, it's hot and I'm stuck inside with too much time on my hands.
Would love a PIC of your diy compost tea maker!
Tbh, there's not a lot to look at. It's one water butt inside another. I think I've maybe jacked up the inner bin (with bricks?) to give more space for tea. I do water the tea down for use in the garden though; it might be a little too much neat… but I've honestly no idea. As I say, I just make it up as I go.
But next time I'm out with my phone/camera…
Interesting idea. Do you manage to keep rats out of your compost? I started full of good intentions years ago and still throw the kitchen stuff into the compost bin (self-assembly, bought from one of the brico stores) but I get the feeling all I am really doing is keeping the local rats well fed.
I know hedgehogs like rummaging in my rustic heap… and it is just that, a heap of assorted stuff, in a corner of our small (divorced) garden. I recall my Dad had something like this and would grow marrows on it every year. Me, I'm not growing anything, just leaving it to rot down and hoping eventually to end up with compost… who knows… the wildlife might wander off with it… and they're welcome


The household waste bins are sealed, the water butt lid, and up on a pedestal thing. I'm sure the rats etc are interested but there are no signs of gnawings etc.
I get snakes (and even ferral kittens!) in the other bins - got a bees/wasp nest in one at the moment - but I just go careful when opening them up. They do get the most wonderful grub type thing though, I guess they do the chomping and 'processing' required… I do like them and do my best to keep them safe when shifting and turning the heaps.
Your larvae are probably rose chafer ones, largely beneficial beetles that are really beautiful (do pierce holes in our peony buds, but they are so beautiful we let them be).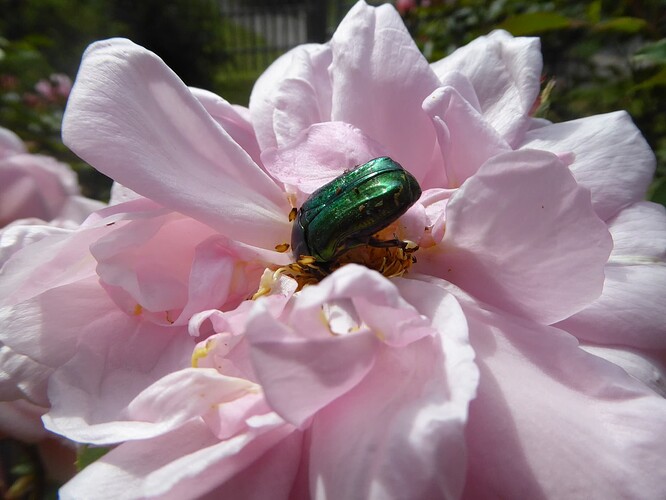 But worth learning the good from the bad as plain old chafer larvae can be very destructive!
I did wonder where this was going - I have heard rumours of on-line photo shenanigans!
My worker compost grubs are very grub like. I've just looked at several on the web and, well, they all look alike to me! I'll have to get one for a positive ID. Maybe arrange a photo lineup or somesuch.
I've no idea what they grow up to be, even if they grow up. There are scores of them in the compost but we're not blessed/inundated with any type of beetle, attractive rose chomping or otherwise. I just assumed they munched decaying plant matter all their lives.
Since the bin man collection service changed here 2 years ago as with many we now have a yearly charge levied for waste disposal.
I have a large dumpy bag on a frame in the barn where all the plastics are stored and when full its a trip to the village to empty in appropriate bin.
The autres decettes we produce is now surprisingly little.
Now for the organic waste. As a temporary measure 2 years ago I used a 50 gallon steel drum previously used as brazier with holes bunched in around the bottom and lower part and stood it on 2 concrete blocks at the bottom of the garden into which goes all the organic waste. What I didn't think about was how to empty it but needn't have worried as after 2 years it never gets more than 3/4 full, decomposing is an amazing trick of nature.
I have a ventilated lid on the drum so no vermin.
?? We have always paid for rubbish disposal for last 21 years!!
I should qualify, the cost was previously incorporated in the tax habitation charge but now that has gone separate charges are creeping back in ie. Waste disposal for which we now have a standing charge per year and a swipe card to access the autre deshette bin.
Ok, thanks, that makes sense.
Went to fetch my free composteur from the décheterie this morning. The flatpack configuration stumped me for a while – instructions were no use, but managed in the end.
Have composteur, so can now compost!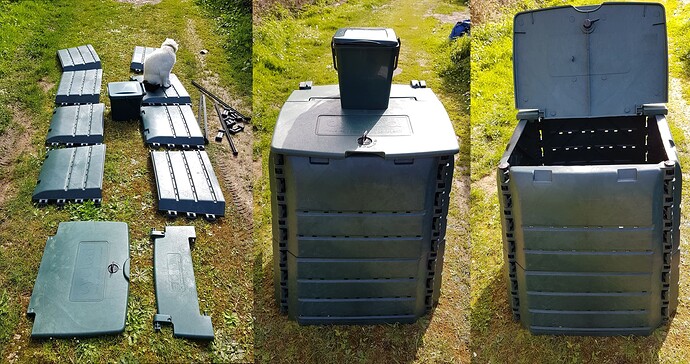 Cat sussed it for you?

He was there at the time - that's all I will say…!
Better than wasting it down the loo !