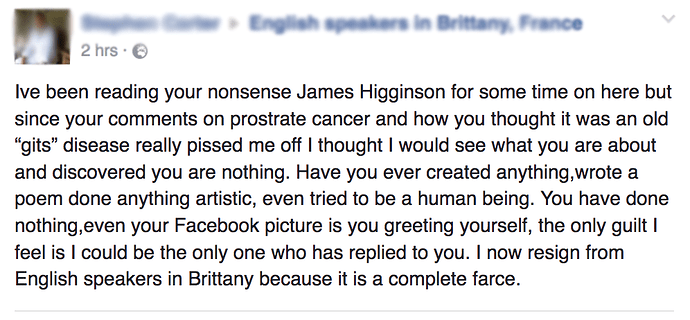 We had a really nice day yesterday. I got a lot of work done, then we had a lovely lunch with lovely friends before coming home to watch a great film in front of the fire. So I was pretty chilled by the time we went to bed. James was busy checking a last few things on the laptop when I heard a sigh. 'What is it?' I asked. 'Oh just someone having a go at me on the internet' he replied, 'forget about it.'
But I didn't. I had a look and was pretty shocked to read this:
"Ive [sic] been reading your nonsense James Higginson for some time on here but since your comments on prostrate [sic] cancer and how you thought it was an old "gits" disease really pissed me off I thought I would see what you are about and discovered you are nothing. Have you ever created anything,wrote a poem done anything artistic, even tried to be a human being. You have done nothing,even your Facebook picture is you greeting yourself, the only guilt I feel is I could be the only one who has replied to you. I now resign from English speakers in Brittany because it is a complete farce."
Since we started Survive France in 2009, we've developed pretty thick skins. You have to. We've had all kinds of abuse and threats hurled at us. Most of it is so out there in 'la la land' that it's really quite funny. My personal favorite is the lady who threatened to 'tell the CIA' (I'm still not sure what?) and there have been many other gems.
I would put this recent comment into the same category. For starters, the post about prostate cancer wasn't actually written by James. It was another SF member. Secondly, had the author put more effort into his research, he'd have discovered that James is actually a very talented (and artistic!) photographer. And thirdly James is the most human of human beings. He's actually one of the nicest, kindest and best people I know. But then I would say that, wouldn't I? I am slightly biased.
However, this kind of behaviour is just not funny. It's bullying. And had it been directed at someone else, maybe someone who hadn't had a great day, didn't have a supportive partner and couldn't laugh it off, maybe the outcome would have been much darker.
Online bullying is one of the reasons we launched Survive France. We were sick and tired of reading forum posts where people seemed to think it was ok to launch the most personal of attacks from the safety of their keyboard. And I guarantee that none of these keyboard warriors would ever say anything similar to someone's face.
People seem to be getting ruder by the day. I don't think it's necessarily a generational thing as some of the worst offenders seem to be older people. But I do wonder if the internet isn't largely to blame? Or is this too simplistic? What do you think?