As you don't pay tax in the UK you declare the gross amount. The amount after UK tax is irrelevant.
Hi David, I do pay tax on my government pensions but Halifax no longer tax at source
Two different things.
Your government pension is declared at 8TK and the savings interest at 2TR.
Hi David,
I know, hence the 2 photos. The Government pension slipped in with no issues, the interest from savings is my issue which is the second photo. The last 2 boxes on photo 2 ask for interest pre tax and then government tax. By putting a 0 or nothing in the box does not show this section as an input when you get the summary sheet of sections completed after signing off the return!
You have not clicked the correct box in the first photo for the bank interest. It is reported in Interéts et autre produits de placement à revenu fixé.
Oh! On the paper version that's the heading under which the tax office in Carcassonne told us to enter it!
Hi Martin… I don't know about online… your tax office will reply to an email.
I had 2 replies come from Perigueux… within a couple of hours… although the questions had been answered by my local Tax Office over the phone…
I'm following the Deputies' arguments now… byee
I declare exactly the same two income sources. My government pension goes at 8TK and the U.K. interest at 2TR. The box you are trying to fill is for income that has already had tax paid on it, that is not the correct place for U.K. interest.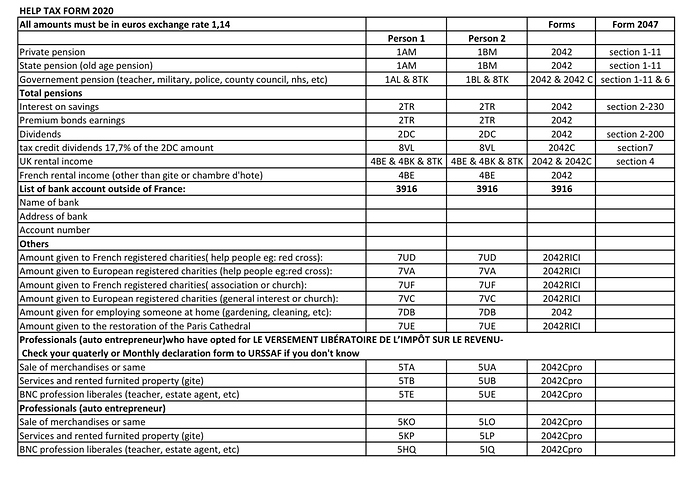 This is a useful form.
Thank you very much David. All sorted now.
It is a very useful form. Thank You.
Kindest Regards
Martin & Tracey
Yes, thanks!
Very useful.
Hi there,
If anyone can help me I would seriously appreciate it… tearing my hair out here trying to figure it out.
I am trying to declare the interest I received on my Irish account (for which I have already paid interest in Ireland). The info here seems to be for UK interest that isn't taxed in the UK.
I'd like to avoid paying double tax… I've put the gross amount on form 2047 box 2TR but I think this is incorrect and I will end up paying twice… but not sure where to put it otherwise.
Thanks so much in advance!
Hi Kane… and welcome
Please would you give us your First and Last Names… Full Name is part of our Terms and Conditions.
If you're not sure how to amend your Registration… simply put your full name here on this thread and I will amend it for you
cheers…
Hi Stella,
It's Shiv Kane.
Cheers
Attempting to complete (on paper of course) my first 2047. Afraid the lines 200-223 are baffling me. Especially perplexed by lines 203-207 inclusive. Whilst I think I understand what each line requires, together it seems to make no sense and if anyone could give me a steer I would be more than appreciative. Thanks
If you look at post number 26/27 in this thread,
There is a helpful pdf attached and page 18 of this pdf shows you what to do.
Enjoy!