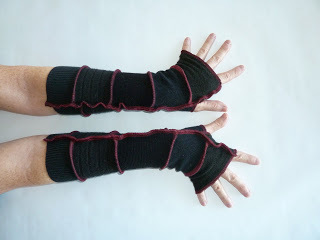 I recently met Dana on face book and fell in love with her fabulous creations and we got to chatting as we girls do! and she told me about her love of fiber art which for her started at an early age, living then in Spain she saw an elderly lady dressed in mourning black sitting in front of a medieval castle knitting the most intricate and beautiful lace. The lady was so skilled at her craft that she didn't even look to see what her fingers were creating. It was almost as if her fingers had eyes. Dana was mesmerized and thought to herself "It's like magic… and I want to learn how to do this! This was the start of her love affair with all things fiber.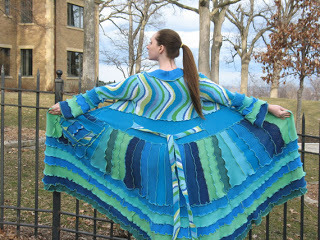 She also mentioned that she studied flamenco dance and guitar and her work as you can see has been greatly influenced by the vibrant colours and music of Spain, Portugal and Northern Africa.
Designs by Dana are a completely original take on fabrics…. Creating clothing – rather, works of art that force you to see fashion in an entirely new way.
Dana has not hung her shoes up just yet and here are her favourite pair ready and waiting.....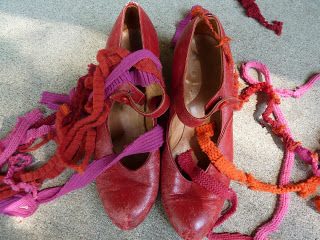 Her clothes not only look comfortable, flattering and best of all unique. From original patterns for couture hats, separates and outerwear to reconstructed materials putting life into assumingly tarnished textiles. The detail and care put into every stitch from Dana is what makes her line unlike anything currently dangling in your closet or what is found on the every-day store racks.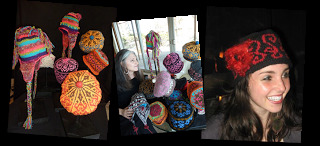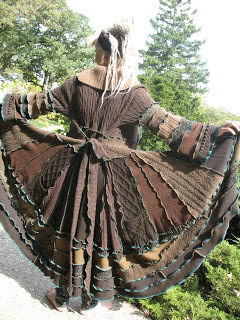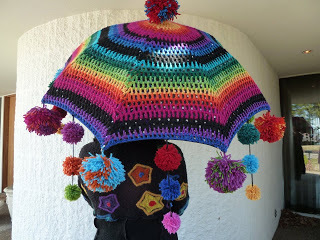 Huge thanks to

Dana

for sharing her story with us and for her fabulous give away of a pair of up cycled gloves (First picture on post) which will go to one of my lucky followers. Now how to enter and you know I like to keep it simple..... so for the first time I am trying out Rafflecopter so bear with me and if there are any problems please let me know so I can rectify. So good luck and meanwhile Dana will strum you a little tune on her guitar.