I never really liked dogs. When I was a much younger person I had a contretemps with a GSD that did not go my way, and most of my family are also not 'doggy people'. 6 years ago however, I met a dog that changed my mind, and when he left us, the first thing we did was get a puppy. They say 2 dogs are just as easy as 1 dog, and to assuage our (slight) guilt at getting a rather fabulous posh hound, we added a rescue sheepdog cross in to the household. So within a short space of time I had gone from "I don't like dogs" to "Yes we have 2 dogs and they are fab".
Since moving to France, and especially since adopting the small sheepdog, we have got to know (mostly on line and a little in person) the wonderful ladies that help out at the SPA in Carcassonne. Sheepdog came from there, and on the couple of occasions we have taken her back for a visit, she's been really stressed. Not the best place for a dog but a whole ocean better than some situations these dogs can find themselves in.
As we seem to be having a really, really hot Summer, my better half suggested that 3 dogs are just as easy as 2 and shouldn't we assuage a bit more guilt by putting a roof over the head of a rescue dog, and giving them a bit of the family life experience. Being an old softie, I said yes. The BH had already selected a deserving case in the form of Trudie, a 9 year old (more on that in a sec) scent hound, that had been found wandering and ended up at the SPA. For those who wish to look up her main breed she is a Bruno de Jura, about the size of a bloodhound, but more of a beagle face. With a bit of French paperwork and other administrative shenanigans, 10 days later Trudie was all ready to come home with us. A friend and dog trainer (also a fosterer) very kindly arranged a meeting of dogs in neutral territory, and we were off… A 3 dog household.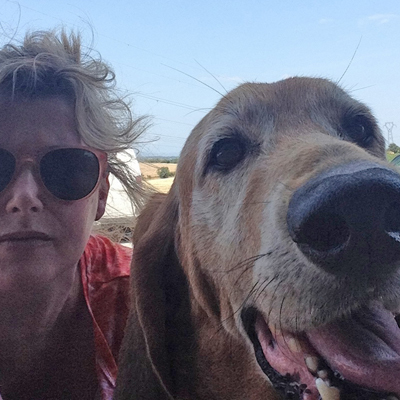 Trudie seemed affectionate, calm and mature when we got her home and we started to get to know her character. 6 weeks later, she can still be that calm affectionate companion. She has settled in to our routine so calmly and contentedly that we've been amazed. And there is a bit more to her than the mild mannered Bruno de Jura we first saw …
She doesn't bark - she hoots! An oddly endearing sound, and being woken up on the dot of 7am every morning with a hoot makes us both smile every day!
She is a natural swimmer, whether you want her to be or not. Both the BH and I have turned our back for less than a second, and while walking alongside the Canal du Midi have heard a splash, with Trudie off in the water (in places where it's a couple of feet high to jump in) having a great time, only to be hauled back to shore on the 8m lead.
She has a better nose than our own hound, which she showed us in no uncertain terms on this morning's walk. A rabbit was spotted in the distance, but not by Trudie. A few yards later we crossed the bunny's trail, the hooter twitched and the scent was followed. Then came the hunting call. Nose in the air, trumpeting to the rest of the pack that she had the scent of something interesting and everyone should follow (for 8m at least).
Trudie also has good maternal instincts (she does look like a dog that has been mummy to a number of litters - possibly one of the reasons her age was guessed at 9). When a crying baby came on to the TV, she got distressed, went over to the speaker and gently pawed it to comfort it.
On the not so good side, she's also drunk two of my morning mugs of coffee, and had a bowl of Red Fruit Special K for her breakfast. Even worse was that I'm so slow in the mornings, I forgot to change my mug for the replacement coffee…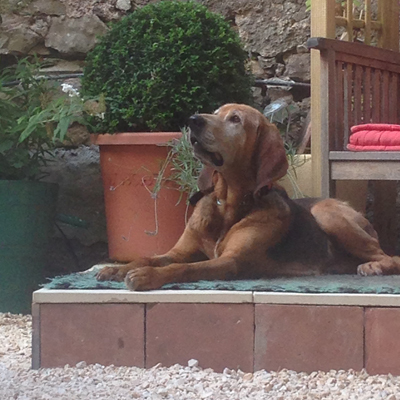 As we have got to know more of her character, we get more convinced that she is more like 6yo than 9yo. The rough play with our dogs, the state of her teeth (pretty good) and the energy she puts in to sniffing and exploring simply do not seem to be the traits of an old dog. Her colouring could (in my view) be a little golden retriever or yellow lab in the DNA somewhere in the past, and watching her 'lollop' (8m at a time) is simply lovely - in the 2 months she was at the SPA she did not get a decent walk (which makes me think of Biker, a gorgeous hound going slowly mad in his kennel), so even a short lead is just bliss!
All these endearing, affectionate traits mean that as the last few weeks have passed, we've assigned her several names. First Trudie became Troodle, then Noodle (which does suit her!). Dora the Explorer (also very good), Lollop, Hoots and Hooter have been thrown about, along with several others that didn't stick in the mind.
Of all the 3 dogs, the artisan currently working on our house has the biggest soft spot for our foster charge, not our own two young scoundrels. "Trudie" is just a lovely lovely hound.
So how does that grab you? An easy going, funny, affectionate hound that could be a fantastic family member, and a gentle and rewarding companion for the next several years.
She's just waiting for her real name and a proper loving home…
Please contact me or the SPA (website@dogrescuecarcassonne.co.uk) if you can help