What a splendid idea. Pleased to see an Airedale among them.

My 4-month old puppy (on the left, obvs.) this morning, his first tentative steps into any body of water, he even swam a bit with that lab! (that's the River Coquet, at Warkworth, Northumberland)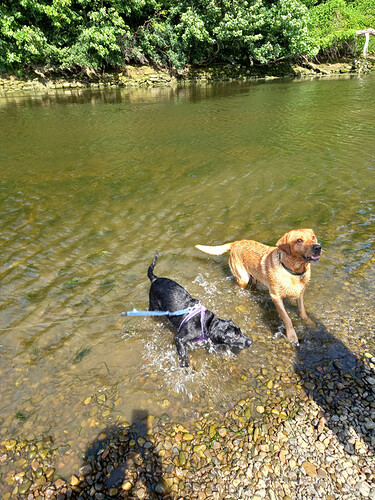 In boot of car after the wet excitement…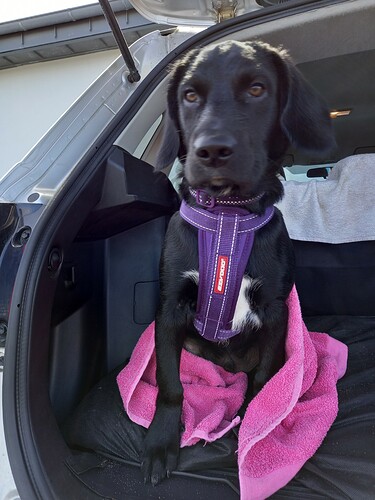 With a neighbour's golden retriever.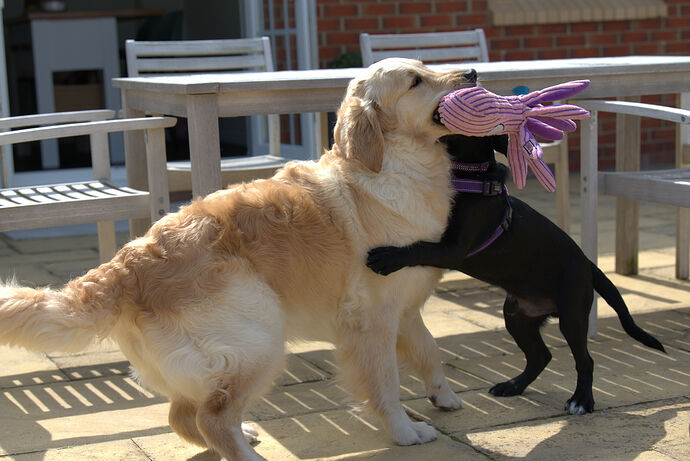 What a difference a year makes…

Wilf…My gorgeous Border Collie pupster from one week to one year

Edited to add…of course I've missed out a thousand photos in between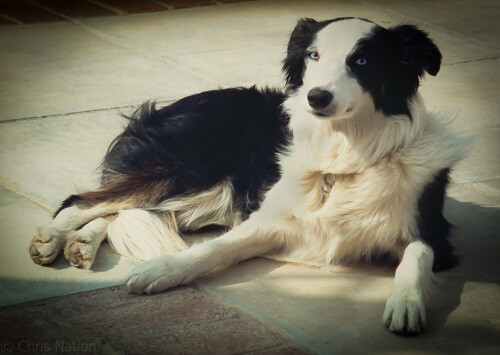 Beau. Border Collie. The real thing, from a farm near Peebles in the Tweed Valley. Made redundant as a trainee for being too clever for her own good.
Died 18 years ago. I'm still ripped up …
She's absolutely beautiful

Do you think you may ever have another border collie in the future…???
Yes, she was a beauty. She also had a profound effect on people when they met her. Over and over again people used to say, "It's like meeting a person."
A friend said she was a bhodisatvva who had temporarily taken the form of a dog to bring a moment's peace to human souls. She did have that effect.
She was a big star on the Portobello Road. I used to do my weekly fruit and veg shopping there. I let the dog run loose amongst the milling crowds. She loved to meet and greet.
At the stall where I always got some of my stuff there was a lad who was a little bit touched. He used to fetch the boxes of veg from their store "More parsnips, please, Richard!". He loved Beau. He would get down on the ground and they'd have a big cuddle, even in pouring rain. Having a cuddle with that dog was a light in Richard's life and somehow the dog was aware of this.
If I got another dog it would have to be a Border Collie. I like pretty much all dogs except the category known to me as 'a rat on a string'. Valencia was teeming with them. Tiny yappers in flats.
I was given this dog. I did not choose her. I most certainly did not own her. Having her put down was and still is an excruciating pain. I dream of her at night.
It's a tough one.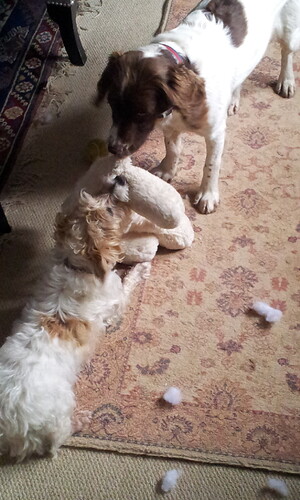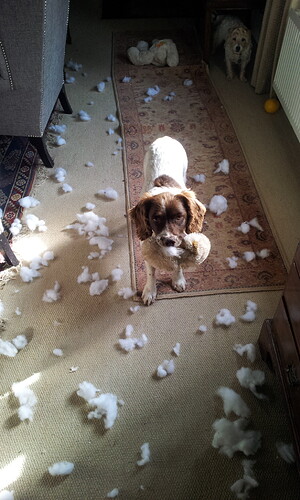 Daisy, the J.R. skulks in the b/gnd, believing that now there will be trouble. Pickle is cool. "It's our rabbit …"
I feel that with most of my dogs. Sometimes I get to thinking about one in particular, my favourite, but then think, but what of so and so? They are all in different ways, favourite. It started with Lira the Greyhound, Match the Breton, Lurch the Lurcher, Ramona the Beauceronne, and so it goes on. Only one died a 'natural' death, Match who had a sudden brain haemorrhage and dropped dead in an instant. All the others were saved from a lingering one.
Match, Lurch and Lira

Ramona
Ramona was a big dog, but she loved even bigger ones. Bernie came into our lives suddenly as an urgent foster, it took her some time but she finally got him to play. I would have adopted him if he didn't completely block doorways in our small house. Might have saved her life, if this friendship stopped her wandering, into the path of a car.
What a touching tribute to such a beautiful soul…