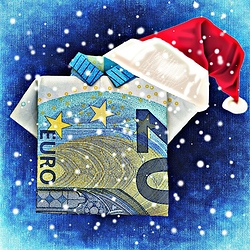 Whilst I'm not one of those people who starts manically counting the shopping days until Christmas, it's a fact that Christmas is a coming and present shopping is required! I love finding and sending personalised gifts but there are occasions when the distance and postage costs mean that sending money is a better option. And let's face it, for grandparents and teenagers, this is often the preferred choice! In addition, with the advent of online shopping, we often need to pay for purchases in a different currency. Last year I bought my daughters handmade necklaces that came from a lady in Australia; a gift which had a lot of personal significance and I was very pleased with myself until I realised that I would need to pay in Australian dollars!
But sending money abroad is expensive. Banks charge hidden fees and the rates are never great. So what's the best way to send money overseas or to pay for goods? The answer is TransferWise! It's the lowest cost and fairest way to transfer money internationally; it uses peer to peer technology, has no hidden charges and therefore in some cases, makes sending money abroad up to eight times cheaper than using a bank. Which means more money for you to spend on presents…The total charge is always made completely clear and you get the best possible rate.
We've been using Transferwise for a long time now and can highly recommend it. It is totally secure and authorized by the UK's Financial Conduct Authority (FCA), meaning that the business is subject to European rules (the Payment Services Directive) designed to protect customers. TransferWise have to keep customers' funds separate from their own, demonstrate that they are financially healthy and adhere to strict anti-money laundering procedures.
It is simple and easy to use. You can install the app on your smartphone or tablet (if you don't have a smartphone or prefer not to use apps, you can of course just use your normal browser on your computer) and make transfers in seconds from wherever you happen to be. It keeps a handy record of your activity so that you can quickly see what you sent to who and when and setting up a list of recipients is quick and easy to do.
If you want to see what it will actually cost you, simply use the 'Send' feature. Today, this shows me that if I send 1000€ to someone in the UK today, the guaranteed rate is 0.8939, it will cost me 4.98€ in fees, the recipient will get £889.45 and I save up to 39.67€ in comparison to today's average bank rate. What's not to like? It really is the easiest way to send and receive money without incurring excessive charges.