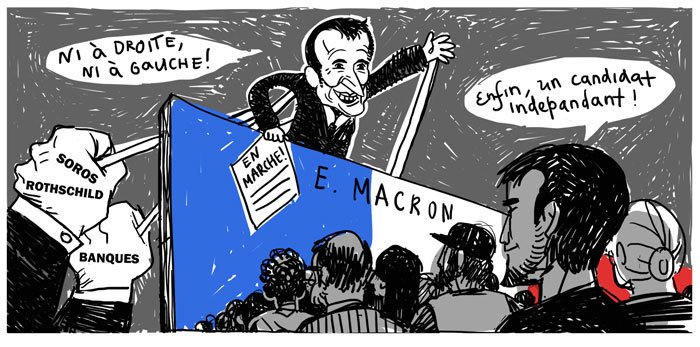 Sociologists predict that Emmanuel Macron more than likely will become France's next president. Well, he is young, successful, smart and married to his former school teacher. The chances that a 39 year old financier will replace Francois Hollande in his office are really high. According to the survey, Macron alongside with Marin Le Pen will make it to the second round of the elections and get there at least 65% of the votes. But just a month ago such forecast of France's presidential election results would have made a real sensation.
Macron joined the presidential race, as the saying goes, down from a mall straight to the ball. Without any real political experience he created his own political party En Marche! within a very short time. Next, out of nowhere comes the movement Youth for Macron, uniting the youth that support unpopular minister of economy of the country with depressive economy. Slushy program, united Europe slogans, a promise to increase France's own defense spending. Condemning the terrorist attacks, Macron supports the open borders within Europe and speaks in favor of migrants. In the part of defending their rights, the front-runner of French presidential race even dared to make a strike at the leader of Old Europe Angela Merkel unequivocally hinting at the end of her political career:
Dear Madame Chancellor! You, like nobody else, clearly understand that 'wall policy' is unethical and results in humanitarian and political crisis. Not a single fight for the political office can justify the violation of people's rights and freedoms regardless of their confession. There are many politicians and powers in the European Union who discredit the very essence of European entity. Is it worth to end a nice political career drowning in their foul smelling morass?
This raises a lot of questions, but, apparently, it was important in the context of political strategy. Later it will be clear what impact it will have on Macron's rating. On the one hand, increasingly popular Macron showed his intention to return France to a dominant position in Europe. On the other, it is highly questionable whether France wants to take Germany's leadership in accepting immigrants? And whether such short-sighted statement of the ambitious candidate is going to make the immigrants assault the French borders soon?