Flour Tortillas





Quick and easy, general purpose bread dough for pizza, flour tortillas, naan etc





I say easy but I do have a Kitchen Aid mixer with a dough hook!





Ingredients





500 grams bread flour - the basic white stuff will do fine or you can mix in some nice wholemeal flour.


One sachet of dried yeast (levure)


Pinch of salt


Water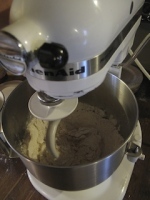 Put the flour, salt and yeast into the bowl
Turn on the mixer with the hook attached (slow speed)
Add most of the water and leave it for a couple of minutes, it will
start to form a ball and begin to clean the sides of the bowl after a
while, if it doesn't and it's still crumbly add a bit more water, if
it's too sticky add a bit more flour.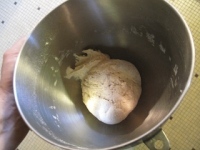 Remove it from the bowl, and place it on a floured surface flattening
it a little, just enough to be able to fold the edges in to the centre
all the way round.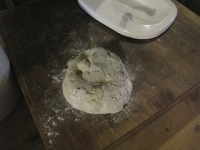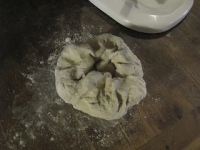 Turn it over and shape it into a nice round ball.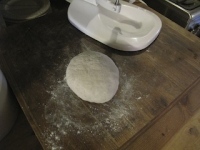 Cover it and leave it until it doubles in size. It's very important not
to knock it or leave it in a draught as it may collapse. I put mine
back in the bowl and covered it with the lid. Depending how warm it is
where you put it it could take anything from a hour to a day to rise. I
put mine near the wood burner, not too close though.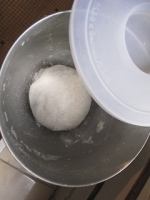 When it has risen, knock it back down on a floured surface again and
pull a chunk off about golf ball size. Roll it flat until it's about
3mm thick. Put a frying pan on to heat up, thicker the better, and you
want it very hot.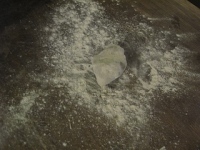 Brush the pan with a bit of oil or butter and when it's nearly smoking
chuck in your dough, you'll start to see bubbles forming on top, after
about 45 seconds or when dark brown spots have formed on the underside,
turn it over. Brush the cooked side with a little more oil, the other
side will be done in a few seconds.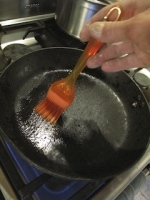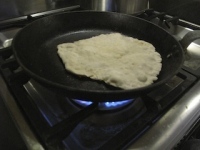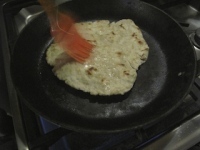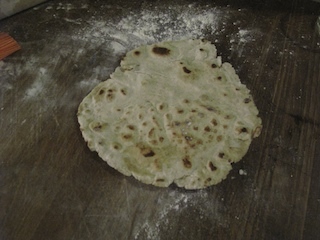 Eat it, or store under a tea towel!
I spread a bit of goats cheese and some fresh chilli on mine.
You can keep the remaining dough in the fridge and use it cold whenever you like