French Food Facts 1: – Farci Poitevin.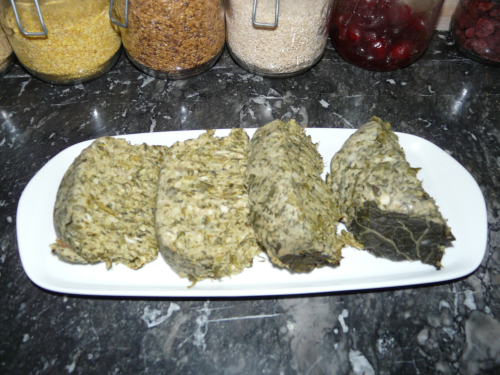 One of the things that confounds the British shopper in France is the


bewildering array of unusual ingredients that they come across in French


shops and markets.


I think we can all navigate our way around the familiar: Fruit and


vegetables, bread and most dairy staples pose no problem. We may not


recognise the sea of cheeses that confronts us at the counter, but we


have an idea of its tastes and textures due to the ever increasing offer


of French cheeses in UK supermarkets these days.


Meat too is familiar territory, although we may struggle as cuts are


quite different to what we are used to.


However, there are exciting things to try that we just don't recognise,


and very often we simply avoid them, in order to play safe.


In this series of posts I will attempt to demystify some of these


ingredients and offer some suggestions as to how to use them, be it on


their own or as part of a meal or recipe.


So, let's get started with Farci Poitevin


You may have spied this delicacy on the charcuterie counter, sitting


next to the vast tubs of paté that the French (and us for that matter)


love so much.


Its roots are well entrenched in the peasant cooking traditions of the


Poitou Charentes, and is a steamed pudding consisting of seasonal greens


and pork fat with possibly some ham. Eggs and flour are added to bind


the whole thing together,large cabbage leaves would be used to encase


the mixture into a greased muslin cloth and steamed for up to four hours


– not unlike our Christmas puddings at home.


The ingredients in past time would have been available year round


(greens of some description are a year round feature in the French


potager) and pork fat, ham scraps and eggs would have been staple larder


items for families who worked the land.


In the shops, it appears today in huge earthenware pots, and you can buy


a slice, just like paté. It is served hot or cold as a starter, and


sometimes it is breaded and fried as a more rib-sticking dish in colder


months.


As it is a time consuming dish to prepare, most traditional recipes call


for large quantities as which can serve up anything from 12-20 people.


Here is a lighter version that can be prepared and on the table in an


hour. It uses seasonal greens, so feel free to use your own


combinations. Try and use fresh herbs as it gives the dish a fresher


taste to its denser counterpart, pictured above.


INGREDIENTS


800g green veg – I used leeks, spinach, and courgettes


400g lardons (not smoked – diced bacon can also be used)


6 eggs


500 ml milk


small bunch of parsley and dill


salt and pepper


knob butter


olive oil
METHOD
1.Finely chop leeks, courgettes, spinach and fresh herbs.

2.In a frying pan, heat a small amount of olive oil and gently brown

lardons and drain away excess fat.

3. Add knob of butter and olive oil to another frying pan and gently fry

leeks for 5 mins.

5.Add courgettes and fry for a further 5 minutes.

6. Add spinach and cook until leaves wilt down.

7. Add fresh herbs to pan and remove from heat.

8. In an oven proof dish add lardons and greens from the two pans,

seasoning and stir to mix.

9. Beat together the milk and the eggs and pour over the mixture.

10 Cook on the centre shelf in an oven preheated to 180 degrees c. for

30-40 mins until browned and set.