So much fruit and what to do about it....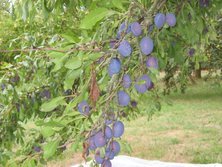 Inspired by this video I came across via a tweet from @bobtoovey about his Twitter newspaper and

being fed up with so much windfall plums and other fruit just going to waste, I decided try and make harvesting easier (and more fruitful) albeit that I didn't have access to a tractor with its fruit-harvesting gizmo.



At the outset, I should say that if you are at all spheksophobic (i.e. have a fear of wasps) this project is probably not for you, but then again, if you happen to be spheksophobic, harvesting fruit probably won't be your favourite

anyway.



Wasps there will be aplenty with this process and whether clearing away rubbish or, ultimately, harvesting the fruit, wearing gloves, a long sleeved top and foregoing the wearing of shorts are all highly recommended.



I started off by raking off from under the trees as much of the already fallen fruit as I could. Most of it was in the course of rotting anyway but removing it served two purposes. Firstly, it helped reduce the number of wasps and hornets attracted to the working area and secondly, by piling the rotting debris elsewhere, the wasps would be more likely to go where there were juicy easy pickings.
As luck would have it, digger wasps had taken up residence a short distance away from where I was working so I took care not to disturb their wasp bing. They didn't seem too concerned abut what was going on around them.
Wasps in ground=wide berth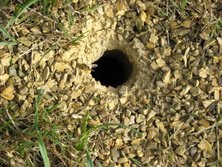 Having cleared the area, I laid out around the tree large sheets of clear polythene. Using clear sheets will help reduce damage to the grass underneath. Don't be tempted to use the likes of dark coloured weed inhibitor unless you're happy to live with peely-wally looking grass after its lifted. The sheets were pegged out with

U-shaped pegs that you can generally find in any brico, the type used to train shoots from the likes of pumpkins.
Here's what it looked like before harvest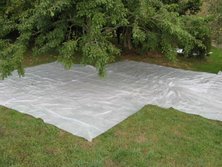 The next stage was simply to shake the tree. The polythene helped cushion the falling fruit, reducing damage. Collection was then a matter of removing any rotten or damaged plums and piling them up for the wasps and picking out the best of the crop for cooking and/or freezing.
Easy pickings in just a couple of shakes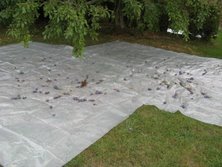 The whole process was quite a contrast to picking your way through rottingfallen fruit watching out for wasps. Harvesting was much quicker, the yield was far higher and the eventual crop was probably of much better quality.
Here's a sample of the end result.