How do cannons stop rain? Do they send planes up and explode clouds?
That looks like my Scheppach 53cm. My life changed when I got it as it's self-propelled.
I do lust after Graham's ride-on thing though.
To be honest, with the mole holes, you'll need to flatten those first. Rent a heavy-duty mower for the first times, to get the rough patches sorted. Can you get a local farmer to come and mow it with a tractor, perhaps?
I use this for the bulk of the cutting with the self propelled for the bits it cannot reach, if it is really bad I use the wheeled strimmer to cut it before the mower.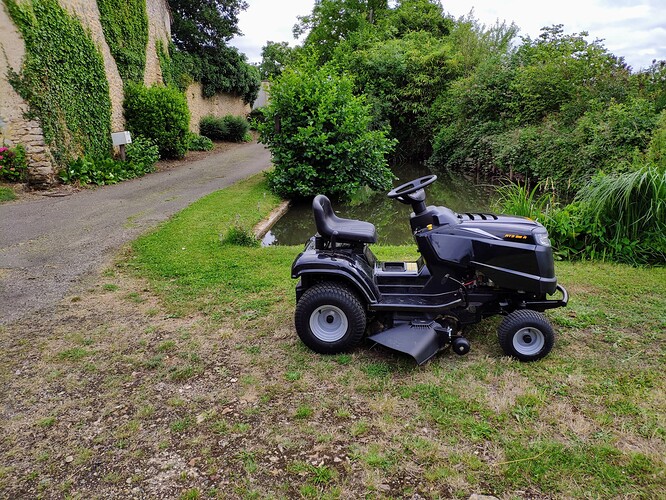 I think these are excellent and if I were buying now I wouldn't buy a lawn tractor I would buy one of these.
Normally use this: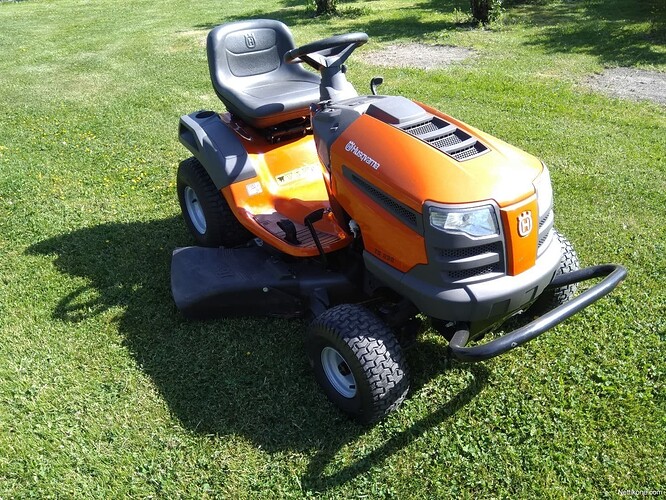 Me too! The amount we've paid over the years for tractors/mowers/repairs/servicing we could have had several robots (and a life!

)
Looks almost exactly the same as mine, but much cleaner (and newer) @Mat_Davies
Best lawn tractor by far.
Ours is a twin cylinder Kawasaki 42 inch cut and is brilliant


Bought it new 7 years ago and never missed a beat.
I admit to knowing virtually nothing about mowers suitable for a large lawn but I do know that I need something heavy and self propelled. I have been advised against electric as they are too light and too much hassle with recharging the batteries but I will check out the electric one you suggested. Thanks
Depending on how big your lawn is, battery operated lawnmowers are a, lot less hassle than petrol ones. No servicing on the engine at all.
The Stihl we have weighs 44kgs and it's all I can do to pull it back up our banks, so yes, it can cope with heavy-duty stuff. It also has a compartment for a spare battery (we don't bother) so you can carry 2 with you while mowing - one in use, the other, charged waiting to be used. Never found charging to be an issue - I do the lawn until the battery runs out - that is usually enough for me anyway - and put it on charge for next time. Certainly it charges fast enough to do a mow in the morning and another in the afternoon, should I want to.
There are loads or self propelled petrol mowers , but its really not worth getting anything cheap or relatively unknown (parts) and if you can, get it from a local supplier /specialist (not a brico shed as their SAV are generally rubbish). Look for a cutting width of at least 48cm, look for bigger rear wheels (better traction when the going is rough or soft) and a single point for cutting deck height adjustment. Might also be worth considering something with an electric starter.
And ideally leave something in the pot for a good quality battery strimmer to do edges / round trees etc. We've got a Stihl battery strimmer. So much easier than petrol strimmers which are heavy and can be unbalanced or corded strimmers which are just a nuisance, trailing wires around.
They are not designed to stop rain.
They are fired at clouds if they suspect they are carrying hail which will decimate the vines.
Thanks for those specs. I think I 've found my ideal machine at least on paper. Unfortunately the local suppliers have a very limited range especially of battery powered machines so I would have to order from someone like manomano. Here's the spec and I 'd welcome any comments
Tondeuse MAKITA 36 V => 2 x 18 V Li-Ion (Produit seul) - DLM530Z–
Description
Cutting height with central adjustment
LED indicator of battery charge level Brushless
motor: slower wear, reduced consumption, increased machine autonomy and power
ADT Technology: Automatic adjustment of speed and torque according to the work carried out.
4 battery ports for doubled autonomy
Mulching system to finely cut the grass and redistribute it on the ground for better fertilization
Very low noise pollution, no exhaust gases, ideal in ecologically sensitive places
XPT technology limiting infiltration water and dust
Safety key to prevent unauthorized persons from using the machine.
Power
Voltage 36 V => 2 x 18 V
Chemical composition Li-Ion battery No-load
speed 2300 / 2800 rpm
Mowing capacity
Cutting width 53.4 cm Cutting
height 20 to 100 mm
Grass catcher capacity 70 liters
Chassis
Cutting deck material steel
Diameter of front / rear wheels 23 / 23 cm
Self-propelled no
Dimensions (L x W x H) 1625 x 675 x 1010 mm
Net weight EPTA 39 kg
Waterproof class IPX4
These do seem good mowers, I have the previous version with a plastic deck which is OK but the one you proposed is a lot more substantial and does mulching.
Probably fine up to 1000m2 of grass. Beyond this probably would need a 2nd set of batteries.
I , like @Mat_Davies , am a big user of Makita kit, but I don't gave any of their gardening stuff (yet). The good thing about the LXT batteries is that they can be used in a vast range of cordless tools.
Downside is that the DLM530 isnt self propelled and you would need to spend another couple of hundred € on batteries and charger.
That product you looked to says 'produit seul' which suggests that's just the mower - you'll need to buy battery and charger separately. Most manufacturers usually also supply a bundle that includes mower, charger and one or two batteries.
I think you're right but it still seems a good price at 500euros
Thanks but any views on Manomano