Sorry, I'm a complete idiot when it comes to IT stuff. I should know/understand but am nervous of making things worse.
I have an webmail account with Orange and I download my emails from Orange's site onto my own computer into my Outlook inbox
Occasionally I check my Orange webmail as legitimate messages sometimes get put in their spam box.
I have just tried to get into my webmail and Orange has told me to create a new password - which I've done and I can now see what's in my webmail. I see I have new messages.
So I opened up outlook and did send/receive and got this pop up box: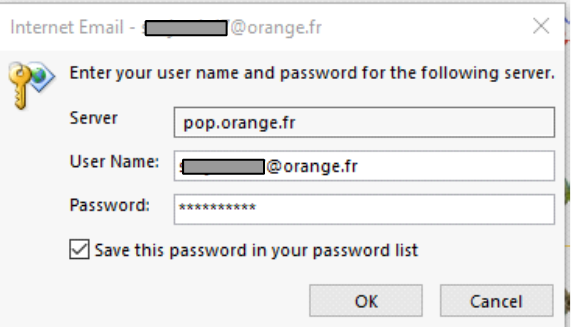 Would I be right in thinking I need to put the new password I've just created into the password box?
I hope it is as simple as that. But I thought I'd better check first before I find I've been locked out of outlook.
Thanks for any help / advice.