IMO Netanyahu and his rightwingers have treated Biden, Blinken, the US and the UN with contempt.
A land grab started generations ago.
A young Palestinian poet & journalist's personal view, five months ago, of how he and other Palestinians are being treated.
I haven't heard of DDN before but he has said his piece through an organisation of his choice I assume.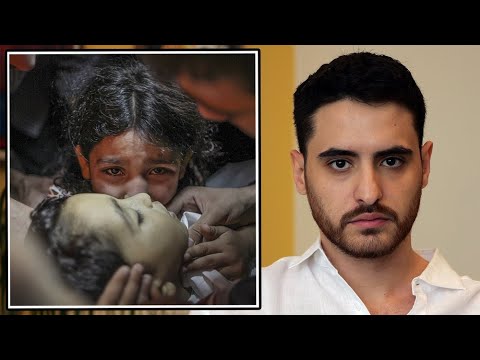 Pity about the juvenile headline to this video but it doesn't devalue what he has said.
The land grab hits a speed bump…
Joanna Walters
At the White House, national security spokesman John Kirby said moments ago that the US does not want Israel to reoccupy Gaza and, ultimately, future control of the Palestinian territory cannot include Hamas, the fundamentalist group that controls Gaza.
"Reoccupation of Gaza [by Israel] is not the right thing to do," Kirby said.
But he added that, in the future, "Hamas cannot be part of the equation" about who will administer Gaza, saying "we cannot go back to October 6", ie the day before Hamas fighters broke across the border into southern Israel and killed more than 1,400 Israeli citizens and, in addition, taking more than 200 hostages back into Gaza, where they are still held.
The White House is sticking to its line that it is urging Israel to pick its targets in Gaza carefully, while acknowledging that "many thousands" of Palestinian civilians have been killed in the blockaded territory.
The Biden administration continues to refuse to publicly endorse the death toll stated by the health ministry in Gaza, while saying the US does not have a verified death toll to talk about as a counterclaim.
Kirby acknowledged it was "horrible to see the images of children being pulled out of rubble in Gaza", many of whom have not survived Israel's bombardment of the territory.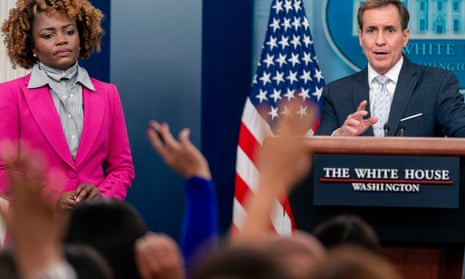 National security council spokesman John Kirby, accompanied by White House press secretary Karine Jean-Pierre, left, speaks at a press briefing at the White House in Washington, on 7 November. Photograph: Andrew Harnik/AP
Like X 100, this is truth.
Despite all the protests about this slogan, 'From the river to the sea' seems more likely to be an Israeli reality unless the UN intervenes - and that won't happen…
Well good luck with that Tony old boy. After 56 years of Isreal ignoring calls to return to pre 67 borders, does he really think that without sanctions (which of course will be called antisemitic) they'll give a damn what the US, EU, UN and Uncle Tom Cobly and all thinks

Love this. Thanks for posting.

Suppression of Palestinians. I'm puzzled by the Israeli Defence Force's claim that the bombing of Palestinians is intelligence-led, using, as well as other aspects of their intelligence, drones carrying high-powered cameras to get sight of their Hamas targets amongst the crowds, to enable pinpoint accuracy to avoid civilian deaths.
With 10,000 civilian deaths, more than half of them women and children, by bombing, that intelligence and pinpointing cannot possibly be said to be successful, and is, IMO, deliberate. Especially in light of what is reported by the BBC of sophisticated Israeli intelligence and accurate bomb targeting, no civilian deaths, elsewhere in Gaza.
Or is my reasoning flawed?
Looking again at the bombed apartment blocks I see no evidence of Hamas underground bunkers being destroyed, and Hamas had plenty of warning to escape if they had been occupying the apartments.