It that true or is it that the alternatives are perceived as being less attractive?
The labour party and its union paymasters (led by Mick McCluskey) is still fighting the class war whilst the electorate has moved on. So at present there is no alternative being offered in England.
What is amazing and will be challenging is how a political party has one set of supporters with the characteristics the affluent home counties the other the gritty economically challenged NE and NW. One set will feel sidelined and that's when the gloss will fall from Johnson's tories.
I think you're 100% correct John. No matter how much I dislike the Tories I couldn't vote labour now either. Hard left ideology is different but IMO no better than hard right ideology. What's needed is a centre left party not a bunch of ageing Citizen Smiths who should realise that being a committed socialist isn't much good if you never get into power.
Mandelson was quite funny on PM today, he said the labour results since Wilson were; 1979 loose, 1983 loose, 1987 loose, 1992 loose, 1997 win (New Labour), 2001 win (New Labour), 2005 win (New Labour), 2010 loose, 2015 loose, 2017 loose, 2019 loose.
There's a message there.
Yes there is, but the problem is threefold…the hard left thinks their recipe is what electors want, they don't, and the unions led by McCuskey are dinosaurs who still focus on the "working class" …a group that is no longer a group who vote because of their history and finally they can't forgive Blair who didn't slavishly follow the first two factions
I though Nandekson was spot on!
I've never understood the term 'hard left'. If I had to generalise my experience over a lifetime in broadly left-ish circles I'd have to say that the further left people are, the kinder and more thoughtful they tend to be (and my experience of right-wing people is that they always have some deep-seated insecurity and anger eating them from inside).
During my university years I was particularly struck by how much better, and friendlier, the lecturers immersed in marxist theory were - especially my PhD supervisor, who was also a respected poet (Richard Godden) - quite possibly the most sensitive, least 'hard' man I've ever come across.
I've met many prominent left-wingers - I once had the pleasure, for example, of showing Tony Benn round the Toad Lane museum - what an unassuming, considerate and thoughtful man - great sense of humour - to whom the word 'soft' would be better applied than 'hard'.
My guess is that the category mistake involved in the term 'hard left' is the one Peter Ustinov said Margaret Thatcher always made: thinking the Kremlin was run by radical lefties, when in fact it was always full of conservatives!
I'd definitely prefer to hang out with "hard lefties" than their opposite numbers Geof, I just don't want them running the economy. Most of my friends who I'd have considered radical lefties in their college days seem to have migrated more towards the centre as they got some skin in the game

I always liked Tony Benn, I like Hilary Benn too.
Here it is yet again. Obviously the people who voted Tory do not read or even know of the Good Law Project.
'Hi
On 22 February, in the aftermath of the High Court finding that Matt Hancock had broken the law by failing to publish PPE contracts, Boris Johnson told Parliament this:
"the contracts are there on the record for everybody to see" and "all the details are on the record"
You can see both references in Hansard here.
But what he told Parliament was just not true. A large number of contracts – and details of those contracts – were neither "there for everybody to see" or "on the record ". Unlawfully their publication had been delayed.
One example is this £23m contract which was not published until 8 March. That contract was awarded by the Department of Health to Bunzl which was a client of a lobbying firm owned by a former Conservative Party Chairman, at the same time as that former Conservative Party Chairman was advising the Department of Health on " sourcing " (his words, not ours).
Another is this £103m contract, awarded to Pharmaceuticals Direct and not published until 29 March. Pharmaceuticals Direct's named representative was Samir Jassal, a former Tory councillor who has had multiple meetings with the Prime Minister and other senior ministers, and has both donated money to and stood as an MP for the Conservative Party.
Indeed, several weeks after the Prime Minister misled Parliament it was still the case that not all of the contracts had been published. You can see this in the High Court's final order which identified a hundred unpublished contracts.
The High Court case was brought by Good Law Project alongside MPs Debbie Abrahams, Caroline Lucas and Layla Moran. Those three MPs wrote to the Cabinet Secretary on 19 March and you can read their letter here. It points out that:
"the Prime Minister had falsely reassured MPs about the number of contracts that had been published"
And asked him to "investigate this as a breach of the Ministerial code."
On Friday they received a remarkable response from the Cabinet Secretary. Which you can read here. It makes no real attempt to grapple with the facts set out above and which cannot be disputed. And it sidesteps the request to investigate whether the Ministerial Code has been breached by pointing out that it is not the Cabinet Secretary's responsibility to enforce the code (which, of course, is not what he was asked to do).
It is not a letter that ought to have been written by an impartial civil servant. You can read the MPs' further response to the Cabinet Secretary here.
Thank you,
Jo Maugham QC
Director of Good Law Project
PS: Next Tuesday lunchtime, we'll be running a defamation advice session for anyone who wants to speak truth to power. You can register to watch the live panel discussion here: https://glplive.org/evenbrite-defamation-panel'
The extent to which people privately own assets is obviously a key factor in shaping their political allegiance (this is social class - which is only indirectly related to occupation, income, etc - this is the liberal sociologists' / Labour focus-groups' mistake, and why they don't understand why Labour just lost Hartlepool).
But a bigger factor is a wider phenomenon associated with age: increasing risk aversion, and inability to adapt to changing times - or any kind of change really. My guess is that most people experience this as they get older - except perhaps those with the most analytical minds: Bertrand Russell, Jean-Paul Sartre, Einstein spring to mid as people that have moved left as they aged.
I'm just listening to Len McCluskey on Political Thinking on the BBC. He's embedded in the sixties. With a "friend" like him poor Starmer doesn't need enemies. McCluskey is just the opposite face of the ERG coin. IMHO equally odious.
Update: He's just said that if there was fairness in British society today their would be far more members of trade unions. The man's deluded.
Most of our friends, professionals, have migrated from the left of the Tory Party and now have nowhere to go as the Lib Dems mess it up each time there is an election.
I think that needs a NSFW tag @Graham_Lees !
Test: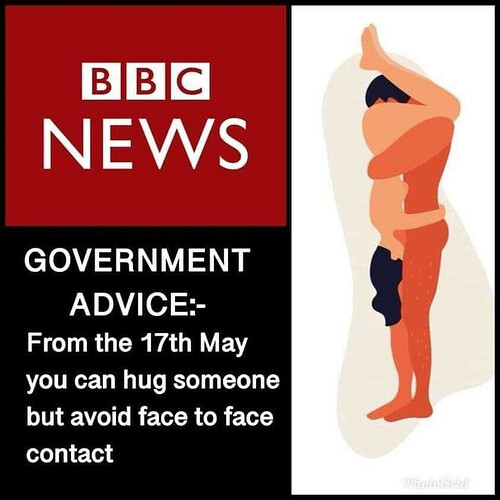 Yes: you can do it with [spoiler] … [/spoiler]
I think there is going to be another enquiry into the total mismanagement of benefit cases.
A family is suing the government because one of them had twenty eight mistakes on her claim for disabled living allowance and the Coroner said that it was totally relevant as to why she took her own life.
It seems that there another ten suicides due to similar causes.
People are still being hounded for debt run up by false use of their names to claim benefits due under Covid.
It is totally shocking that this kind of thing is allowed to happen, whether it is in UK or France.
I am quite certain the DWP is literally killing people by their unfair refusals, mistakes, and particularly simply not dealing with things to make corrections even when claimant has done the right thing.
I had a personal experience of this. I got through it but people such as single older men with no one, people who've never used a computer, older people who were brought up to have pride or never challenge authority, etc, I am certain the heartless gits in the DWP are literally killing people like this every year.
It's one of the reasons I could finally leave Britain.
PS Jane a member of my family did succeed in being awarded DLA after a lot of hassle and only with strong professional local support. He commented it was clear the DWP only intends to award it if you've only got 6 months to live.
We had appalling problems with Jim's mother.
She had Multiple sclerosis which eventually affected her thought processes and so was diagnosed with dementia and not awarded the benefit she was due.
One of the nurses that did her assessment did not even know that she had MS!
This was in Northampton, which was chronically short of money and I am sure that she was one of their victims.
Personally I would like to see individuals in this type of role eligible to personally pay at least a token share of any negligence or incompetence claims and not to be able to personally hide behind being employed by the state.