and the World is standing by.
Horrific and shameful. I can't believe it.
+1.
And what shocks me the most is that the US government is still standing with Israel and many European governments are refusing to condemn Israel.
The most shocking part of this is that these Western governments are (quite rightly) condemning Russia and helping Ukraine on ethical grounds, so what the hell are they doing supporting Israel at the same time !! It's showing the world "double standards". This won't do us any good in the long run. And perhaps will reduce the already fading support for Ukraine.
Owen Jones is a British newspaper columnist, political commentator, journalist, author, and left-wing activist. He writes a column for The Guardian and contributes to the New Statesman and Tribune. He has two weekly web series, The Owen Jones Show, and The Owen Jones Podcast.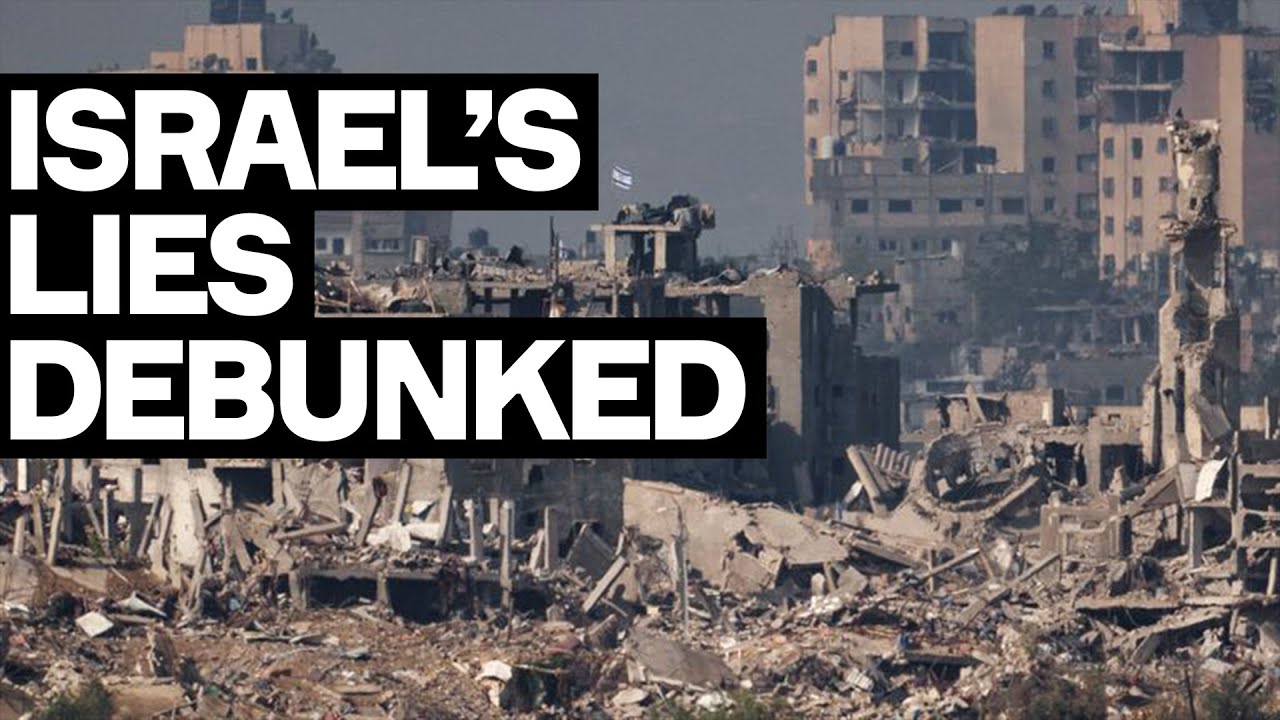 Thanks for the link Billy, of course she is 110% correct. Our leaders all have blood on their hands.
Take heart, the world is not standing by. There are efforts not yet fully reported, to push Isreal by people it will have to hear.
This report from The Guardian:
Arab and Muslim ministers called on Monday for an immediate ceasefire in Gaza, as their delegation visited Beijing on the first leg of a tour to push for an end to hostilities and to allow humanitarian aid into the territory.
Reuters reports that the delegation, which is set to meet officials representing the permanent members of the UN security council, is also piling pressure on the west to reject Israel's justification of its actions against Palestinians as self-defence.
The officials holding meetings with China's top diplomat, Wang Yi, on Monday are from Saudi Arabia, Jordan, Egypt, Indonesia, Palestine and the Organisation of Islamic Cooperation, among others.
The extraordinary joint Islamic-Arab summit in Riyadh this month also urged the international criminal court to investigate "war crimes and crimes against humanity that Israel is committing" in the Palestinian territories.
Saudi Arabia has sought to press the US and Israel for an end to hostilities in Gaza, and Crown Prince Mohammed bin Salman, the kingdom's de facto ruler, gathered Arab and Muslim leaders to reinforce that message.
Pressure is also on US of the only kind it too will hear.
Is there anything happening in Israel against these murderous actions against the civilian population in Gaza?
What Hamas did on October 7th was appalling, but Israel's action is beyond the pale.
Israel is far too strategically important to the US, France and the Uk so of course these governments stand by Israel.
The US know better than anyone just what weaponry Israel possesses.
There is no justification for the killing of women and children. This uncontrolled blood letting by Israel should not be supported by the West.
My favourite NYT writer offers this thoughtful piece. It is quite long but in taking the time to read you may be rewarded with hope.
















The Rescuers
Thomas L. Friedman
Nov. 22, 2023
I confess that as a longtime observer of the Arab-Israeli conflict, I aggressively avoid both the "From the river to the sea" activists on the pro-Palestinian left and the similarly partisan zealots on the "Greater Israel" Zionist right — not just because I find their exclusivist visions for the future abhorrent but also because the reporter in me finds them so blind to the complexities of the present.
They aren't thinking about the Jewish mother in Jerusalem who told me in one breath how she just got a gun license to protect her kids from Hamas, and in the next about how much she trusted her kids' Palestinian Arab teacher, who rushed her children to the school bomb shelter during a recent Hamas air raid. They aren't thinking about Alaa Amara, the Israeli Arab shop owner from Taibe, who donated 50 bicycles to Jewish kids who survived the Hamas attack on their border communities on Oct. 7, only to see his shop torched, apparently by hard-line nationalist Israeli Arab youth, a few days later, only to see a crowdfunding campaign in Hebrew and English raise more than $200,000 to help him rebuild that same shop just a few days after that.
Over the last half-century, I have seen Palestinians and Israelis do terrible things to one another. But this episode that began with the barbaric Hamas attack on Israelis, including women, little kids and soldiers in communities alongside Gaza, and the Israeli retaliation against Hamas fighters embedded in Gaza that has also killed, wounded and displaced so many thousands of Palestinian civilians — from newborns to the elderly — is surely the worst since the 1947 U.N. partition days.
But those on all sides who read this column know that I am not one for keeping score. My focus is always on how to get out of this eye-for-an-eye, tooth-for-a-tooth horror show before everyone is left blind and toothless.
To that end, I devoted a lot of time on my trip to Israel and the West Bank this month observing and probing the actual day-to-day interactions among Israeli Arabs and Jews. These are always complex, sometimes surprising, occasionally depressing — and, more often than you might expect, uplifting — experiences. Because they reveal enough seeds of coexistence scattered around that one can still dream the impossible dream — that we might one day have a two-state solution for Israelis and Palestinians living between the Mediterranean Sea and the Jordan River.
So, this Thanksgiving week, I ask you to spare a few moments with me to reflect on some of these people, including some of the extraordinary acts of rescue that they committed on Oct. 7. They will give you more faith in humanity than the headlines around this story would ever suggest.
To put it another way, a friend once described my worldview as a cross between Thomas Hobbes and Walter Mondale. For several days on my trip, I let out my inner Mondale to chase some rays of hope shooting through the darkness.
It began soon after I arrived in Tel Aviv, when I sat down with perhaps the most courageous Israeli political leader today, Mansour Abbas. Abbas is a Palestinian Arab citizen of Israel who happens to be a devout Muslim and a member of Israel's parliament, where he leads the important United Arab List party. Abbas's voice is even more vital now because he did not respond to the Hamas terrorism with silence. Abbas understands that while it's right to be outraged at the pain Israel is inflicting on Gaza's civilians, reserving all of your outrage for Gaza's pain creates suspicion among Jews in Israel and worldwide, who notice when not a word is uttered about the Hamas atrocities that triggered this war.
The first thing Abbas said to me about the Hamas onslaught was this: "No one can accept what happened on that day. And we cannot condemn it and say 'but' — that word 'but' has become immoral." (Recent pollsshow overwhelming Israeli Arab condemnation of the Hamas attack.)
Abbas sees the complexities lived by that Israeli Jewish mother in Jerusalem who never lost trust in her kids' Palestinian Arab teacher, and by that Israeli Arab bicycle shop owner who spontaneously reached out a hand to ease the pain of Jewish children he'd never met. At the same time, though, Abbas spoke about the searing pain Israeli Palestinian Arabs and Bedouins feel at seeing their relatives pummeled and killed in Gaza.
"One of the hardest things today is to be an Israeli Arab," Abbas said to me. "The Arab Israeli feels the pain twice — once as an Arab and once as an Israeli."
That's the thing about this neighborhood: If you only look at one group or the other under a microscope, you want to cry — the brutal massacre of Jews, the harsh treatment of Palestinians by Jewish supremacist settlers. The list is endless. But if you look at their stories through a kaleidoscope, observing the complexity of their interactions, you can see hope. If you want to report accurately about Israelis and Palestinians, always bring a kaleidoscope.
Which brings me to the stories of the Israeli Bedouin Arabs and Oct. 7.
About a week into my trip, I got a call from my friend Avrum Burg, the former speaker of the Israeli Knesset, whose grandfather was the chief rabbi of Hebron in 1929. He told me that he and his pal Talab el-Sana — an Israeli Bedouin Arab who served with him in the Knesset, and who provided a key vote that gave Yitzhak Rabin the majority that enabled him to make the Oslo peace deal — wanted to take me to meet some "righteous Bedouins." These were Arabic-speaking but Hebrew-fluent Muslim-Bedouin citizens of Israel, who had played heroic roles in saving Jews from Hamas's attack.
Bedouins in Israel are a nomadic community who largely reside in Israel's Negev Desert and are part of the Israeli Arab minority — 21 percent of the country — spread across cities and towns. There are some 320,000 Bedouins in Israel, with about 200,000 living in government-recognized communities and about 120,000 in makeshift, unrecognized shantytowns. Many Bedouins have served in the Israeli Army, often as trackers, because of their deep knowledge of the area's geography from generations of roaming desert terrain.
Well, it turns out that some Israeli Bedouins who lived near or worked in the border communities ravaged by Hamas helped to rescue Israeli Jews there. Some Bedouins got abducted by Hamas along with Jews, while others were murdered by Hamas because the terrorist group treated anyone who lived or worked in Israeli kibbutzim and spoke Hebrew as "Jews" — deserving to be killed.
And after Oct. 7, some of those Bedouins who saved Israeli Jews found themselves being treated to hostile glances and quiet slurs by other Israeli Jews, who automatically assumed they were Hamas sympathizers.
And all along, both Jewish and Bedouin victims of Hamas were treated together in Israeli hospitals, where nearly half of all the new incoming doctors are now Israeli Arabs or Druze, as are some 24 percent of the nurses and roughly 50 percent of the pharmacists.
Yup, an Israeli Bedouin Arab can save an Israeli Jew on the Gaza border in the morning, be discriminated against by Jews on the streets of Beersheba in the afternoon and boast that his daughter — a doctor, trained at an Israeli medical school — stayed on her feet all night taking care of Jewish and Arab patients at Hadassah Hospital.
It's complicated.
El-Sana and Burg took me to two Bedouin villages to meet young men who saved Jews. Joining us was Ran Wolf, an Israeli urban planner who specializes in building shared spaces — innovation centers, cultural centers and markets — to be used by both Israeli Jews and Palestinian Arabs. We stopped at Ran's home in Tel Aviv on the way to get some water, where he told me this story:
After the Hamas rockets started falling on Tel Aviv on Oct. 7, he called his regular contractor, Emad, an Israeli Arab from Jaffa, to say that the doors on the bomb shelter in his basement couldn't be closed. "The problem was happening in a lot of shelters, and after Oct. 7 everyone wanted to get theirs fixed," said Wolf. Indeed, when his neighbors got wind that a repairman was on the block, they asked him to fix theirs, too.
"Emad is a good friend, and he refused to take any money for two days of work," said Wolf. Keep in mind, he added, that Emad lives in Jaffa, south of Tel Aviv. In the 1948 war, Emad's father stayed in Jaffa and his uncle fled to Khan Younis in the southern Gaza Strip. "So he was raised in Israel — but half his family is now in Gaza," Wolf said. "He himself got a Hamas missile 200 yards from his home in Jaffa" the other day, he added.
Get out your kaleidoscope: Today you have Jaffa Palestinian refugees living under a Hamas government in Gaza who are firing rockets at Jaffa Palestinians who are Israeli citizens, one of whom repaired the rocket shelters of his Jewish friends in Tel Aviv — for free*.*
When we arrived in Rahat, the largest Bedouin town in Israel in the Negev Desert, el-Sana, sitting in the back seat of the car, managed to one-up that story.
He explained that some of the first Israeli victims of the Hamas rocket attacks on Oct. 7 were actually Bedouins, many of whom live in unrecognized villages in the Negev that are not listed on any digital maps. (The Israeli government has not kept up with their population growth, as it has for most Jewish towns.)
Those villages do not have municipal bomb shelters or warning sirens to protect their people when Hamas rockets start landing, but — and you cannot make this up — el-Sana explained that the way Israel's Iron Dome antimissile system works is that when Hamas launches a rocket it automatically plots the trajectory to determine if that rocket from Gaza will land on a settled space in Israel, and kill people, or on an empty field or in the sea. If it is an empty space on a map or in the sea, Iron Dome won't waste one of its expensive rockets shooting down a cheap Hamas rocket.
Six Bedouins were killed by a Hamas rocket that landed on their village of Al Bat — including two brothers, ages 11 and 12 — because that Bedouin town is not on any official Israeli map loaded into the Iron Dome database, el-Sana explained.
Meanwhile, eight other Bedouins who worked in Jewish communities near Gaza were murdered by Hamas and at least seven more Bedouins, all Israeli citizens, are believed to have been kidnapped and taken to Gaza.
And yet days later some of these same Bedouins did not hesitate to help rescue Israeli Jews, along with their cousins.
El-Sana had set up an interview for me in Al Zayada village, an unrecognized Bedouin settlement in the Negev, at the unrecognized home of Youssef Ziadna, 47, a Bedouin driver who had been recognized for rescuing Jewson Oct. 7. Ziadna, a bus driver, explained that on Friday, Oct. 6, he was hired to drive a group of Jewish kids to an outdoor trance music festival called the Supernova Sukkot Gathering, celebrating the Jewish holiday of Sukkot, adjacent to Kibbutz Re'im, which is adjacent to the Gaza border.
"After I dropped them off, we agreed that on Saturday I would come back and take them home at 6 p.m.," he told me. But early on Saturday morning, "I got a call from one of them, Amit," telling him to come immediately, he said. "They were being attacked and there was gunfire everywhere."
As he rushed to the scene and got near the kibbutz, Ziadna said, "I saw a barrage of rockets and many cars coming toward me — escaping — blinking their lights for me to turn around. Some people who stopped and jumped out of their cars said there were terrorists in Be'eri, so 'run away.' I got out of my car and hid on the side of the road and every time I raised my head I got shot at. But I committed to pick these people up, and it was a kilometer away."
Ziadna said that when the shooting subsided for a bit, he managed to get back in his vehicle and use his cellphone to link up with Amit and his friends — and anyone else he could cram into his minibus. Instead of driving back on the road, where "I knew they'd kill us," he said, "I drove through the fields."
As a Bedouin, Ziadna had intimate knowledge of the terrain that proved lifesaving. He was able to cut a route through fields and avoid the main thoroughfare near where Hamas terrorists were ambushing escapees from the music festival. Many other escaping cars then also jumped off the road and followed Ziadna's minibus through the fields, he said. He told The Times of Israel, which profiled him, that he crammed some 30 people into his vehicle, even though it was licensed for only 14 passengers.
A few days later, he said he got a call from a phone number he did not recognize but that he believed was from Gaza, and a voice said in Arabic: "Are you Youssef Ziadna? You saved the lives of Jews? We're going to kill you."
He reported the call to the Israeli police. It's just one reason, he said, that he still needs daily phone calls with a psychologist to try to overcome his trauma from Oct. 7.
Another family member at our gathering, Daham Ziadna, 35, said a total of four of their family members were abducted by Hamas; one was killed for sure, and three others are still missing. Two of them were last seen lying on the ground in a TikTok video released by Hamas, with two gun-toting Hamas fighters standing over them. For Hamas, said Daham, "everyone who lives in Israel is a Jew."
Daham told me that a few days ago he had gone to the local bank to withdraw some money from the A.T.M., and two Israeli Jews passed him on the sidewalk. "One had a Russian accent. As they walked past me, the Russian guy said, 'Here's another Arab.' I said to him: 'These "Arabs" you are talking about on the morning of Oct. 7 were on the border of Gaza fighting for the Israeli state — regardless of Jews or Arabs — and the ones who destroy the country are people like you who incite poison.'"
Israeli Arabs live between a rock and a hard place, he added: "Many Jews look at us as if we are all Hamas, and the Hamas people look at us as if we are all Jews."
A few miles away, in Rahat, el-Sana introduced me to the al-Qrinawi family, who had their own remarkable tale to tell. Their family spokesman, Ismail, led me through the drama, flanked by his male cousins and a giant platter of rice, chicken and chickpeas.
On the morning of Oct. 7, as word spread of the Hamas attack, they discovered through their family's WhatsApp group that three of their cousins who worked in the dining room at Kibbutz Be'eri had apparently been abducted. Around 10 a.m., one family member got a call from the phone of an Israeli woman named Aya Medan that was strange. It turned out she had met up with one of their missing cousins, Hisham, and they were hiding together from the Hamas terrorists in the same thorny bush near Be'eri. Hisham used her cellphone to call his Bedouin clan for help. Their other two cousins had fled in another direction.
Their uncle, the family patriarch, ordered four of his nephews to get in the family Land Cruiser and go rescue them, since the area was normally about 30 minutes away — but not that day. They grabbed two handguns and sped off.
"When we got close, we found that all the roads were closed," Ismail told me. "So we went through the woods and through a deep wadi in order to go around. Our car almost flipped over in the wadi."
First, "we bumped into people running away from the party," he said. "We gave them our phones to call their parents and made sure that they got into other cars that were driven by Israelis. We managed to rescue 30 or 40 people at the party. But all the time, I am talking to Aya, trying to locate her and Hisham."
It was taking forever. After two and half hours of dodging gunfire and Hamas rockets, Ismail said, they managed to find Aya and Hisham hiding in bushes very close to Kibbutz Be'eri. The two had sent a cellphone picture of the area where they were hiding so they could be more easily located. Minutes later, Aya recalled for The Times of Israel, Hisham tugged at her, saying, "Aya, they're here, they're actually here."
The cousins opened the car doors, Aya and Hisham scrambled inside and the Bedouins again used their off-road skills to get them to safety. Sort of.
The most terrifying moment of the day, Ismail told me, was when they got back onto a main road. They got stopped at a makeshift Israeli Army checkpoint, with jittery Israeli soldiers who could not identify friend or foe from afar. "The Israeli soldiers surrounded our car and every one of them was pointing a gun at us. I shouted: 'We're Israeli citizens! Don't shoot!'"
Aya told The Times of Israel that she was asked by an Israeli soldier whether she was being kidnapped. She said, "No, I'm from Be'eri, and they came from Rahat to get us out of there."
Bedouins saving Israeli Jews from Hamas being saved by a rescued Israeli Jewish woman from being shot by the Israeli Army after they rescued her … kaleidoscopic.
While I was interviewing the al-Qrinawi family, they introduced me to Shir Nosatzki, a co-founder of the Israeli group Have You Seen the Horizon Lately, which promotes Jewish-Arab partnerships. Immediately after learning of the rescue, her husband, Regev Contes, made a seven-minute video in Hebrew to share the tale of the Bedouin rescue team with his fellow Israelis. It has reportedly garnered hundreds of thousands of views in Israel. I asked Nosatzki why they made the video.
"It was to show that Oct. 7 was not a war between Jews and Arabs but between darkness and light," she said.
Before driving back to Tel Aviv, el-Sana insisted on taking us to his favorite kebab restaurant in Rahat. There we sat: an Israeli Bedouin who had served in the Knesset, the grandson of the former chief rabbi of Hebron and a Jewish New York Times columnist from Minnesota who had reported from both Beirut and Jerusalem in the 1970s and 1980s. We reflected on the day in a crazy mix of Hebrew, Arabic and English.
Between grilled lamb and hummus, we all came to the same conclusion: Even at this dark hour, we had just seen something hugely important — "the seeds of coexistence, in death and in life," as Burg put it, seeds that Hamas set out to destroy. These seeds, el-Sana added, "should give us hope that we can build a common future based on common values that cross borders of Jewish and Arab ethnicity."
They are right. These seeds, small as they might be, have never been more important than they are right now. Why? Because this Israel-Hamas war, whenever it ends, has been so traumatic for everyone already that it will trigger the biggest debate about what the relations and boundaries between Israelis and Palestinians should be since the U.N. partition plan in 1947. I am sure of it — because anything less will mean permanent war.
I can already tell you that there will be a lot of destructive voices in that discussion: Palestinian and Arab Hamas apologists, who are already denying or playing downHamas's atrocities; Jewish supremacist settlers, eager not only to expand in the West Bank but also, insanely, to Gaza, and who show no apparent concern for the devastating suffering of Palestinian civilians killed in Israel's retaliation there; Benjamin Netanyahu, who will sell Israel's future down the river to stay in office and out of jail; and Hamas's useful idiots in the West, particularly on campuses, where students denounce all of Israel as a colonial enterprise while chanting "From the river to the sea, Palestine will be free."
(Please spare me the explanation that this is really a call for coexistence: I was in Beirut in the 1970s when this chant was popular, and I can assure you it was not a call for two states for two people. If you have a mantra that needs 15 minutes to explain, you need a new mantra.)
Given all these wrecking crews waiting to go to work, we are going to need more than ever to elevate the authentic voices of coexistence — leaders with the integrity of those Israeli Bedouins, ready to do and say the right things, not only when it is not easy but also when it's dangerous.
Which brings me back to Mansour Abbas of the United Arab List.
His party, broadly speaking, comes from the same Muslim Brotherhood wing of Palestinian politics as Hamas — only where Hamas worships violence and exclusion, Abbas advocates nonviolence and inclusion. Abbas was a key power broker helping Prime Minister Naftali Bennett and Foreign Minister Yair Lapid forge Israel's 2021 national unity government. Netanyahu, ever the divider, brought that government down in part with anti-Arab and anti-Muslim tropes directed at Abbas.
Abbas understands that coexistence means saying the right things, not only when it's politically difficult but also when it's dangerous. After viewing videos of the Hamas attack in the Knesset, he toldArabic Radio al-Nas about Oct. 7: "I saw a father with two children who went into a bomb shelter outside their home, and they threw a grenade into the shelter. The father jumped on the grenade and was killed, and the two children were wounded and remained alive. The massacre is against everything we believe in, our religion, our Islam, our nationality, our humanity." Hamas's actions do "not represent our Arab society, nor our Palestinian people, nor our Palestinian nation."
In our interview, Abbas told me that we need "a new political rhetoric" and not to get drawn back into the old games. "This 'river to the sea' talk is not helpful," he said. "They are making a mistake. If you want to help Palestinians, then talk about a two-state solution and peace and security for all the people."
That is why, he added, "I am working on a plan that starts by ending the current war and ends with the creation of a Palestinian state alongside of Israel."
Abbas is cleareyed about the difficult road ahead. I am, too. I finished my recent journey with two takeaways. The first is that this Gaza war is still far from over. Israel believes there will be no peace in or from Gaza as long as Hamas is in power there.
But the other is that just as the darkness of the Yom Kippur War produced the dawn of the Camp David treaty, and just as the viciousness of the first intifada and the Israeli pushback led to the Oslo Accords, out of the horrors of Oct. 7 will one day come another attempt to build two states for these two indigenous peoples. Otherwise, this whole corner of the world will become uninhabitable for any sane person. There are just too many people with too many powerful weapons today.
And when that day comes, it will take a bridge-builder like Mansour Abbas — who understands the true kaleidoscopic reality of this place, and the authentic connection of both communities to it — to nurture the seeds of coexistence that are still here, albeit buried deeper than ever. Abbas, Youssef Ziadna, the al-Qrinawi family, Aya Medan, my friends Avrum, Talab and Ran — they will be the rescuers.
















I subscribe to NYT because it has writers like this.
Thomas L. Friedman is the foreign affairs Opinion columnist. He joined the paper in 1981 and has won three Pulitzer Prizes. He is the author of seven books, including "From Beirut to Jerusalem," which won the National Book Award.