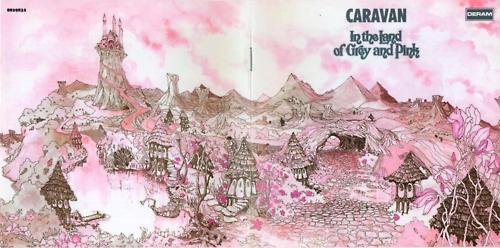 Since, last time, we were on the subject of the Canterbury scene, let us now praise those stout-hearted music-men of Kent, Caravan. A friend picked up on my comment about Mike Ratledge and the reedy organ sound in which he and Dave Sinclair of Caravan specialised. He remembered a friend of his recounting with acute embarrassment how his father took him to a Caravan gig with the express intention of asking Dave Sinclair if he would kindly give his son piano lessons.
Apparently, Sinclair agreed, but didn't follow-up the wayward father's initiative. Probably the best thing for all concerned. The curious thing is that Dave Sinclair was known for his organ- and not for his piano-playing. When he left the band, his replacement, (not the) Steve Miller, played a lot more electric piano and thereby changed the entire character of the band.
In The Land of Grey and Pink is the final magnificent flourish of the original Caravan – Pye Hastings on vocals and guitar, Richard Sinclair on vocals and bass, Dave Sinclair on organ and Richard Coughlan on drums – the band that evolved with Soft Machine from the semi-legendary Wilde Flowers, a group that also included those hippy perennials, Daevid Allen and Kevin Ayers.
I bought the album in a record shop in Botanic Avenue, Belfast, a kind of arterial front line that separated the more genteel streets around the university and the botanic gardens from the uncharted seedier district that led down to the Ormeau baths. An area which our middle-class gang of party-seekers would penetrate at times to get drunk on Dick Turpin wine at a hostelry of ill-repute that sold 'Double Dicks' for very little money.
In fact, I didn't really buy the album. Being the oldest sibling, I somehow persuaded my younger brother to spend £2.20 of his pocket money on it, probably to keep me quiet. When he copied it by aid of microphone onto an early cassette tape and laboriously reproduced by hand the phantasmagorical cover in miniature, the record kind of seceded into my embryonic collection. I hope I did the decent thing and transferred some money from my pocket-money account into his by way of the ledger that our father placed in my safe-keeping. An arcane system reliant on trust and honesty.
Sadly, my brother was considered too young to go and see Caravan on the memorable evening when they appeared at Queen's University. I went with my sister. While we were queuing up the stairs that led to the auditorium, four Kentish characters in search of a dressing room passed us, looking lost and bewildered. I may be mistaken – for we all wore those little rose-tinted gold-framed glasses in those days – but I'm sure that at least two of them wore Afghan coats.
Sadly, too, it wasn't the band that made Grey and Pink, but the band that recorded For Girls Who Grow Plump in the Night: a band that featured far too much viola for my taste. A splendid time was had by one and all, of course, and it was thrilling to see much-loved musicians in the flesh – and I remember thinking how disproportionately tall Pye Hastings seemed for a man with such a high singing voice – but Dave Sinclair was sorely missed.![](upload://df3STTIZu8UakUQqOBvLHlVCnTU.jpg)
The great thing about Caravan was that it wasn't a guitar-centric band. A little like Traffic in that respect. Like Traffic, too, the band spent a long time wood-shedding in that fabled cottage in the country. In Caravan's case, though, it was more a case of living under canvas and rehearsing in a church hall. They practised solidly for a year or so, which helps to explain why the band – on this album in particular – was so musically proficient.
Without a virtuoso guitar player, Dave Sinclair took the lead. Grey and Pink was both his swansong and his finest hour. Specifically, the 22 minutes and 40 seconds of 'Nine Feet Underground', the suite that constitutes side two. Everyone was at it in those days, of course. Everyone from Genesis to Yes by way of Egg, Jethro Tull and the Pretty Things, was busy writing and recording extended suites, as if to validate 'prog rock' and give it neo-classical gravitas.
Listening to it again for the first time in more than a decade confirms that it's possibly the only surviving suite of its kind without even a hint of pomposity. Like a good film noir, it gets straight to the plot-point in the opening scenes. 'Nigel Blows a Tune' is just that: an extended blowing session featuring Dave Sinclair's organ and a fine tenor solo from Pye's occasional jazzy older brother, Jimmy Hastings, which recalls Brian Auger and the Trinity at their very best. It segues seamlessly through 'movements' with whimsical titles like 'Dance of the Seven Paper Hankies' and 'Hold Grandad by the Nose' towards a final freak out built around a riff pinched from Cream's 'Sunshine of Your Love'. It ends as it beginneth – organ to the fore.
Side one features four, more recognisable songs. 'Love to Love You' is the kind of brief melodious ditty that Caravan would often use to break up the longer pieces. It is the only track that features Pye Hastings' alto vocals. The other three are all built around the lugubrious tenor voice of Richard Sinclair: 'Golf Girl' is a kind of love story on a golf course involving a golf girl who sells cups of tea. 'Winter Wine' is an ethereal narrative that allows Sinclair space to stretch out in an organ solo that includes a key change worthy of Marvin's What's Going On. 'Life's too short to be sad,' brother Richard sings poignantly, 'Wishing things you'll never have...'
The title track is a piece of cod Edward Lear processed for the age of mind expansion. 'So we sailed away for just one day to a land where the punk weed grows/ Won't need any money, just fingers and your toes/ And when it's dark, a boat will park in a land of warm and green/ We'll pick our fill of punk weed and smoke it till we bleed...' You can guess what sustained those boys when they were living in the tents of Kent.
Yes, it's whimsy, Jim, but not as we know it... In the Land of Grey and Pink is seriously good. One might even classify it as a lost masterpiece. Guided by the critical choice of the music press, Brive library certainly thought the re-issued CD was important enough to buy for their extraordinary collection. I don't know what became of Dave Sinclair, but I rate his organ playing right up there with the Jimmy McGriffs and Jimmy Smiths of this world. What self-respecting and enlightened father wouldn't wish him to teach his son piano?