Interesting editorial… puts things into perspective, in my view… I wish the majority of protestors would read and inwardly digest…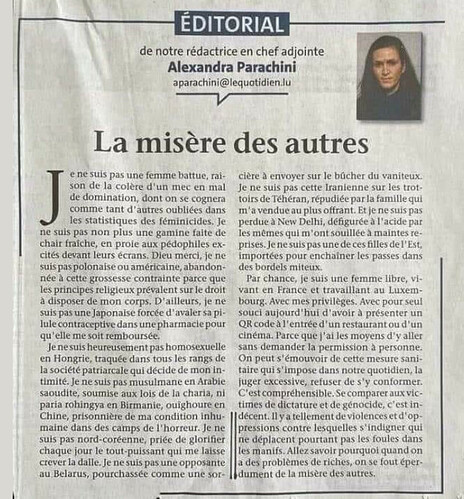 I agree. It's fine to question how one can be assured of keeping personal data personal when using the pass sanitaire, and be concerned that it doesn't develop into allowing ID check for not reason. But to liken it to genocide is offensive, particularly at a moment when Afghan women would be delighted to have the freedoms we do.
With the Taliban controlling the country, Afghan women are not just not going "to have the freedoms we do." They are going to have a very bad time indeed. Very Bad.
No more schooling for girls. Women students and teachers in universities and colleges will be dismissed. Those who object/protest will face prison at the very least. Women in the media and almost every other walk of life will be sacked or severely contrained.
Women will essentially have to 'disappear'.
No more music. No more cinema. No more dancing.
I sent a cutting from The Khyber Mail to the women who ran The Photographers' Association in London "Women Axed In TV Ads". They meant "… from TV Ads" of course. This was one result of the declaration of Sharia Law superceding the constitutional legal system of Pakistan after Zia Ul Haq's miltary coup in 1988.
Gulbuddin Hekmatyar, one of the war-lords running one of the accredited political parties [by the US State Dept] when I was in Peshawar in the '80's, was notorious when of college age, going around with his gang of thugs throwing acid in the faces of women students.
The Taliban of today will make Hekmatyar look like a lily-livered pinko liberal.
If you want to read a classic case of a man farting in a thundestorm, read this piece about Hekmatyar's grandson. Afghan warlord Gulbuddin Hekmatyar's grandson moves on from family's bitter past - The Economic Times
That was an ironic understatement…
Scariest person I have ever met.