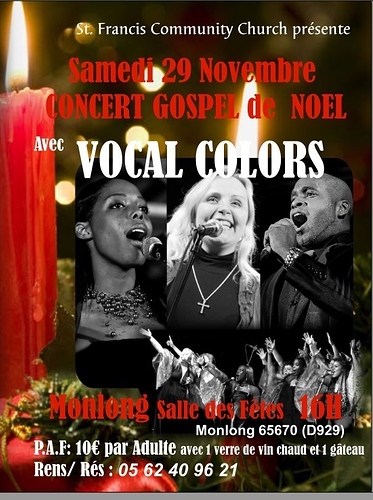 Hi Everybody,
It is with immense pleasure that I can announce a concert by the wonderful Kathy Boyé & Vocal Colours at the Salles des Fetes in 65670 Monlong on Saturday 29th November commencing at 4pm.
Doors will open at 3pm with background music from Moving Music (me).
Ticket price is an incredible 10 euros per head and includes a glass of mulled wine (soft drinks also available) and a cake.
The music of Vocal Colours is a beautiful fusion of gospel, jazz and blues with the amazing voice of Kathy Boyé in the lead. You can see and hear this marvellous choir by folloowing these links:
http://www.vocalcolors.com/?lang=en
http://www.youtube.com/watch?v=-leZZPiNMhk
Tickets are available on the door or by advance reservation on 0562 409621. Or email me at movingmusic@orange.fr
A great evening of music and entertainment that is not to be missed.
I truly hope to see you there.
Please feel free to pass this message on to your contacts