Ever since the caveman left the cave to go and kill a woolly mammoth for supper and his wife yelled after him, "shut the door behind you", humans have been trying to find new and better ways to keep their homes warm. Keeping warm doesn't just involve creating heat – it means retaining it and insulation is key. A well insulated home will cost less to heat and with energy prices on the increase, high levels of insulation make good economic sense. In France, since the adoption of the reglementation thermique (RT) in 2005, it has also been obligatory for all new constructions to undergo a diagnostic de performance energetique, to ensure that they comply with the RT requirements. New builds are also subject to the nouvelle reglementation acoustique (NRA), which specifies the noise, or decibel levels that are acceptable in new constructions.
A new construction is far cheaper and easier than an old property to insulate to a really high standard. Older buildings will impose their own constraints in terms of the space available for insulation. In a new build, the cost of doubling or even tripling 'normal' insulation levels is minimal, just some extra materials and labour. Even those who are not especially skilled when it comes to le bricolage, will be able to tackle most forms of insulation and thus, keep costs down. In return you may even be able to insulate your home to a level where the home is heated with the 'waste' heat from daily living. This degree of insulation along with other improvements of efficiency levels, leads to the creation of what is termed a 'passive' house.
So what are the options available to the new builder and how do they work? It is fair to say that every part of the house will have different insulation requirements, whether from a point of view of heat, sound or both. Luckily, there is a huge choice of products available. Some of these are entirely natural, some less so, some come with the insulating element already in place and some are easier to install than others. Even when comparing similar types of product, there are big differences in terms of price and performance and it is wise to do a fair amount of research.
Probably the best-known form of insulation is 'Rockwool', although this is actually a brand not a type. Known in France as laine minerale, this is easy to lay and highly suitable for insulating loft spaces and eaves. Some types also provide acoustic insulation and it can be a cheap solution with prices starting from €2,89 m². Fibreglass or laine de verre is slightly cheaper but is much less fire resistant then mineral wool.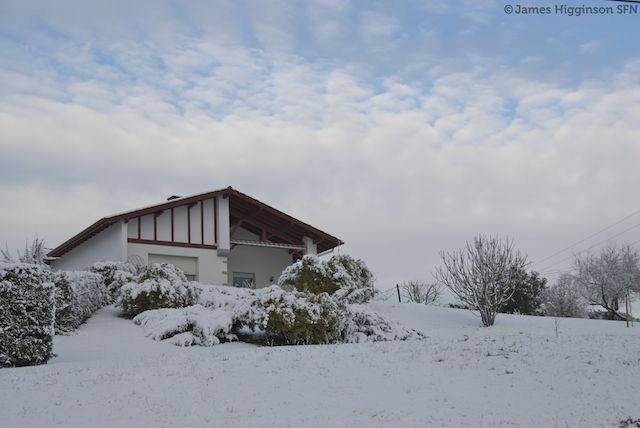 For a more natural alternative, why not try laine de mouton, a ready rolled wool based product? This is widely available, easy to use and has excellent insulating qualities. It is however, more expensive than many of the traditional products with prices starting at around €14,50 m². It is faster to use than wool alone as it comes ready rolled. Pure wool will need to be treated with borate in order to make it fire, mould and pest resistant. It has good thermal qualities and can also help to regulate the moisture levels in a building. Hemp or chanvre, is a product that is relatively new to the market and although expensive, is environmentally friendly. It is also light and supple to work with and has good insulating qualities. Both wool and hemp have similar R-values of about 3.5, which is comparable to other types of fibrous insulation.
Traditional materials such as straw and hay can also be used; these will form part of the fabric of the building – the walls – as well as providing the insulation. Straw may seem an alternative choice but it has good R-values and is very cheap. It is now also available as insulated panels. These are lightweight bio-degradable insulated panels made from compressed straw, with a recycled cardboard skin. The panels are robust enough to be used as partition walls. However, they can be heavy to handle and require a certain degree of skill to install. Cotton insulation made from 85% recycled cotton and 15% plastic fibres is an environmentally sound form of insulation too as it uses minimal amounts of energy to manufacture. It is non-toxic and can be a good choice for anyone with respiratory problems or sensitive skin, as it can be installed without protection.
There is a huge selection of new generation lightweight high performance thermo reflecting products. Also known as multi-foil, these are numerous metallic sheets 'sandwiching' together several layers of insulating materials; these range from synthetic to woollen products, pads, foam and so forth. They are lightweight, fast and quite simple to install. Compared to other types of insulation, they can offer a significant space gain, taking up far less room whilst providing similar levels of insulation. In addition their thermo reflective qualities mean that they reduce heat transfer from one area to another, thus keeping the house cool in summer as well as warm in winter. Entry-level products start at around €3,99 m² and can be used on walls and eaves. However, these are one product where paying a little more will reap dividends and paying upwards of €7 m² will buy a much better product. Multi-foil does require very precise installation in order to avoid creating thermal bridges and it is essential to follow the manufacturers installation guidelines.
Granulated type products, which can be made of cellulose or natural mineral products, are also available. Some of these can be applied by hand; however the majority require the use of a machine to 'blow' them into place, which will add to the installation costs.
The system of insulation known as doublage refers to panel type products, which contain polystyrene, mineral wool or fibreglass. Intended as they are to be used on walls, these products come with plasterboard ready attached. This can be a real time saver! Some have acoustic qualities too and with prices around €37 for a high performance panel, this can be a good one stop solution for the internal walls of a new build. Panel type insulation is also the most common type of flooring insulation. Whether placing insulation on a dalle (concrete slab), in between joists or under floorboards, there is a product to suit all tastes and pockets with prices for ground floor insulation averaging around €7 m².
Of course you may have constructed your new home in thermal blocks or structural insulated panels, in which case you will not need to further insulate the majority of it anyway. But that is another story!
Talking about insulation:
A 'u' value is a measurement of heat loss
Low 'u' values mean less heat loss
Each element of a wall has its own 'u' value, to calculate the overall 'u' value, we use 'R' values.
'R' values work in the inverse and can be added together
A 'u' value of 0.5 is equivalent to an 'R' value of 2 (1/0.5=2)
Cold or Thermal Bridges – a point for heat to escape and where condensation may form. Found where there is a break in the insulation such as un-insulated joists. Also found at corners, around doors and windows, where metal pipes cross insulation and where there is a disruption of a wall cavity.
Eliminate cold bridges by careful insulation – ensure loft insulation covers joists, insulate around pipes and add extra insulation at corners and the bases of external walls.
A credit d'impot – tax credit of up to 40% is available for the purchase of certain insulating materials. Full details on the site www.impots.gouv.fr
Copyright - Catharine Higginson