Hello all,
Avid reader of the posts on here about doing up houses. I am renovating my house part-time at the moment and so got brave and pulled the plaster off the interior wall in my kitchen to reveal the stones beneath. Took all the advice on here and used St Astier chaux 1:3 mix with sand and mortared half the wall yesterday… my trowel skills weren't up to the task and I ended up pushing it in with my fingers. There's a tricky corner spot and I'm thinking about using an icing sugar piper to get at that. Anyone tried that? Is it a terrible idea?
My question is this: the house had been previously 'renovated' and a door put through the wall. With a cement/concrete lintel. I had a go yesterday using the same mortar mix to cover it but with mixed success. Should I be using some other lime mix? A plaster or putty perhaps that might go on smoother?
There's a lot of it but not unmanageably so. It would be nice to blend it with the existing wall.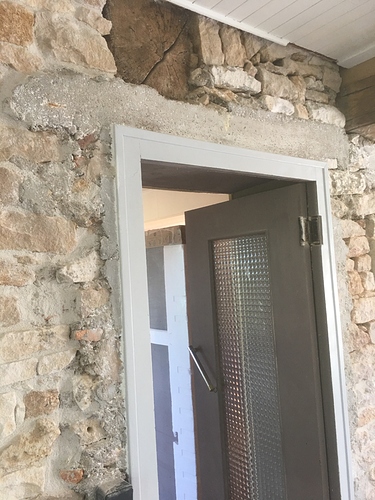 Waiting with bated breath to hear any and all advice. Thank you all again. I'm new to this and having a ball!
Regina