When I go into any of the Microsoft programmes on my computer I get the following message …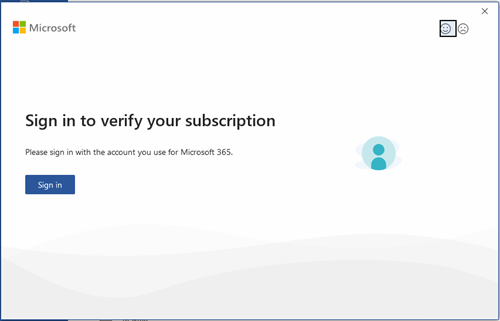 It first started about 2 weeks ago and at the time there was a "not now" message (or something similar) in the bottom LH corner. So I just clicked on that and the message went, until the next time I opened a Microsoft product (I have outlook, word, excel, powerpoint and publisher).
The message has got marginally less friendly - no "not now" any more, but I can still bat it away by clicking on the cross top RH corner.
OH tells me, he is the M/S 365 account holder for which he is direct debited and I am one of the five people (or maybe it's four) who can be attached to his a/c. We have a home network. He has 2 PCs + laptop and I have 1 PC.
He does not get this message and he's telling me to ignore it. But I think he maybe being complacent. The last thing on earth I need is to be locked out of Microsoft - I've got a lot going on.
I'd welcome any help /advice please as to whether I need to do anything (like sign in) and whether I am in danger if I ignore it and indeed, why this might have suddenly started happening. I'd obviously ask OH but he's still pumped full of two lots of anaesthetic and stuff like this is tough for him so I'd rather look for suggestions here and then take those to him. Thanks for any help
And I know there isn't much of a fan club here for Microsoft but please don't say my solution is the go elsewhere. For the moment at least it's"better the devil I know".