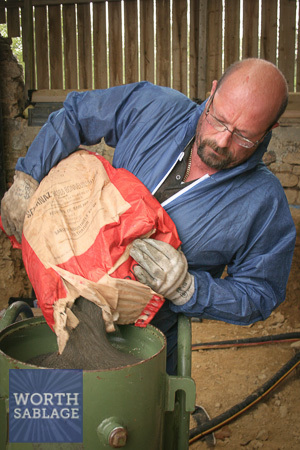 A move to rural France and a property renovation project can certainly change your priorities. Ten years ago, my biggest worry was whether to choose the pesto or creamy herb and mint fishcakes from my local Waitrose. DIY was a similar story - just which shade of Farrow and Ball should I use on the kitchen ceiling? Decisions, decisions. These days, I don't even have a kitchen ceiling. It was removed a few months back and we are still waiting to get the cash together to replace it as, in the interim, there have been numerous other demands on our time and wallet. So yes, renovating does change you and as we all know, hiring the right contractor can make all the difference in a construction project. Get it right and you are on the road to success; get it wrong and your property renovation can become the project from hell.
We've been looking for a sandblaster for some time now so I was especially pleased to be able to chat to SFN member Martyn Worth about sandblasting and why he started a sandblasting business in France. Martyn explains, "I'd been visiting France for many years and I've always loved the culture, the architecture and of course the food. Back in the UK, I ran a property renovation and maintenance business based in Plymouth, my home town. Our main activity was to renovate and maintain both commercial and domestic properties for various landlords. Although I enjoyed restoring the Victorian town properties, my passion lay with the older stone built cottages on Dartmoor and the surrounding sleepy villages. When one of my former employees retired and moved to Brittany, I started to visit him and with each visit, my love for the region grew.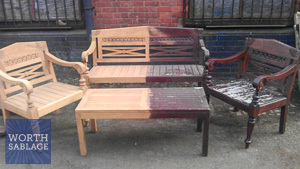 The more amazing old buildings I saw and the more I learned of the countries fascinating history, the more I fell in love. In 2005 I bought a 16th century pile of stones. The notaire described it as a farmhouse and collection of barns! I soon set about trying to transform the pile of rubble into a liveable dwelling; even armed with my many years of experiences in renovation, it took a couple of years of channel hopping to get it anywhere near habitable (and it is still unfinished today!) but, by this time, my desire to live in France was too strong to resist. So in 2007 I took the leap.
After many years of running a business with employees and relying on sub-contractors, I wanted to do something in which I could work alone. It had to be an 'in and out' activity that didn't tie me down to one site for months at a time, something that would give me the chance to work on more interesting properties and something that would cover a large an area as possible to allow me to feed my passion to see as much of France as I could. By now I had made many new friends who where renovating or working in the renovation field and on several occasions I heard them say that they had struggled to find a cost effective and reliable sandblasting contractor. As I had often used sandblasting equipment during UK renovation projects, the light bulb began to flicker and in 2008 I set up the business. It's been a winding road but I now have friends and clients all across the north of France as well as regular work in Paris for a powder coating company."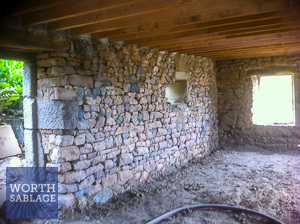 Regular work for French clients has helped Martyn integrate into his new French life and he says, "Learning French has been a struggle but I now have several French clients who tell me my French is slowly improving although I think they may just be being kind! There have been many challenges along the way and I am sure there will be many more. Would I change anything? No, not a thing…vive la France and vive le sandblasting! It is a dusty, dirty and sometimes dangerous job but I love it!"
When you chat to Martyn, his passion for what he does really shines through and the results speak for themselves. I was certainly impressed with the before and after shots and the 1967 Austin Mini is particularly impressive. Although Martyn is based in northern France, he does cover an extremely wide area and is prepared to travel further afield, so why not get in touch and request a free quotation?
Lots more before and after images on the Worth Sablage Facebook page.
What is sandblasting?
Blast cleaning consists of bombarding the surface of a material with one of many types of sand, grit or shot. Normally this is carried out to remove paint, rust or scale, but sometimes it is required to impart a particular surface, or uniform finish, to the object being blasted.
A typical blasting rig consists of a high powered air-compressor connected to a blasting pot (where the sand or grit is introduced) via a length of blast hose to the blast nozzle.
Items which can be cleaned vary from wood, stone, brick and masonry, through to aluminium, iron and steel. It is a case of using the correct material and pressure to accomplish the task. For instance, wood or stone would be cleaned at very low pressure using the finest grade of sand available, whereas iron or steel can be cleaned at full pressure using 2.5mm chilled iron, if necessary. It is advisable to apply a first coat of primer to freshly blasted metal to prevent the onset of corrosion.