Received this tonight… I decided NOT to open the pdf attached …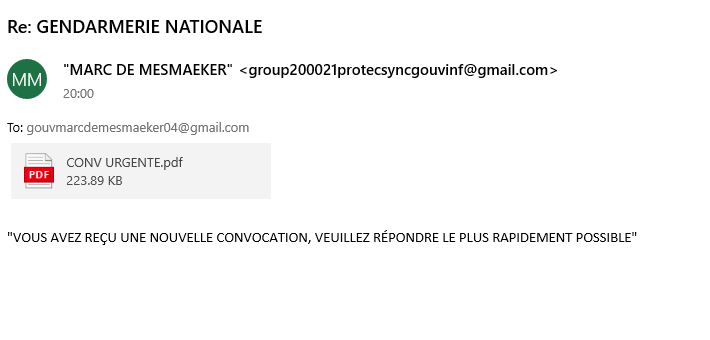 https://www.lavoixdunord.fr/1079282/article/2021-10-04/attention-aux-faux-mails-des-polices-belge-ou-francaise-pour-une-convocation-la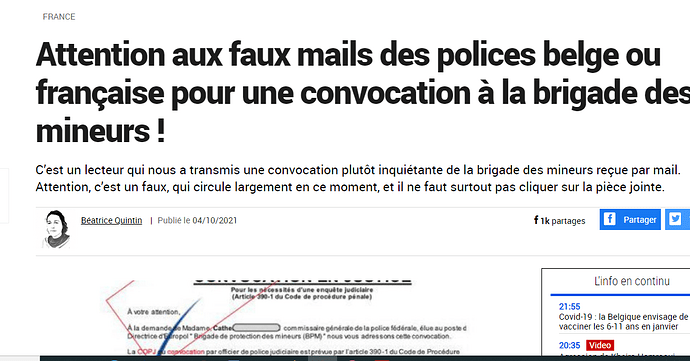 Had several of these intermittently over the last few months, claiming, variously, to be from the Gendarmerie Belge, or Europol, and allegedly signed by a now retired official…
I almost feel I am missing out as I haven't had spam in that particular form

Thanks for warning us @Stella and @RicePudding
it can be so easy to mis-think… click in error…
when this one arrived… it was actually no surprise to be receiving an email marked Gendarmerie Nationale…
but when it didn't say… "hello Stella or even Madame xxxx etc etc… " I checked on Google… and there it was a well-known Spam…
so I smacked it into touch pretty sharpish…
@ChrisK In previous times, it was bizarre how often a spam Amazon mail would come shortly after we had ordered something from Amazon itself…
We haven't bought anything from them in a while… so are being left in peace it seems.
I had one on my 'phone saying that I had been awarded 500 euros if I signed up for some work!
Latest spam arrived today…knocked on the head smartish.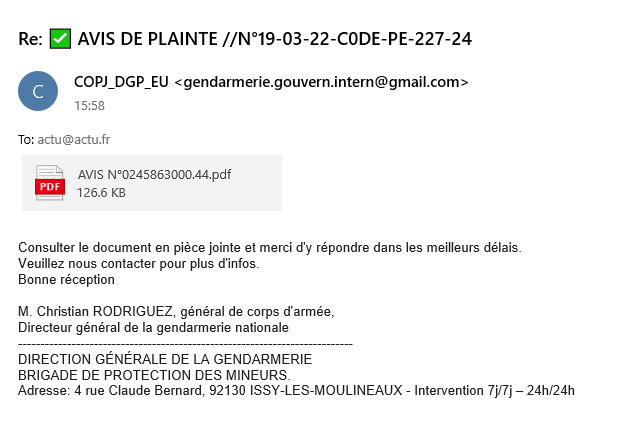 It seems so  likely that La Direction Générale de la Gendarmerie would use a gmail address, doesn't it

Good grief… Google tells me that Code PE 227-24 is to do with minors (kids) and really nasty stuff…
glad I've binned that one.
There's been a resurgence of these again recently. Still waiting for GIGN to come and kick my door in

I had a spam email from the Dark Lord Sauron himself the other day.
Apparently he has returned from the netherworld where Frodo & Sam sent him , and is now working for a Chinese shipping company. Which presumably is the modern equivalent of being a Necromancer.


"Dear Friend

This is Sauron from Lionway International Logistics(Shenzhen) Co., Ltd. China

I am very glad to get contact with you. And hope that we will become your partner in the future.

For the first time, let me have some words to introduce you about our company

We're quick growing logistics company in China, We handle ocean shipments and air shipments, AMAZON cargo. For extremely cargo we have hand-carry service.

Kindly refer some of our remarkable features that enable us to provide you with our best services:"