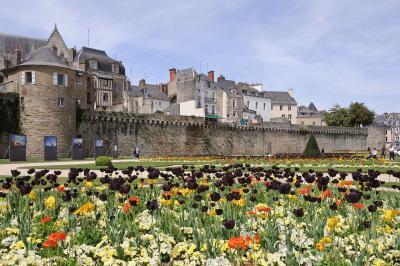 Vannes is one of Brittany's most famous sights and a must-see for tourists. But an increasing number are deciding to stay for good.
The ancient walled town of Vannes is one of the jewels in Brittany's crown. Until recently, it went more or less under the radar of the expat community, who preferred the cheaper property prices to be found in more central areas of Brittany. This has changed in recent years, and while the town is still undeniably French, an increasing number of Brits have opted for its medieval charm. This trend will certainly continue as more and more savvy travellers fall under spell of this unique town.
Let's Move to France!
A move to France, Spain or Portugal used to be seen as the province of the retired. A place to relax in the sun, while away the hours and perhaps play the occasional round of golf in a warmer climate and a rural setting.
But in this ever more interconnected world, increasing numbers of British expats of all ages are realising that it is a viable lifestyle choice for them and their families.
What is it Like?
Vannes has all the amenities of the 21st century while retaining an old fashioned charm and community spirit that some expats have likened to that of the English villages they grew up in forty years ago. The locals are welcoming and the atmosphere is relaxed.
The town is twinned with Fareham in Hampshire, and if you should run into any language problems, most members of the twinning association speak fluent English and are always ready to help.
The only way to really find out what it is like is to pay a visit.
Where to Stay?
With more than 30 hotels, there is no shortage of places to stay in Vannes. Prices range from less than £40 a night for a basic room in a budget chain hotel to around £140 a night at the luxury Villa Kerasay spa.
But to get a real feel for the place choose from one of the dozen inns and B&Bs dotted around the town. Check out Tripadvisor to see what is available and to get the best rates.
What to Do?
Vannes is predominantly known as a medieval walled town, and so the historic Old Town is usually the first port of call. Take a stroll along its cobbled streets and admire the architecture of the impressive Town Hall. The Old Town is also home to some fine restaurants and there is a beautiful park in which to relax and watch the world go by.
Before leaving the Old Town do not forget to visit the Cathederale Saint Pierre. This remarkable gothic building has dominated the scene for the past 800 years.
If you pay a visit on a Tuesday or Saturday morning, leave the Old Town via the Rue St-Vincent and check out the open-air market at the Place des Lices.
Outside the confines of the town centre, there is plenty to entertain the kids at the Parc du Golfe, about a mile south of the town centre. Here you can take a boat trip around the Gulf of Morbihan. There is also an aquarium with a huge collection of tropical fish and the Jardin aux Papillons, a glass dome filled with vegetation where hundreds of butterflies fly free.
However, before we all pack our bags, there are a number of preliminaries to consider. First of all language is important. While the stereotypical image of irritable French people who despise the English is of course a clichéd myth, it is nevertheless true that life is much easier if you can speak at least some French. Even a few key phrases make all the difference and you will be surprised how quickly you pick it up when you start trying. Secondly, it might be only next door, but remember to get some insurance when travelling in France to ensure a stress-free journey.
Visit Vannes
To experience it is to fall under its spell. Visit Vannes, but be warned - you might end up deciding to stay for good!
Photo of Vannes by Myrabella, CC Licence.