Hi All,
I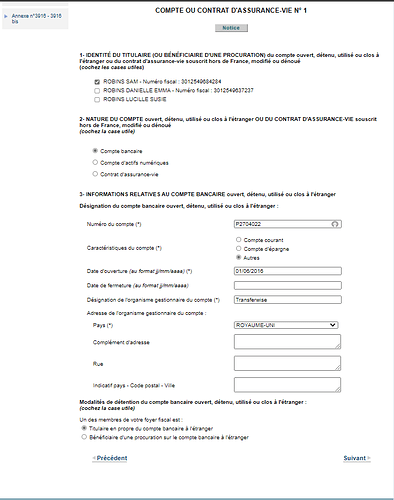 just posted this message in reply to a 2020 thread, thinking it was from this year (doh!) so I am starting a new one to make sure it is seen and relevant.
I am also having issues with the 3916 because all the latest literature I have read (French tax notices, government information and 3rd party websites) say that we now have to declare foreign currency exchange accounts such as Transferwise (now "Wise") and Paypal accounts - I have both.
For example, service-public.fr says the following:
Vous devez déclarer les comptes ouverts à l'étranger auprès d'un établissement bancaire ou de tout autre organisme ou personne (notaire, agent de change, etc.). Vous devez aussi déclarer les contrats d'assurance vie.
However the 3916 form does not seem to be adapted to these types of account. For Transferwise as an example, the money is transferred via THEIR account to my account and they say that I do not have a declarable account with them.
The form also asks you to tick a box saying you are either the open bank account owner or have power of attorney - neither is applicable… so I don't know how to fill out this section this year (and its doing my head in!).
Transferwise have suggested consulting a local tax lawyer but I wanted to check with SFN, font of all knowledge first!
Any advice / info / clarification greatly welcomed. Thanks in advance,
Danielle