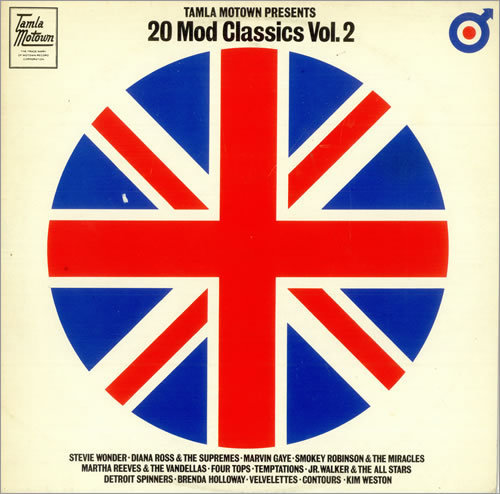 If ever a better Motown compilation came out on record, I never discovered one. It's rare that a second volume surpasses a first, but this one just managed it – and knocked the spokes off The Big Wheels of Motown and all those worthy single-volume Motown Chartbusters in the process.
The packaging was fairly horrible – a big circular Union Jack design was supposed to conjure up the so-called Mod revival – but it didn't matter a jot, because it was the stuff in the microgrooves that counted. And my, what stuff! Twenty original mono recordings that still leap out of the speakers and demand that you slide all over the floor like those baggy-trousered Northern soul types you see on documentary clips. Forget all the fancy drops and back-flips, those guys'n'gals knew how to move, as David Bowie put it, 'like tigers on Vaseline'.
It was as seemingly effortless as the marvellous music on this album. I've never quite got the hang of it, but there are moments during these two sides when you find that your limbs are doing exactly what the music demands. This is exactly what 'dance music' means.![](upload://8lWoLvAySRgaJhM9FK931khD9Ep.jpg)
And this LP is so good because these 20 tracks are all about dancing, pure and simple. As a youth, I was far too cool to appreciate the endless stream of hits from the factory in Detroit. They all seemed to be churned out for teeny-boppers and performed by groups whose choreographed steps appeared as ludicrous as those of The Shadows. In the mid 60s, I took the side of the scooter and mohair brigade in the great Mods v Rockers debate, but mainly for the look. I had little idea that they were dancing to this kind of music.
But then I turned into a student at a time when disco ruled the world and I discovered that music was as much about dancing as it was about listening. How wrong could one teenager be? Perhaps if Berry Gordy had promoted Martha Reeves & the Vandellas over The Supremes, I might have seen the error of my ways sooner – because Martha and her backing singers were the best 'girl group' bar none. They knocked Diana and the girls into a cocked hat and then stomped all over them in their stiletto heels.
The proof of the pudding is here on side 1. Even if they weren't in the Class A 'Quicksand', 'Dancing In The Street' or 'Heatwave' category (all there on Vol 1, and that's not to mention 'Jimmy Mack'), the three cuts here are irresistible. Three gems from the no-frills team of Holland, Dozier and Holland: 'Come And Get These Memories', 'Nowhere To Run' and the glorious 'In My Lonely Room'.
In fact, Holland, Dozier and Holland contribute nine out of the 20 belters assembled – including, 'Mickey's Monkey', which is somewhat surprising since the Miracles usually performed Smokey Robinson's songs. But it seems tailor-made for them and right up there with 'Going To A Go-Go' as their most urgent of dance-floor anthems.
The 20 classics cover perhaps the three most intense years of Motown creativity, from 1963 to 1965. Only Kim Weston's fantastic 'Helpless' from 1966 – another Holland, Dozier, Holland floor-stomper (and covered rather dexterously by Manhattan Transfer of all groups) – sits just outside the period in question.
We kick off with 'Little Stevie' Wonder's rousing 'Fingertips (Part 2)', which never fails to make me wonder what happened to Part 1 and which suggests young Steveland's brilliance to come. Only two years later, on the second side, 'Uptight (Everything's Alright)' is possibly the finest flowering of the period before talent became genius, before Music Of My Mind and all those other platinum self-productions.
Apart from the three Martha Reeves numbers, Side 1 also offers Mickey's simian dance-craze and Smokey's 'I Like it like That', as well as the Temptations' perfect rendition of one of Smokey's most perfect combinations of melody and memorable rhyming couplets, 'The Way You Do The Things You Do' (' The way you smell so sweet/You should have been a per-fume/The way you knock me off my feet/You know you should have been a broom/' and so on).
And if that weren't enough, there's Jr. Walker's evergreen 'Shotgun' (written by a certain Autry DeWalt, who must have had a room at the back of the back room at Hitsville, USA), Marvin Gaye's 'I'll Be Doggone' and a little-known Smokey-penned gem from Brenda Holloway, 'When I'm Gone'.
Smokey Robinson has a hand in two more production-line hits on the second side, which takes his personal contribution – as singer, songwriter and/or producer – to seven in all: the much underrated Contours' 'First I Look At The Purse' and one of Marvin Gaye's finest moments, 'Ain't That Peculiar'.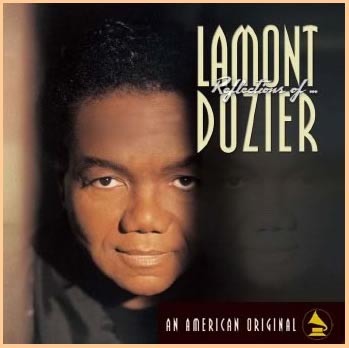 Lest original and revived Mods should for one second feel short-changed on flipping the disc over to Side 2, we get right back into the groove with another pair of Holland, Dozier, Holland productions: Diana Ross & The Supremes' 'Back In My Arms Again' and the Four Tops' 'I Can't Help Myself', which Lamont Dozier, who co-wrote of zipping up his boots and going back to his roots for Odyssey, would re-visit on Reflections Of…, a marvellous and surprising collection of personal interpretations of his best-loved Motown classics.
If that's not enough for your 'pedal extremities', the same song-writing trio give us two crackers by Kim Weston and leave us with one of the greatest ever Motown smashes, Jr. Walker & The All Stars' '(I'm A) Road Runner' with its indelible honking tenor sax refrain by the younger Mr. Walker himself.
That just leaves enough room for the Velvelettes' splendid 'Lonely Lonely Girl Am I' and the Mk1 Detroit Spinners' 'I'll Always Love You', which is no 'It's A Shame' but quite acceptable nevertheless. For once, it would take a move away from Motown – to Atlantic – and a new song-writing partnership, of Linda Creed and Thom Bell, to bring the band fortune and fame.
At the time I bought this long player – in an HMV Shop sale – it was all about the singers and the songs. Gradually, with repeated listening and dancing over the years, I've come to focus more and more on the house band that propelled these incredible songs. In particular, of course, that stellar rhythm section of Earl van Dyke on piano, Bennie Benjamin on drums and the sublime James Jamerson on bass.
It took a book by Allan Slutsky (who should have been on their roster of musicians with a name like that) and the 2002 documentary by Paul Justman, Standing In The Shadows Of Motown, to give them their full due. But 20-so years before, this compilation revealed and still reveals everything you wanted to know about an astonishing team of writers, singers, musicians and producers at the height of their collective powers.
Mono was never more glorious. Let go of your head and let your feet guide you on a journey across your living room dance floor.