Viry-Châtillon (south Greater Paris, pop: 30,000) isn't bad actually as southern or northern Greater Paris communes go, it's not wealthy but not dirt poor either (its poverty rate is 17% vs a national rate of 14%), the cadre de vie is actually quite good, attracts quite a few middle-income families and even a few "CSP+" couples as the French say. But, like many places, it's a very divided town socio-economically speaking, one of these places where the "fracture sociale" is fairly stark.
The major problem here though (in what led to this horrendous attack) is more with the next door town, Grigny (same size), France's poorest commune with nearly half of its population below the poverty line – = a disposable income of < €1,000 a month for a single person and < €2,500 for a couple with 2 children), more on which later (That horrendous murder attempts on those 4 police officers happened on Viry territory but right at the Viry-Grigny limit and the attack was perpetrated by a Grigny gang of about 10-15 young people from the nationally notorious neighbouring cité of La Grande Borne, see below, the result of a violent turf war between local gangs fighting for the control of the lucrative drugs trade, not just locally but beyond as Grigny is a well-known drugs hub).
So yeah, as I was saying, Viry really isn't that bad, it's quite a green place for a banlieue town. Within its north east limits, there's a vast plan d'eau, 3 large-ish interconnected lakes/étangs with outdoors & water sports centres, and a networks of cycling tracks and footpaths running alongside them. The Seine flows through the north east side of Viry, with the Orge river cutting through the town on the other side, through parks and woodlands, Parc du Château etc.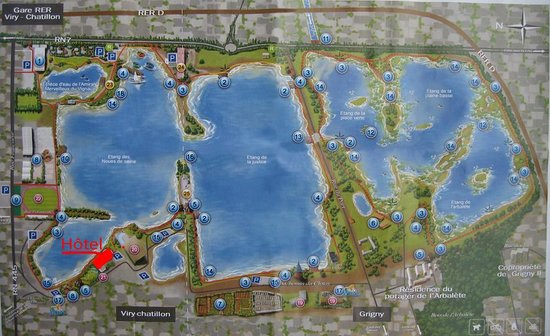 Good shopping facilities and plenty of amenities – ice rink, water sports facilities with even a scuba diving club based in the Lakes area, several sports halls, skating/urban sports parks, there's a theatre, a cinema complex + 2 libraries, 1 multimedia library, an arts centre, an MJC (Maison des Jeunes et de la Cutlure) etc. not bad for a mid-sized town. You've also got the 3,000 hectare Forêt de Sénart 500 yards away on the other side of the Seine with miles and miles of trails, lots of activities, 2 golf courses etc.
So you see John, if you want to visit, there's plenty to do and see, you don't even have to bother going to Paris 12 miles away! Pfff, silly idea, why would you frankly?!
You can even land at Orly Airport 3 miles away and Bob's your uncle… There's a couple of cool things to visit, there's a "Grotte aux coquillages", you'll see, it pisses on Lascaux…
I bet you're already packing up your cozzies & bags and can't wait to tell us about your week there. Don't knock it till you've tried it! And don't forget to send us a postcard…