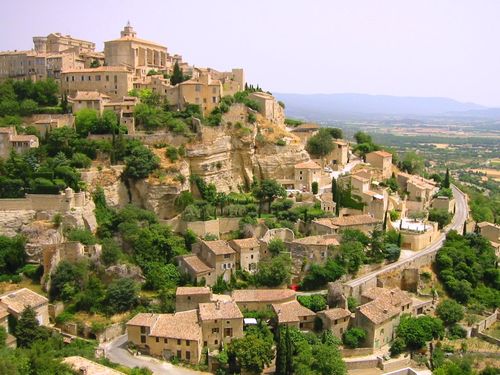 I didn't realize until we moved to France how many beautiful places there are in this country. Not just the places you've heard of, but a zillion others. It's hard to find the words to describe the variety of the terrain and how rapidly it changes, the abundance of beautiful historic buildings, the gorgeous villages. It's a small country, but you couldn't see it all in a lifetime.
But It's a funny thing. Though we haven't even scratched the surface when it comes to seeing this country, when I see a French village or charming scene on the cover of a magazine or other media, it is very often familiar. There are certain locations that seem to make the photogenic cut, shots I've seen multiple times and always recognize. These are the Cover Girls of French Villages.
So I've been collecting a personal list of those photos in France that hog the media coverage. These are the pictures I constantly encounter in travel magazines, etc. I feel sure that you, happy travelers all (even if only the armchair variety), can identify many of them, and add to our list. They're great places to visit, though you shouldn't stop there! I've got three for you today, and more for another day. Maybe we'll even have a post on some unknown ones that should be added to the list.
We're going to exclude Mont-Saint-Michel because it's just too obvious a choice. After that the first one that comes to mind is Gordes, in the Vaucluse department of Provence (Photo above, from Wikimedia Commons). With its sun-washed houses in pale Provencal stone spilling gently down the hillside, it's hard to beat. There is a certain spot approaching the town that always gets its picture taken.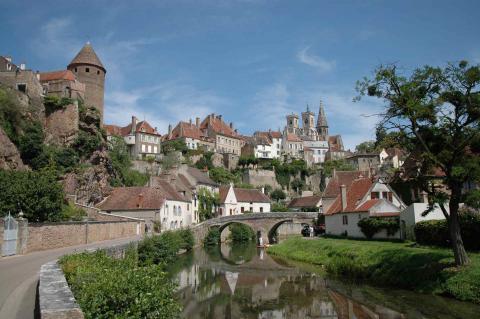 In northern Burgundy there is a ville that to me is among the most gorgeous in France: Semur-en-Auxois. Viewed from afar, it's my fantasy of a French town. Circle down past the very cute town center to the river that surrounds it, its steep bank lined with fine old houses, and you'll see a spot that has graced many a magazine cover. Photo, Cote d'Or Tourisme.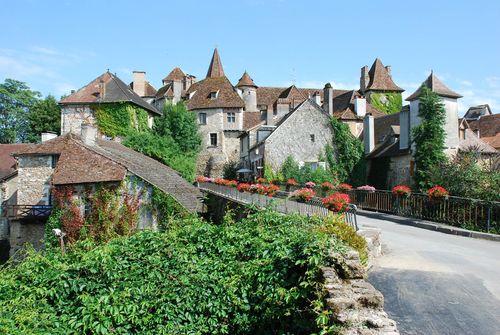 Carennac is a tiny village in the Lot. When we happened across it years ago we were cycling, and we rounded a corner to a breathtaking view of a little bridge, lined with flowers boxes, that crosses a deep ravine. The sort of view that makes you gasp, and start clicking that shutter. The spot has popped up so many times in the media that I've lost count. Photo, All-Free Photos.
By the way, Loyal Reader Dani of American Girl in France has a Cover Girl photo on her blog this week too. Do you know all these Cover Girls, and do you have more to add to our list?
In the COMMENTS: Speaking of corn, that unloved European veggie: Cynthia M. is working on the Italians on her end. To that Lazy Girl of And Then Make Soup: Jiffy Mix, my my! Lin, of my favorite English Bookstore in Valbonne, I was eyeing the polenta in the supermarché just today. To Liza of Provence in Ann Arbor, we can get peanut butter in Burgundy now--globalization has arrived! To my mom, Mickey, I don't make corn bread with bacon grease because your daughter is trying to stay healthy and French-girl skinny, but I'm sure you will love the bacon brittle recipe over at Mary James en Provence. And Frank, yes we have to work on our British English as well! To Claude, mille mercis, may I sign you on as my honorary editor?
Loyal Reader Cynthia Hinson has a great blog you might be interested in called Archi-trouve. She's currently doing a great series on Romanesque architecture in Burgundy, surf on over and say bonjour!