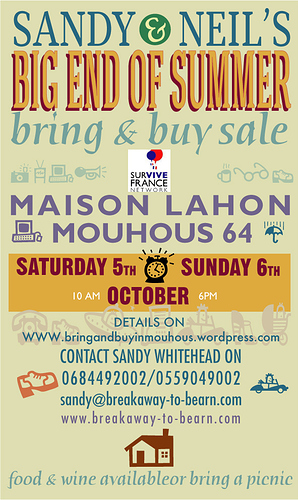 Where? Mouhous near Pau (Pyrénées-Atlantiques)
When?
Saturday 5th and Sunday 6th October
What time?
Starting at 9am and ending at 5pm - both days
What?
A great opportunity to get rid of a load of your old tat, buy someone else's old tat, have a laugh, meet new people, hook up with old friends and laugh at James and his 'artificial' leg.....
The practical bit:
Pitches are 5€ or 16€ per day - the 5€ tarif includes a complimentary 'apero' at the end of the day on Saturday - bring your own picnic. The 16€ tarif includes lunch for two people plus the apero. Lunch will be vegetarian / meat lasagne, salad and bread. If you are booking the 16€ tarif, then kids eat free!
Please contact Neil or Sandy directly to book. (Overnight accommodation available)
If you want to come on Saturday and then leave your stuff on a sale or disposal basis on the Sunday, that is also an option. Again, please confirm directly with Sandy.
Hope to see you there!
http://www.survivefrance.com/events/the-great-sfn-bring-and-buy