definitely worth reading… (well, I reckon…)
What's new?
I've just found out that French GPs might be, or are, on strike today and tomorrow, and more to come?
A bit concerning?
Well, I've got an appointment booked for tomorrow afternoon … I'll report back if my Doc is on strike…
I don't know much about what different sorts of GPs there are, but I have never had a GP with whom I had to make an appointment. I just go and sit in the waiting room during opening hours…
What's new with me is the last page of my DIY calendar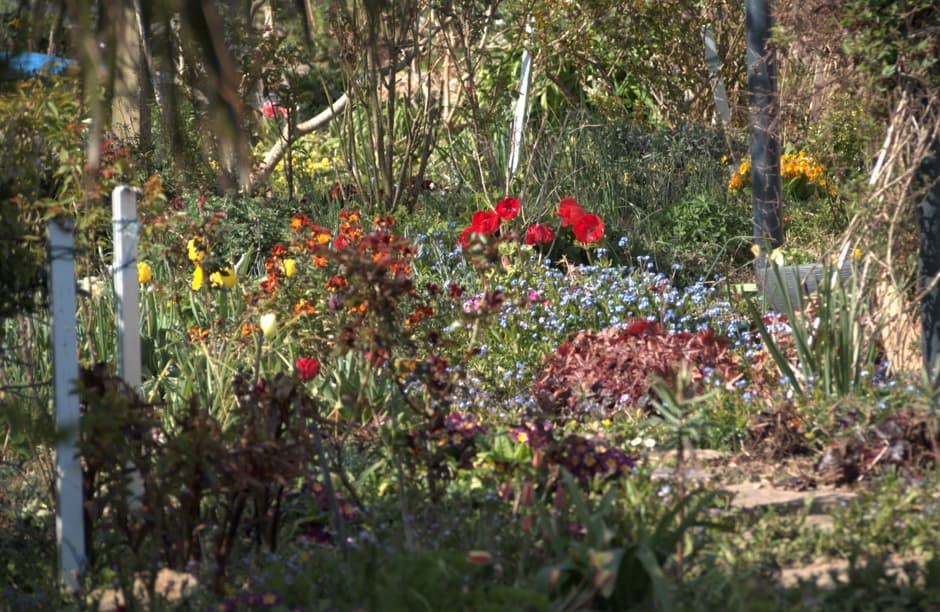 Not a particularly good photograph but I thought it might go well in Dec to remind me of sunny days with colourful flowers. And it's of my ex-landlady's garden so I reckoned she'd be pleased to see it in Dec, as well.
The question is also a reminder for me to enter the balance of my Scot Wids pension fund, which I do every 1st of the month, with a formula attached to show me the + or - from last month's bal. And lo! it's up £565.04 on last month! However, the bad news is that it is £2,736.69 down on 1st Jan '22

Something to do with Trussenomics, I'd say.

Used to be like that when we first came to France.
some years ago our GP moved out of his room behind the butcher's shop and opened a brand new, sparkling surgery just down the road… he also took onboard a second Doctor…
Excellent service by both/either… and the only difference now is that one phones for an appointment. Here again, the telephonist is very helpful and, if necessary, will connect one straight through to whichever Doc is on duty… but, in the main, appointments are given for sameday (if urgent) and might involve some sitting and waiting… or else they're given for the next day… whenever convenient.
The best thing (in my view) is that whichever Doc… one is given as much time as it takes… not a set number of minutes per patient.
6 week wait for our only doctor here if you want face to face.
Video Wednesday mornings only.
She is our only doc, rushed off her feet in a wideranging rural area which probably has near the top ratio of elderly and very elderly in France.
Speaking of elderly, did you all know that in addition to 10% of your income that is disregarded for tax, those over a certain age (is it 60 or 62?) get a further 2-3000?? of their income disregarded for tax? @Sandcastle and @Larkswood12 probably know, but as bright young things, just perhaps they've not spotted this yet
I am surprised these days by the generosity of the age-related allowances I get.
But I do not look gift horses etc so I do not know exactly what they are, I am just glad when my bill is lower than I expected.
Indeed, I have to collect a €100 cheque from the fiscal, no idea why - maybe because of the low single month 2020 tax return. I recall some people mentioned they got cheques whilst not paying tax…
On the other hand I always like to know how my tax is calculated - @KarenLot I presume the 10% you refer to is pensions etc - and there are limits to that allowance. For the age allowance would it be this you have in mind (a quick google of France age related allowance brought up French-properties guide -
"In addition to the 10% allowance, for those aged over 65 years on 1st January of the tax year, a fixed sum is deducted from your total net income before you become liable to income tax.
With total net income per household of:
Less than €15,514 the deduction is €2,476;
Between €15,514 and less than €24,985 the deduction is €1,238;
With a net income €24,690+ no deduction is available.
If so, alas I am neither 65 or within either of the bands unless reference income is not the same as net income. However Mme is!
It will all be calculated on the numbers anyway, but it would be galling if one was €1 out on qualifying for a band! Though the deduction value would be 11% tax on up to 25K so approx €140 is the value of this gift horse.
The best gift horse in my mind is the pension lump sum flat tax rate - and I've just had a DTT form stamped for that from the tax inspector - but I'll do a post on that in the appropriate area for reclaiming Uk tax / small pension pots etc.
Very pleased to report that my Doc is NOT on strike… hurrah… it's a Health Day Friday for me…
Kiné this morning and Doc this pm…
I went for a much-needed haircut this morning and afterwards I moseyed past my doctor's front door and there was a big sign – 'on strike today, open Monday'. So, my doctor is a militant one, but I don't blame him.