If you're brave enough to risk the heat… here are some ideas…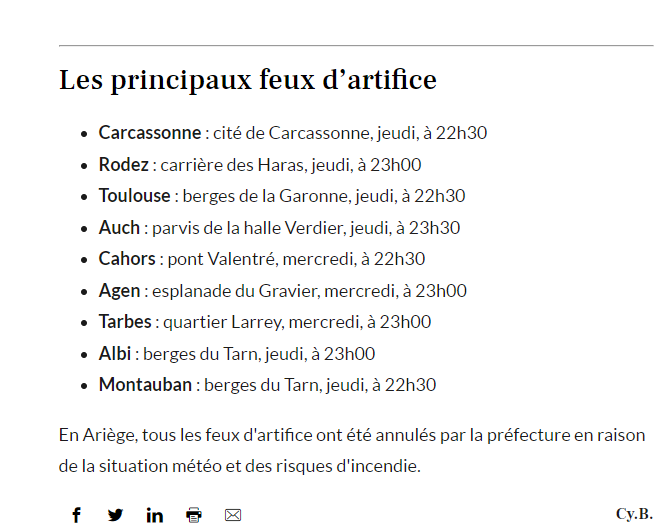 This interactive map is to be found in the Haute-Vienne link but for some reason this snapshot didn't want to "paste" in that post… sorry.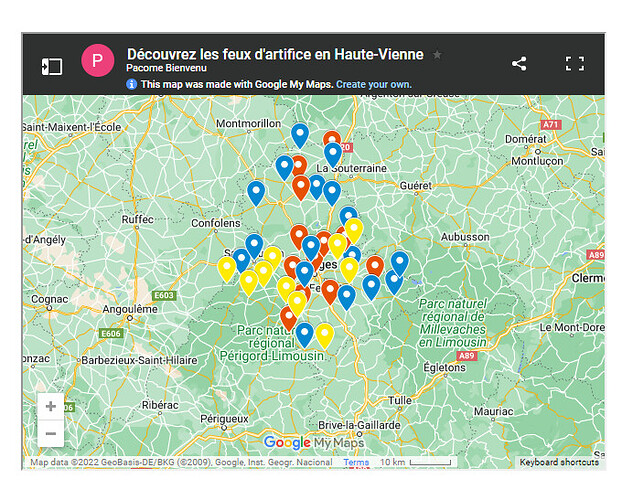 They don't seem to celebrate the 14th round here, but there always used to be, maybe still is, a band on one of my old boss's trailers in the parking of the pompiers in the big village and, after dark, fireworks let off on the voie verte, the old railway line high above us on the viaduct. But that was all the night before, nothing on the day.
The Pompiers did a BBQ and there was space for dancing. A very convivial evening if the weather was good.
A bit different from my first Bastille day in France in 2000. I had loaded the night before at a big biscuit factory at Vervins in the Haut de France. My hours were up so I just rolled 3 kms down the N2 to the village of Gercy where I knew there was a roadside routier resto and there I parked on the pavement opposite and had a hearty meal, the only customer. I knew I was there for more than 24 hours, not allowed to run on Sundays and Jours Feries, so asked them if they were open in the morning. They said not but that they would bring me a fresh baguette to go with the food I had in the cab. They were as good as their word so I breakfasted in the cab and surveyed the world outside.
A few yards away from me was the Mairie, from the height of my cab I could see over the walls to the garden beyond. At a round 10am a 2cv drove up the street and parked outside the wrought iron gates. The driver went in and a short time later emerged from the building carrying a chair and 2 folded tricolours. As everything was silent, almost no traffic, it was just like a Jacque Tati film. The man carefully placed the chair against a gatepost clambered onto it and slotted one of the flags into a cup for the purpose on top. Then he moved over to the other post and repeated his actions with the other flag. The chair was taken back then his car moved inside the garden and parked.
Every few minutes another car would arrive, men and women emerged and entered the building, obviously the council, they joined the Maire indoors. Shortly they all began to emerge again carrying trestles and table tops, and more chairs, about 20 or 30 I should think. Tablecloths were laid and cutlery and glasses placed upon them along with carafes of red wine. Soon the general populace arrived, and when all were assembled speeches were made and medals and gifts were handed to all the children.
At that point I heard the sound of a brass band and looked in my mirror to see the small marching throng about to pass me, bugles and trumpets, side drums and a big base, all more or less in tune and step. They wheeled before me in through the gates and disassembled to greet those already there. Standing by their places at the table, glasses raised and lowered, they sang the Marseilaise, acapella (you can't sing and blow at the same time) before all sitting down as the food was brought to the table and they all tucked in.
When it was all over, everybody went home except for the council members helping with the furniture, then they all disappeared one by one until only the Maire was left with his chair. Jacque Tati rolled his film in reverse until finally the Maire emerged with his car, locked the gates behind him and drove away.
2 pm and all was silent again. Despite my cab being close and very high, with a massive single windscreen, and me inside watching all the time, even standing glass of red in hand as they sang the anthem, not once in the whole 4 hours did anyone notice I was there. It really was as if I was watching a silent movie from the darkened balcony, and they were merely all the players in it.

A charming, if surreal, entertainment. Then I went back to my book and music to await the witching hour of 10 pm when I could set off south and home again.
But not for me, the next day was Saturday and I wanted a full night's sleep and a leisurely descent.


Fireworks have been banned in the Charente Maritime on Thursday save for those that end up in the sea.
They fire off the ones in Bergerac from a little island in the river, but I have been wondering whether they will go ahead. I shall sit on my hill and see them in relative coolth from a distance

Fireworks in St Emilion on 13th have been cancelled due to heat.
Frankly, I am astounded at just how many firework parties there are scheduled…
I'd like to see them all cancelled.
With the heat and the dryness, it's not only a health hazard but an environmental hazard as well…
I'm a volunteer for our commune's 14th July celebrations and will hopefully be under a sunshade… not looking forward to it, but I've promised my support and won't let 'em down. OH will be being sensible and staying at home… in the cool…
I've just been checking and lots of places have cancelled the fireworks… other stuff will continue but without the fire-risk… good idea !!!
The fireworks are still happening in Carcassonne this year, despite the fact that everything is tinder dry here. They set fire to one of the towers in the Cité in 2019, and I think there was a more serious fire several years earlier. It really makes me wonder.
My first 14th July happened in the late 80's when I was staying east of Rennes. We had thunderstorms for 3 days and the weather forecast said it was better further south. So, completely oblivious to the importance of the 14th July, we got in the car to travel south and ended up in La Rochelle. What a wonderful day, there was a clipper in the harbour with an orchestra playing on deck. The place was heaving and it was magical. On top of that, we managed to find somewhere to stay for the night! The next day, we ended up in Saint Émilion and stayed in a place between there and Libourne. That was one of the earliest and best holidays we had in France, and it all started with thunderstorms


One of my conversational French friends said that she would stay in and might watch the fireworks in Paris on the television. They were organising a fireworks display locally to her but she knows from previous years it wasn't worth the effort of going out!
Shame. Ours, in the our local town was rather good and it was fun being out at 11pm among other people - first time in over two years. Though I struggled to take any decent photos
Too early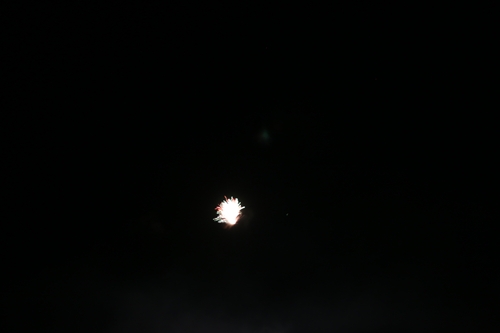 Too late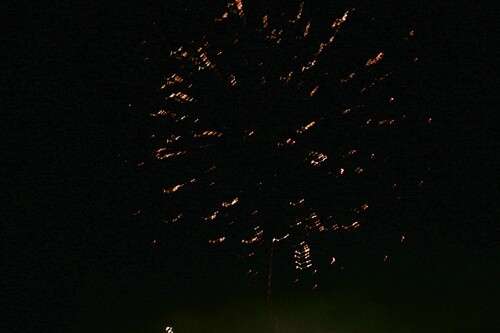 Too high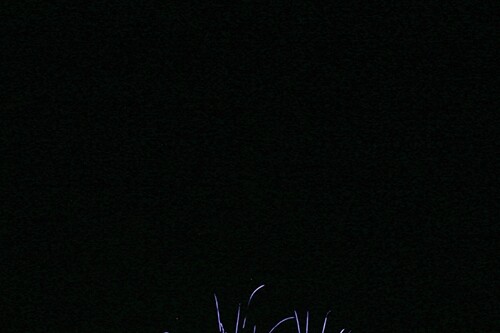 Too low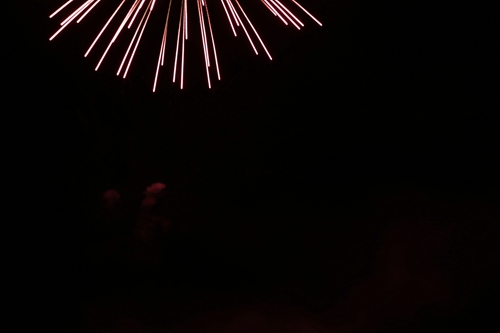 I did finally get a few.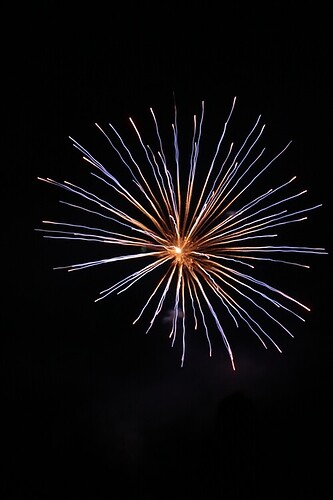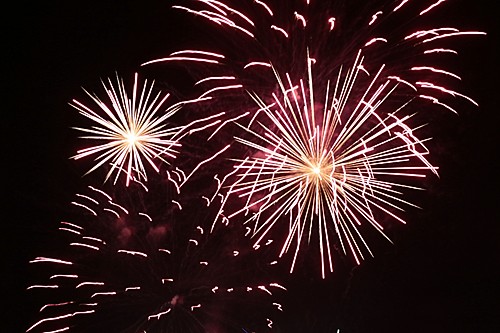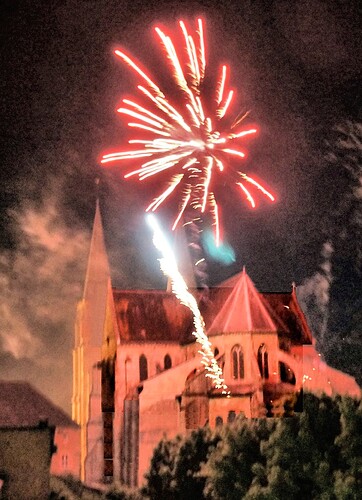 Hi Sue,
we lived in Mouzon not far from Sedan/Charlesville-Mezieres in Northern France and we didn't go out for fireworks then either. This photograph was taken from the comfort of our living room!
@Ken_Barker and wozza, I like yours because you have context. Our local town just sets them up the other side of the Garonne on the flood plain so there are no buildings around to light up. Next year (or somewhere else this year) I'll stay further away and get more of the sky in the frame. I was too close.