I think it's marking the start and end of a reserved traffic lane - typically for buses and taxis, but can also supply to multiple occupancy vehicles and zero emissions vehicles.
I've never seen it. Looks awfully like an electronic version of yellow diamond priority sign but I can't find any official site with a reference to it…
Thanks Florian,
Now I wait for an amande!
Oh dear… fingers crossed


(Welcome to Survive France by the way!)
This one certainly doesn't appear in my Code Rousseau (2003).

I'm wondering what other little gems have been introduced…
Car pool lane - the Yanks use the same diamond symbol.
Monday, June 28th, 2010
Remember back in the day, back when you could pose a couple mannequiner in your ride to avoid paying the toll on the Golden Gate Bridge? Well, those days are over as of July 1, 2010. Why? Why not, Our Bridge needs money to pay for ferries and buses and whatnot. That's why a $3 carpool toll is coming.
So instead of paying nothing, you'll have $3 deducted from your Fastrak. What's that, you don't have the Fastrak? Well then you're going to have to pay full price, whether you have three or more souls en tu coche or not. Fastrak, vill be (achtung, baby!) mandatory for carpoolers.
What's that, at least you'll be able to zip through the tollbooths with your new Fastrak? Guess again. You're going to have to stop for a carpool inpsection so the toll-taker can count noses and do a manequin check to boot. That means that Resusci Annie isn't going to cut it no mo.
These things are being used everywhere: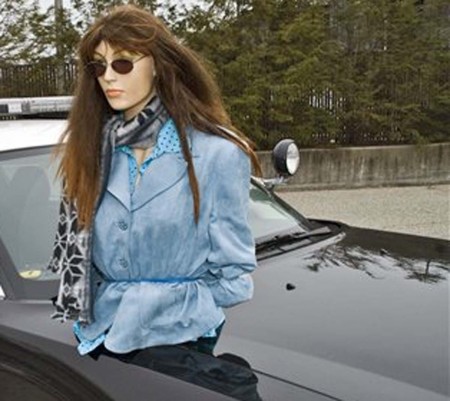 Renault drivers only maybe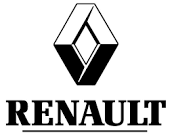 Groan

Florian has given the best answer so far. But surely there is a place to find the official ruling. (always suspicious of fake news)
La création des voies réservées à certains véhicules, notamment ceux à très faibles émissions et ceux transportant un nombre minimum d'occupants, prévue par l'article 35 de la LOM, nécessite par ailleurs la modification du décret n° 2017‑24 du 11 janvier 2017 ([7]) afin d'intégrer, dans la liste des véhicules à très faibles émissions, les deux-roues motorisés électriques qui seraient autorisés sur ces voies réservées. Interrogé par vos rapporteurs, le Gouvernement a indiqué que la publication du décret était prévue au troisième trimestre 2020. En parallèle, le Gouvernement a indiqué à vos rapporteurs que suite à la publication de la directive (UE) 2019/1161 du 20 juin 2019 ([8]), un travail de révision du décret allait débuter d'ici la fin de l'année 2020, afin notamment d'introduire des seuils de polluants atmosphériques dans les critères définissant les véhicules à faibles émissions.
Alternativly you could click on the link from the original article
Nouvelles voies réservées
Les nouvelles voies de circulation réservées à d'autres véhicules que les bus et les taxis vont faire leur apparition dans plusieurs villes de France au cours des prochains mois.
En effet, la Loi d'orientation des mobilités prévoit dans son article 15 que les maires pourront désormais réserver des voies pour la circulation non seulement des véhicules de transport en commun et des taxis mais également pour les véhicules transportant un nombre minimal d'occupants et les véhicules à très faibles émissions.
L'usage de ces voies réservées pouvant être permanent ou limité à certaines heures de la journée.
Des expérimentations sont d'ors et déjà en cours, notamment sur le boulevard du Vendée Globe sur la commune des Sables d'Olonne en Vendée.
only diamond geezers allowed in this lane

Or an idiot who spent time reading the article
Has it all been finalized now… it seemed to me that the decree was still being worked on (late 2020)… or did I misunderstand… ??