Teenage thug

OK… this snail is not exactly acting "wild"… but it does reside in my garden…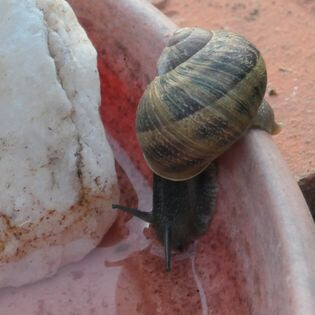 You can thank me for this evening's rain!
Just emerged elephant hawk moth?
Certainly is a beautiful moth. Maybe this can help
I don't know, never seen one before it walked out of one of my compost bins, maybe @RicePudding has an idea or can verify.
slightly OT "The Insect Crisis: Our Fragile Dependence on the Planet's Smallest Creatures" by Oliver Milman is £1.19p offer on UK Amazon Kindle today
I haven't read it or heard of it but I take good care of anything with only 2 exceptions (ticks and fleas) that I come across. 2 Daddylonglegs (Craneflies) and one spindlylegged spider climbing about under Fran's shower stool, all safely liberated to the great outside.
In the case of the latter as one of our lady visitors is terrified of spiders and would have fainted clean away I reckon on discovering it by accident and I did not know how today's shower person would react as it was her first time here. Turned out that Marina is not afraid of spiders.

First one: Colorado beetle
Surely just a Striped Shieldbug (Graphosoma italicum)
here's a colorado beetle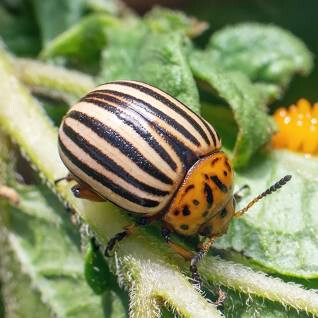 Ignore me!

Nah… it's better to be on the alert for such little horrors… I think they can destroy a potato crop…

Please will someone check the colour of said Striped Shield Bug's legs… ?
A truly unmistakable species. G. italicum was previously considered a subpsecies of G. lineatum, but has recently been elevated to species status. The true lineatum has entirely red legs and is not found outside parts of the Mediterranean. Adults and nymphs feed on various umbellifers and there is one generation a year.
No they are yellowish and black and not the same shape

much rounder, not flat.